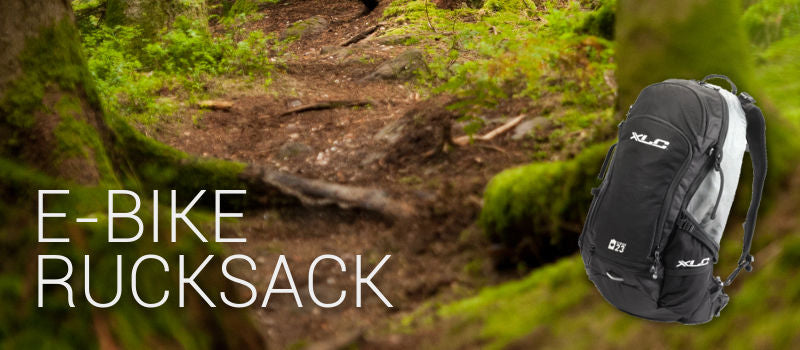 New Review: XLC eBike Battery Ruck Sack Bag
By Martin Brown |
We were sent a bag made by XLC bike products to test out the various functions of this new electric bike specific bag. With eBike specific built-in battery holder and back protector. The new E-Ride 23 Rucksack from XLC features some clever additions to separate itself from other bags on the market, it's solely designed around electric bikers! Let's check out some of the features in more detail:
Waist & Chest Straps
Both sides of the waist straps have open cell padding for ventilation and pockets for smaller items such as keys. Chest strap features an safety whistle for emergencies or irritating everyone nearby with repeated blasts.
Bottle Holders
Two external bottle holders are present on the E-Ride 23, on either side of the rucksack. An elasticated opening and further clinch down webbing straps keep your bottles secure whilst still being easily accessible on the move.
Glasses Pocket
A glasses pocket is featured at top of the bag to help avoid potential crushing when fully loaded. Softly lined to avoid damage to lenses. Goggles can also be stashed here if required.
Mesh Dividers
The outer Compartment of the E-Ride 23 offers mesh pockets with elasticated openings to help keep your snacks/tools/spares/recovery beers organised and static. With ample space to hold larger items such as a waterproof jacket, offering quick access and minimal fuss. Clinch down straps on either side of the compartment help to hold the load close to the pack and the rider.
Helmet Holder
Featuring its own stash pocket of which it is sewn into, the helmet holder is elasticated with two webbing straps. These cinch down to the outside of the bag, ensuring your helmet is securely held in place. The stash pocket extends up into the outer storage compartment cover, offering plenty of space for additional items.
Rain Cover
Much like the helmet holder, the rain cover (with internal storage pocket) is stored in its own stash pocket at the base of the pack. It's sewn in to ensure it doesn't go wandering when you need it. The cover has an elasticated edge to allow for easy fitment over the pack, with full coverage regardless of how loaded the E-Ride 23 is.
Battery Holder
The main compartment of the E-Ride 23 features a dedicated battery holder. Suitable for both Bosch & Yamaha batteries, with a top opening velcro strap to keep the battery secure.
The back protector (mentioned below) offers that comfortable support between rider, bag & battery. Something not commonly found with heavy batteries rolling around in your bag!
Main Compartment
A further large mesh pocket at the top of the bag helps to keep smaller items organised and within easy reach. Ample storage is offered either side of the battery holding compartment.
Back Protector
The CE approved back protector from german protection company SAS-TEC is made from a Visco-elastic soft foam. Measuring roughly 49.5cm by 26cm. Offering lightweight, flexible and ventilated impact protection.
The protector is designed to withstand multiple impacts, so you'll unlikely need to be ordering a new protector anytime soon. Meaning you can wisely spend that time uploading your latest stack on youtube for your friend's amusement.
It slides into its own retaining sleeve, offering wide back coverage, helping you to shrug off those moments you accidentally set off the ejector seat. The eBike bag is priced at £139.99