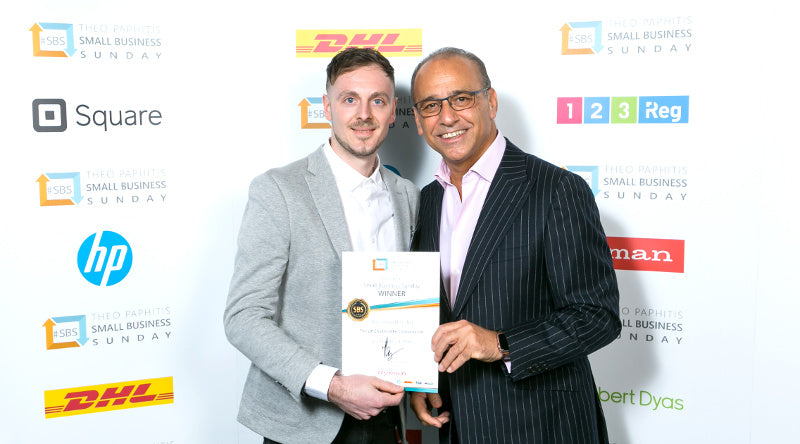 E-Bikeshop Wins Entrepreneur Business Award By Theo Paphitis
By Martin Brown |
Surrey-based E-Bikeshop was awarded ex BBC Dragons Den star Theo Paphitis' prestigious business award. Setup to reward & promote business entrepreneurs.
Back in October 2017, E-Bikeshop wins the SBS national business awards. Out of 329,000 business' nominated, just over 2,000 were selected by Theo Paphitis himself as successors to the SBS club. That's a ratio of not even one percent, in fact, 0.68% to be precise!
Awards Ceremony
The awards ceremony took place on 23rd February 2018 at the International Conference Centre in Birmingham, UK. The day kicked off with an introduction from Ryman CEO Kypros Kyprianou followed by a session with Superbrands expert Stephen Cheliotis.
Theo Paphitis
Then to meet the man himself - Theo Paphitis. Theo is a retail magnate come entrepreneur, with a net worth of over £280 million. He is considered to be one of the UK's most high profile businessmen. Theo gave advice to fellow entrepreneurs, offering an inspirational talk and then answering any questions SBS members had.
John Roberts
After lunch, we all sat down for a hot fire session with Theo and John Roberts (founder of AO.com). Seventeen years ago John's friend bet him £1 in a pub that John couldn't sell appliances online. John set up and subsequently floated his company some years later in 2014, valued at £1.6 billion. The talk was inspiring to say the least, with John also answering many new business questions from the audience.

Award Winner
E-Bikeshop
was set up in the UK to promote and grow the use of eBikes. Appealing not just to the experienced cyclists but to get more people out on bikes nationally. E-Bikeshop Director, Martin Brown said:-
We are proud to have won this prestigious award. To be recognised by Theo, an experienced and inspirational icon in the business world means a lot to us. I am excited to what opportunities this will open up. It's also opened the avenue to be part of an exclusive club who can share ideas and gain inspiration from other entrepreneurial business owners alike. This is a really exciting time for us.
Electric bikes have a lot to offer for different people. Learn more about the
be
nefits of eBikes
»