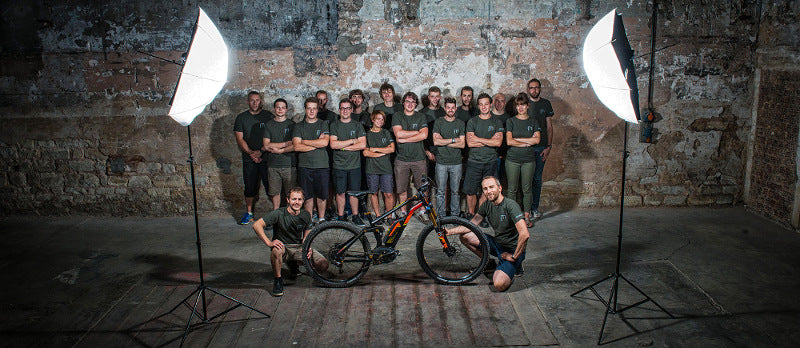 Factory Tour: Moustache Electric Bosch Bikes
By Martin Brown |
We have been working alongside Moustache bikes in the UK for a couple of years now. Many people ask about the brand and what they are about. So this article explains a little about them and what happens in their electric bike factory in Golbey, France.
Design stage
The process begins with design, inspired from young and creative riders. The design team set to work with some very different and edgy creations.
Moustache pride themselves in being different, be it from frame designs, to their in house components. They work a lot of the design around actual riding and practicalities.
Before anything is manufactured for testing, the team come up with the best innovations on paper, before refining and then eventually into production. You can see on the left a designer, pen to paper, plotting out the various suggestions.
CAD Drawings
These drawings can then be put to the computer technicians, they can be drawn up on CAD systems to put forward for manufacturing and then for testing. It must be a real delight seeing something go from a piece of paper into 3D design and then onto being made in the flesh.
Above you can see the technicians plotting out the frame design. Moustache uses a really unique system on their electric mountain bikes. They offer a 29" front wheel with a 27.5" rear wheel, totally different to any other manufacturer. This means that the design must be a perfect match to work in harmony with a rider out on the trail. They actually won the Eurobike awards last year for this very design.
Assembly Stage
Moustache are very unique in that their bikes are all hand assembled in-house. Their qualified bicycle assembly and Bosch technicians carefully mount each individual component to the new bike. This delicate process is something Moustache are very proud of and we can back them on the fact that all of their bikes that arrive here are very well assembled to the highest of standards. Each process is logged so they can determine exactly who has been working on the bike. Thus in turn means that the bikes are extremely well built. Or someone might not get a lunch break tomorrow! Below you can see part of the drivetrain being assembled before it moves onto the next part of the assembly process. Each component has to be fitted in a certain order. Starting with the internal cable routing for the Bosch eBike system. Moustache actually only manufacturer Bosch eBikes, so they are experts in this field.

From start to finish Moustache have very strict quality control standard. It has to be right, that is their policy! You can see in the picture below, many different models being assembled at the same time across multiple stations.
Production
The Moustache factory is a buzzing workplace, with components to hand and professional tooling. It means that they can be efficient without missing the main component - build quality!
True to their heart
Moustache, started by Greg Sand & Emmanuel Antonot still works from its roots in Golbey, France. Despite upping production numbers, it is key to keep the passion, ideas and dreams where it all started. As the company expands, so do the beliefs. There are still, to date, no more than 30 staff on site. Not only do Moustache want you to try their bikes, but they want that vision to shine through to you - the rider. Why not view our range of
M
oustache bikes he
re
.