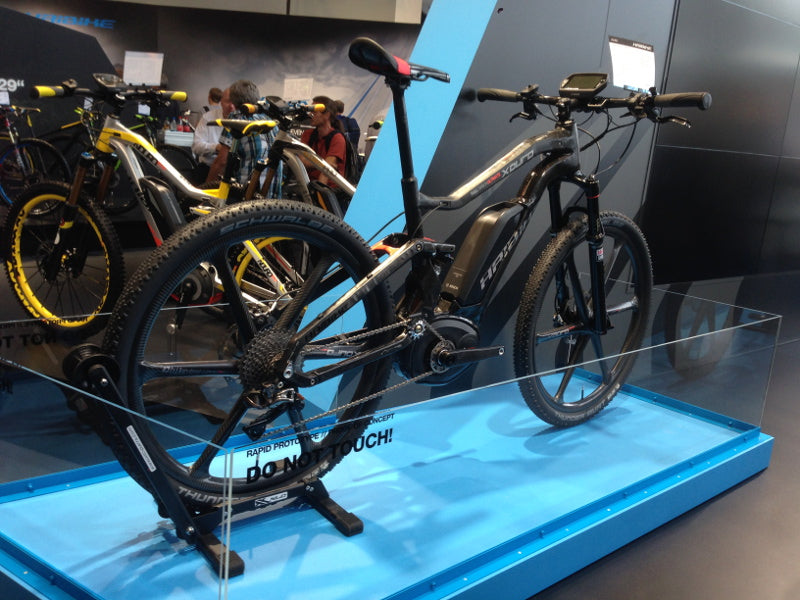 First Look: Worlds Lightest Bosch eBike - Haibike FullCarbon Ultimate 2015
By Martin Brown |
Here we take a sneak peak at the best Bosch eBike money can buy. Say hello to the brand new Haibike Full Carbon ULTIMATE to enter the Haibike electric bike range for 2015.
e-bikeshop.co.uk visited Haibike in Germany a few weeks back and got to check out the Haibike Full Carbon Ultimate first hand. Heres an overview of this amazing bike..
The Haibike Full Carbon Ultimate is the worlds first full carbon Bosch crank drive electric bike. Although in prototype so we have no confirmed weight as of yet, it should also be the worlds lightest full suspension electric Bosch driven eBike.
This bike is built on a combination of sheer beauty and Haibikes ability to engineer the frame work perfectly to integrate the Bosch motor unit within this super lightweight carbon chassis. It simply is the best eBike money can buy. Its almost as if the designers sat down at Haibike and said; Right lets built the worlds Ultimate electric bike, and actually name it the - ULTIMATE!
All of the components have been chosen with super light weight in mind to match the carbon frame. Haibike compliment this base with carbon wheels, handlebars, seat post, saddle & even carbon cranks!
Haibike have opted for one of the worlds lightest suspension forks. The RockShox SID XX World Cup forks are 120mm travel & feature a fully air adjustable setup for each riders preference and of course the new XLoc lockout system for conserving energy whilst climbing. The Haibike Full Carbon Ultimate's rear shock is matched with a super light RockShox Monarch XX air adjustable shock.
Close up photo of the Haibike Full Carbon Prototype set for production in spring 2015.
Not only does this FullCarbon bike feature the very best and lightest components, but it also integrates the brand spanking new Shimano XTR Di2 gear system. This whole gear setup is electronic, the advantages of this are its all integrated within the ultimate frame and fits perfectly with the Bosch system. It also means no cable flex, minimal adjustment and silky smooth shifting. This 11 speed setup uses a 11-40t rear cassette for a truly incredible gear range to use along with the Bosch Performance motor.
The wheels on this beast are also full carbon, they are hand made by Bike Ahead in a 650B format to ensure fast rolling speeds and easy maneuverability combined, super light, super strong & super looks tick all the boxes for these lovely wheels.
To grip these rollers to the floor Haibike have opted for Schwalbe's Thunder Burt German made tyre. These rubbers are very fast rolling but give a decent grip across varied conditions. Yet again they are one of the lightest tyres Schwalbe produce.
Another close up of the FullCarbon Ultimate prototype here. Everywhere you look is carbon, carbon carbon!
To slow this incredible machine down we have, Magura MT 8 hydraulic disc brakes with carbon composite levers. Again german made, these stoppers are maintenance free and offer superior amounts of stopping power through their large piston design.
The whole approach to how this electric bike is designed is very sleek indeed. From the way the battery integrates into the frame, to the logos stretching across it. It just feels right!
To top off this huge spec Haibike have fitted the FullCarbon ULTIMATE with the very latest Bosch Performance drive system, combined with the latest Bosch Nyon head unit to bring so many new features to this top end electric bike. With Nyon you can use features like, Satellite Navigation, Bluetooth connectivity with your smartphone, fitness tracking & more. Read more about Bosch Nyon here.
What do we think?
This incredible machine is quite possibly the most beautiful bike going. The sheer design and thought put into this makes it something very special indeed. From the first time we saw this in Germany we simply fell in love with the ULTIMATE eBike - Does this sound crazy?!
We love the integration of this bike, everything from the gearing to the actual drive becomes integrated within the frame to create an all in one bike that you can of course also link your computer and smartphone too.
This bike will be available in Spring 2015. Haibike have already told us its on a first come first served basis, with orders already in @ e-bikeshop.co.uk, be one of the few to grab this awesome exclusive machine.
You can preorder, view pricing, full specification & pictures here - Haibike FullCarbon Ultimate 2015