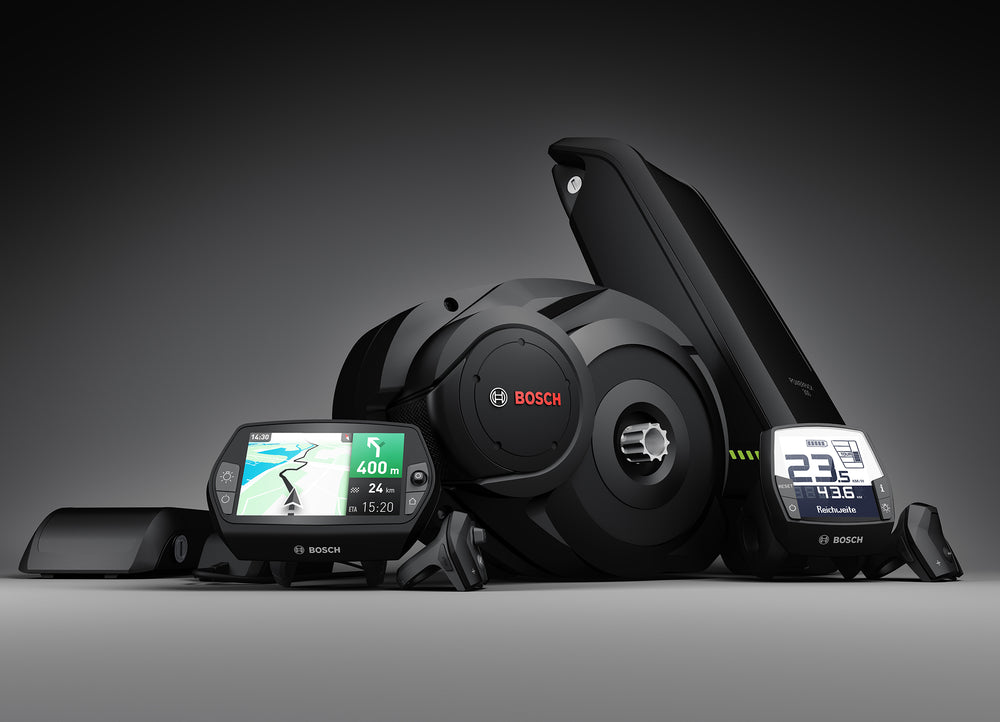 New Bosch Nyon eBike Performance Navigation System for 2015 / 2016
By Martin Brown |
Bosch announces their new Nyon eBike controller for 2015 / 2016. The new Head Unit will run on the current Performance eBike motor system but will be built with a larger screen and some all new features!
Here we give you a brief overview of the new features and benefits in this latest eBike tech...
The new Nyon system is the latest advancement the German manufacturers Bosch have been working hard on, it was announced at Eurobike last year to gauge interest from both suppliers and end users alike. The system went down well as the first all in one eBike computer that can perform navigation, fitness training/mapping & smartphone integration.The new head unit is to work on the Bosch Performance system, it mounts in a similar way to the current Intuvia display although this one features a much larger 4.3-inch colour screen and hosts a few new buttons; both on the display and the separate handlebar control unit to make operating the new features easy.
Let's break down some of the new functions featured on the Bosch Nyon system...
Bosch eBike Navigation -
Nyon has a new built-in navigation system designed specifically for cyclists in mind. The maps are based on the Wiki Open Street Map platform. This is integrated into the new Bosch unit with GPS so it can perform live maps in both 2D & 3D styles creating a full user-friendly navigation device directly on your eBike powered from the Bosch battery.Interestingly the mapping doesn't just show directions but calculates the best route possible by eBike. This means that you can take more direct routes that might not be possible by car. Another adoption is the range indicator. This calculates not just range left but also factors in your route, topography & your personal riding style to indicate clearly indicate on the map how many miles you have left in the battery. Neat huh?Quick demo of the unit in action here -
Smartphone Integration -
The new Bosch Nyon system is designed with the latest integration for smartphone users. The idea is that you can leave your phone in your pocket and the Bosch system will connect to your smartphone via Bluetooth. This brings with it lots of new neat features that allow your phone to connect with your Bosch eBike. For example, you can control what music is being played on your phone directly from the Bosch Nyon head unit itself.If you are riding and get an incoming call, the Bosch system will present this to you on Nyons new super slick screen. It will show you who is calling so you can be in full control. If you get a text message it will even pop the message onto the large screen to say who has texted and the message itself. This means there are no excuses for not seeing that all important message!While we are talking smartphones, Bosch tells us that they are going to release a new mobile app so you can perform multiple tasks on your phone that affect Nyons user interface. For example, you can set up things like a 'Favourite Screen'.
eBike Fitness Training -
Alongside the new Bosch Nyon eBike system, Bosch will release their 'Online Portal'. This means users can pull up all their latest eBike data up on their home computer. This is a really neat feature, it will allow you to track the progress of your recent routes and share them with others online. By connecting a heart rate chest strap via Bluetooth to Nyon you can use the system as a fitness training tool. This will not only track your ride but combine them with signals such as your heart rate so you can progress with your fitness training all in one place.By combining data such as your heart rate & cadence the system can measure your eBiking performance and calculate your progress in the form of calorie consumption and training efficiency. The Bosch Online Portal will present all of this data to you in the form of nice graphics charts and maps of your ride.Check out this video for a short demo -
User Interface Customisation -
Above we have mentioned lots of new neat features of the Bosch Nyon system. There have also been certain advancements in the user interface with regards to user customisation.With each screen, you, the user, can customise the layout to your preference. This is really good as it means you can get all the data available in the format you prefer to see and read. We mentioned the mobile app above & this will allow you to alter things like a favourite screen, this is really important so you're not just stuck with one layout.On this new Bosch eBike system, for the first time, the motor assistance can be adjusted by the end user. This means you can add up to 5 riding modes which can each be set individually. So you can actually fine tune the motor assistance levels that support your riding, this has never been possible before.
Conclusion -
We @ e-bikeshop are very excited for the release of the Bosch Nyon system. Some of the features detailed above are a vast step forward in the eBiking world. This is the first system to integrate all of the features through an 'all in one' system.No longer do you have to run mapping and fitness apps on the side, everything can be operated in one place. To top it all off all of the functions can be operated on the 4.3 inch backlit display which is easy to read in all light conditions. We expect these features to be very useful on a eBike and we are sure that Bosch will make a tremendous job of making it all function well as is already proved on their current eBike system lines.We will be visiting Bosch later on in the year to test the new Nyon device and we will have some more feedback to report back once we have done this.
When can we expect to see this tech on new eBikes?..
At current, there are only one of these systems in the world, built as a prototype to demonstrate the new functions. We expect it will be a while before Bosch produces this on a mainstream level and then filter down the chain to the eBikes on our shelves.The system may feature on some 2015 model year eBikes but more likely it will be the 2016 model year lines that take it on fully. Bosch tends to test their products extensively before taking them to market. Whereas some manufacturers bring out a product to test and refine on the market by the end user. The German manufacturer Bosch always make sure their products are 100% before the end user gets their hands on them.Please note: this new Nyon system is just a head unit change. It operates using the current Performance motor and Battery Pack. We can't be sure yet if it can be retrofitted. But the current Bosch Performance line Motor and battery will be powering this display.Expect a full review on here, so watch this space.
To view all our latest Bosch powered eBikes please click here