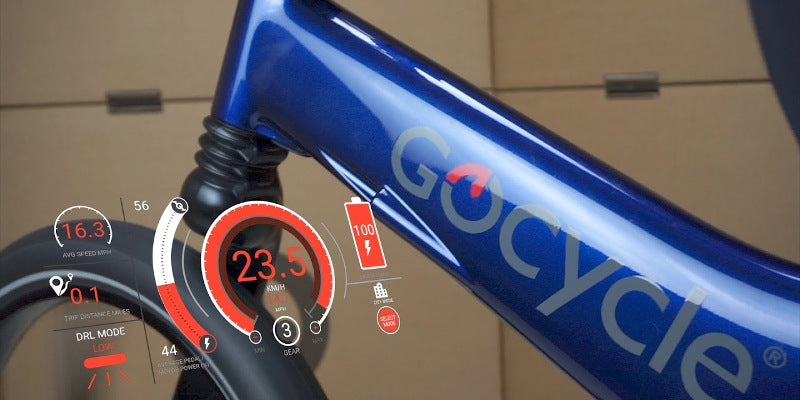 New: Gocycle Electric Bike V5.0 eBike Smart Phone App Unveiled
By Martin Brown |
The new Gocycle Connect smartphone application has been released today via the Google Play Store & Apple AppStore.
The new Gocycle app brings a whole host of cool features. The previous Gocycle application allowed the user to view their Gocycle bike odometer, trip distance, battery capacity and adjust assistance modes. It was a pretty simple setup but was more than capable of doing the job. As of last night (Friday 5th May 2017) all Gocycle users new and previous can download the new V5.0 application to Apple or Android devices. Why hit the upgrade button? Here's why.
New Gocycle Live Dash
The Gocycle Live Dash allows you to affix your smartphone to the dash of your Gocycle and use it as the interface for your Gocycle eBike, reading out all the necessary parameters in a funky new Gocycle user interface.
These parameters include your current speed, average speed, motor vs pedal power gear selection and battery state. You can also view and adjust your assistance level and daytime running light high / low beam on the fly.

There's also some handy new features including cadence, calories burned & equivalent MPG.
Behind the Scenes Improvements
Obviously, the new UI is very fancy and far superior to the previous application design but behind the scenes, there are lots of other improvements too.
Including bug fixes, there's also simple 'how to' videos for when new users register their bikes with the application. This includes how to set up the bike and how to get the most out of your Gocycle. The new update also brings a new platform for the Gocycle HQ to work from, so it opens up many future opportunities which can include more functions in further updates. Remember the beauty of the Gocycle and its connectivity is that it's an open platform, so Gocycle is always receiving feedback and working on new features which are fully up-date-able further down the line. You can update the bike as a consumer, ultimately making the bike future proof to any changes.
How do I get setup with Gocycle V5?
To get your Gocycle setup, just follow these simple steps. We've included a video tutorial below to help too. Before you actually update yourself, please read this article in full as there are some important details to note further down regarding speed and assistance modes. 1) Make sure you have your Gocycle smartphone mounts. If you don't already have the mounts, we have them available to purchase - Gocycle Smart Phone Mounts. 2) Download the new Gocycle V5 smartphone app for either Android or Apple devices. Click the links for either of the 2 devices for a direct download link to both the Apple Store and Google Play Store. 3) Run the app and follow the setup instructions. At this point, you will be prompted to setup your location details. Here is a quick video helping you to set this up:-

IMPORTANT: If you have already previously registered your Gocycle you need to make sure the email address entered in the setup process is the same one that was used to register on your original registration. 4) As part of the new setup for the V5 application, you will be prompted to update your Gocycle to the latest v83 firmware update via Bluetooth. 5) Your Gocycle and smart device are now set up to operate the v5 application.
Please Note: After the firmware update, the Gocycle will have 'forgotten' any previously programmed mode and will default to City Mode (Mode 1 = 25kmph (15mph) max speed, pedal motor control only). You may also need to select Custom Mode to re-define your preferences for the custom ride mode too.
Important
On setting up your Gocycle V5 application, the app will prompt you to select the firmware for your region. These regions are defined by the following 3 groups:- - North American Type 1: max speed 20 mph (pedal motor control only) - North American Type 2: max speed 20 mph (pedal and throttle motor control) - European EPAC: max speed 25 kph (pedal motor control only)
Electric bicycle regulations relating to speed, motor power, pedal and throttle controls vary throughout the world, therefore it's important you select the correct region to comply with your location regulations. If you select European then your previous modes for throttle and assistance speed above 15.5mph will be lost and are irreversible. If selecting 'North American Type 2' the throttle can mode will be active and the maximum assistance speed will be set to 20mph instead of 15.5mph. Downloading V5.0 will not allow you to revert to V4 and your existing Gocycle settings including maximum speed will conform to one of above location configurations. We hope you enjoy the new application and many of its new features. It's certainly a big step forward.
Not yet got a Gocycle? Read all about the latest Gocycle G3 eBike here.