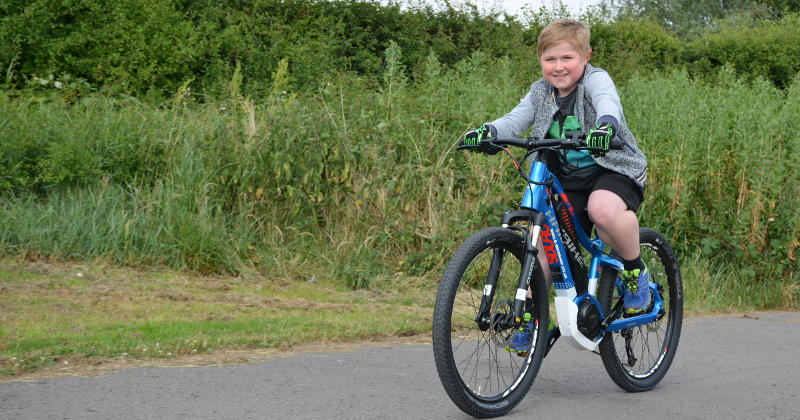 Haibike Electric Bike Is Life Changer For Boy with Muscular Dystrophy
By Martin Brown |
Thomas Robinson, aged 11, a Crewe schoolboy who suffers from Muscular Dystrophy now enjoys riding with the family with a new Haibike Kids Electric Bike.
Thomas was diagnosed with muscle wasting disease Duchenne Muscular Dystrophy when he was just 6 months old, and his parents were told that he would likely be permanently using a wheelchair between the ages 8 and 11. Thanks to daily physiotherapy, strong steroids, and a trial drug, Thomas has so far defied doctors expectations and often continues to walk unaided, even riding his bike and a scooter. Thomas' Mum Karen, a graphic designer, explains:-

"Thomas has always been very independent and loves going out with his friends, but we noticed him starting to have difficulty keeping up with them when they go out to play, so we realised he needed an extra boost."


Thomas' family, therefore, decided to start fundraising for an electric bike, which would allow him to keep up with his friends, and also allow him to join his family for bike rides in the countryside. In July Thomas was presented with a £600 cheque from Crewe and Nantwich District Round Table to help pay for an electric bike to help with his mobility.
Thomas' Dad Neil says:-

"Instead of buying Birthday and Christmas presents for us, we asked our family to consider putting money towards an electric bike for Thomas, as that would really be life-changing for him. He'll still need to pedal, but the bike will provide extra power, and it'll mean his muscles won't be damaged afterwards."


Crewe and Nantwich District Round Table chairman Josh George says:-


"We heard about Thomas and we decided what a big difference it could make to his life if he were able to ride along with his friends, so we were delighted to be able to support him by giving him this donation."


Thomas Mum, Karen, proceeded:-


"Thanks to the support of Crewe and Nantwich District Round Table, lots of generous donations from friends and family, and this years' warm weather, Thomas is loving being able to get out and about with his friends, and we are all extremely grateful for the support we've received."


E-Bikeshop.co.uk also contributed towards the new electric bike for Thomas. It's great to see a success story, where an electric assisted bicycle can be a complete game changer.
The Robinson family said:-


"Many, many thanks again for your excellent customer service and for contributing to the bike- Thomas loves it- he's never done so much riding, and it's nice knowing he can now ride with his friends, without us worrying about the bad effects on his muscles. If there is ever anything we can do for you, then please let us know, and we'd be more than happy to assist. We really appreciate your support."


To keep up with Thomas and his adventures, visit
www.therobinsonshouse.com
. Donations can also be made via the
Just Giving page here
.