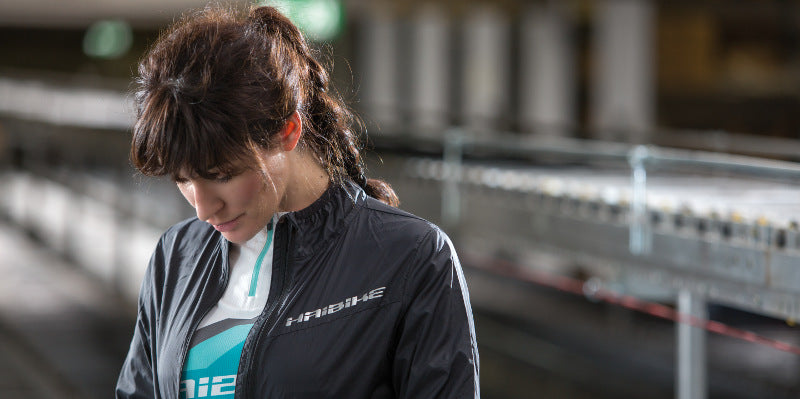 Introduction: New 2015 Haibike Clothing Range
By Martin Brown |
It isn't often a bike manufacturer brings out its own clothing range. But Haibike are true riders and in true rider fashion (excuse the pun!) I am excited to bring to you the new clothing range from Haibike for 2015. It's a small range but allows rider and bike matched gear. Most of our customers are so proud about their Haibike eBikes, why not wear the kit too! The small range consists of a few rider essentials, the gear is top quality to match the bike products on offer, it all comes in at an affordable price too considering the look and feel of the garments.
Haibike All Mountain Shirt
This shirt is well designed and offers a rider cut fit. Its breathable and offers full UV protection to the rider. The lightweight, breathable and fast drying material used means you can ride sweat free and it'll dry fast too if you hit a quick rain shower.
Built into the front of the Haibike All Mountain Shirt is a half cut zip which offers a small chin guard to save any discomfort whilst out on the trails. To the rear it features a handy zipped pocket too which is tapered to match the unique design of the shirt. Featuring the unique Haibike logo across the front and smaller style logo on the rear this jersey is made from 100% polyester.
Haibike All Mountain Shorts
Well you can't have the shirt and not the shorts to match! Or mix it up and wear at different times.. These tidy shorts offer full movement whilst at full pelt. The stretchy fabric offers superior comfort whilst being resistant to the saddle and other rubbing areas. It gives a feel of freedom, rather than a tight set of shorts that feel controlling when you need to move around.
The All Mountain shorts offer a tough, resistant back panel to make sure they stand up to tough hits in the saddle and the occasional fall! They offer a front zipper for any 'wild ones' while out on the ride with top poppers to ensure they don't come undone unannounced.
Haibike All Mountain Rain Jacket
The new Haibike Rain Jacket for winter / spring / just about anytime essential in the UK. Made from a lightweight material that means its not heavy to wear and can be rolled up and tucked away neatly ready for any occasion.
This new All Mountain jacket is both water & wind resistant, whilst being breathable at the same time, a clever combination of materials means that it does all of this and still comes in at just 185g! It also features fully welded zippers and seams to keep any moisture out. The rain jacket offers a neat little hood with ring pulls each side to pull in tight if required. Front full length zip & velcro cuffs. All in, a nice fitted style jacket that you could even stroll up to the pub in!
When can you get your hands on it?
We are expecting the new 2015 clothing to land just in time for spring, its actually available to order right now in various sizes through the e-bikeshop site for delivery as soon as it lands here. We expect it to be very popular with new and existing Haibike owners alike