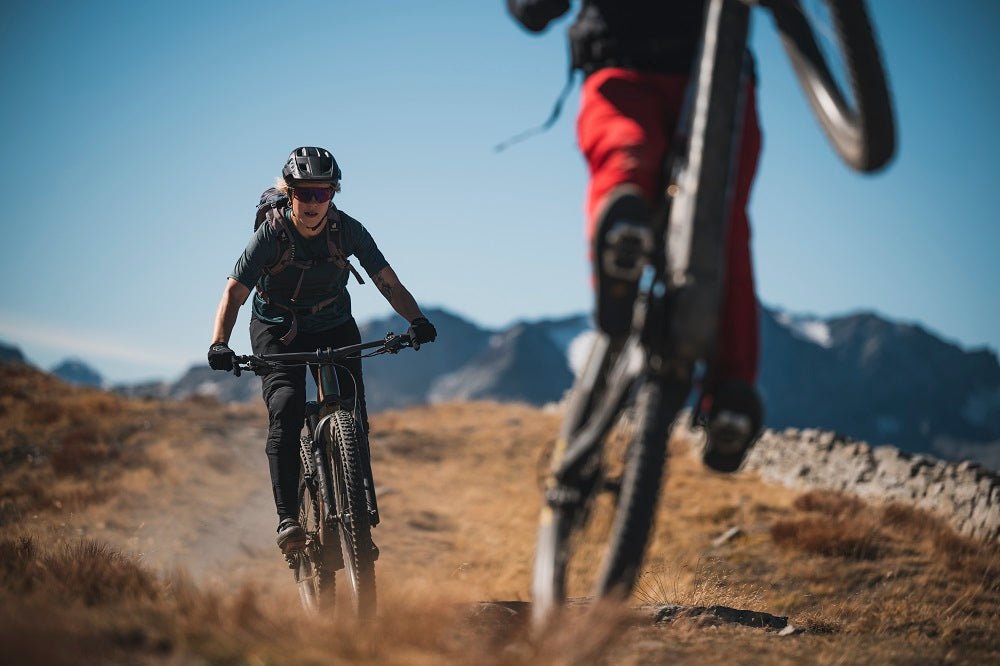 Lightweight, or Full Fat? Which eMTB should you be buying in 2023?
By Ben Mowbray |
Each year, electric bike manufacturers continually try to outdo each other, all of them vying for that coveted "lightest ever ebike" spot - but what does that really mean for the rider, and is there a clear right and wrong answer? Is it really worth paying thousands of pounds more, only to drop a couple of hundred grams off a bike? 
We'll break down a couple of example bikes, look at why there is such a weight difference, and highlight the key differences with the pro's and con's of each. 


Why are some electric mountain bikes so heavy? 
Removing the motor, battery, controller and associated wiring, an electric mountain bike is effectively no different to an ordinary analogue mountain bike. It has a frame, wheels, suspension, brakes, gears and all of the other interconnecting bits you would expect but for all intents and purposes, its your current mountain bike.
Sticking the electrical components on the scales, it suddenly becomes obvious. A Bosch Generation 4 CX motor (one of the most common found in eMTB models in 2023) weighs a whopping 2.9kg. The battery to power it (largely now 750Wh) is 4.4kg. Combined, they're the weight of an average UCI legal road bike on top of your normal mountain bike frame! 
There are other small things that increase the weight of electric mountain bikes. There are eMTB specific or "approved" suspension components and wheels for example, which are built a bit more robustly to cope with the extra stress of eMTB weight and strain. Likewise, even carbon frames on eBikes are marginally thicker to cope with the extra torque being put through them. 
Effectively, weight is something you can't hide from on an eBike, but in the last 2 years, they've to got to within the weight of 10 year old non-electrics! 


Power vs Weight
Here's something I find myself saying to customers in our showroom here almost every day -
"You can't have all of the power and all of the range and none of the weight".
They come at a cost to each other and so as you might expect, the more power a bike produces, the heavier its motor is likely to be. The longer its theoretical range, the larger the battery. The larger the battery... you guessed it. 
Bikes with the largest motors and batteries are normally the heaviest. Sure, there are "light-er" options, but generally speaking, anything fitted with a Bosch or Yamaha motor is likely to be over 22kg. 
The carbon framed, Cube Stereo Hybrid 140 HPC Action Team for example, normally weighs in at around 23kg each year. The Scott Genius eRIDE range with their ultra tough alloy frames tend to be around the 27kg mark but will withstand the worst that even the most aggressive riders can give them.
Both of these bikes use the Bosch Generation 4 drive system. The Cube offers a 750Wh battery and the peak motor output is 85Nm. This is universally considered the top end of eMTB power in the UK. In Turbo mode, it offers 340% assistance. You plus another 3.4 sets of legs on the pedals. It doesn't really get much more powerful - legally anyway. While the theoretical range is up to 160 miles, riders using its dynamic "eMTB" mode tend to get around 40-50% of this. 
Conversely, anything fitted with the Shimano EP8 system like the latest 2023 Orbea Rise M-Ltd can tip the scales at sub-16kg which is a huge difference of 11kg off the weight of a Scott. In bike terms, that's the weight of a Scott Spark RC analogue bike off the weight of a Scott Genius eRIDE. 
The trade-off here is power and range. The Orbea Rise models use a proprietary version of the Shimano EP8 motor called the "RS" or "Rider Synergy", outputting 60Nm and powered by a 360Wh battery. In testing, our Orbea Rise M10 demo managed 38 miles and 4800ft of climbing around the Queen Elizabeth Country Park and Butser Hill area on a relatively warm summer day. As well as being light weight, its super economical and its smaller battery really does have some legs in it! 
When considering your first or next electric mountain bike, the amount of power and the size of the battery will directly affect the overall weight, riding feel and performance of the bike and this should be a primary consideration when choosing your next off-road machine. 


Are lightweight electric mountain bikes underpowered? 
"Underpowered" is a word I hear a lot and more often than not, from those who have either never ridden an eBike, or have been told by a Bosch Gen 4 or similar rider that "85Nm is minimum you want to go for". Sadly, neither of these are true but do sometimes lead to poor buying decisions. 
Going back to the Power vs Weight argument, the heavier a bike is, the more power it needs to overcome its own weight and the more power it produces, the larger the battery it needs to provide reasonable range. Eventually, swinging the scales in each direction you reach an equilibrium where the two are perfectly balanced. In my (perhaps slightly un-balanced!) opinion as an Rise owner, Orbea really hit this nail squarely on the head. 
My Rise has 30% less power than the 85Nm Bosch driven Cube mentioned earlier in this article but its also 29% lighter, which means that their power to weight ratio is almost identical. It doesn't need 85Nm to haul itself around because its frame, components and Shimano drive system are so significantly lighter than the Bosch system. 
To compare like for like, the complete Bosch Gen 4 drive system including its battery and other ancillary components weighs about 7.5kg. On the Rise, its just 2.6kg!
Realistically, no bike can be considered "underpowered". They have exactly the amount of power they should have, for exactly the type of rider its designers had in mind. The chances are, if you find a bike "underpowered", its likely that you aren't the type of rider its designers had in mind, and there's absolutely nothing wrong with that. 
I regularly ride to work with Dan, one of our senior workshop technicians who lives very close to me and we're lucky enough to be able to take a beautiful 15 mile route through the Surrey countryside to work without really seeing a road for more than half a mile or so. He's a very accomplished, "well raced", serial bike park frequenter and rides a Scott Ransom with an 85Nm Bosch motor.
Here's our normal 7.30am drink stop at Frensham Ponds;
He chose it because its a hard-hitting, alloy framed monster he can repeatedly throw down hills and into trees without fear of doing it much harm. I'm actually a full time road cyclist but only part-time XC rider so my fitness is (usually!) very good and 15 miles would normally count as a nice warm-up. Despite his vastly greater off-road skill, I rarely struggle to keep up with him on my lesser powered Rise and make up for in fitness and economical use of gears and power, what he possess in lunacy and uncanny ability to seemingly not use his brakes. At all.
As two vastly different riders, our respective bikes do a great job of levelling us out. 


Is it really worth paying significantly more for a lighter bike?
This is a bit of a loaded question I'm asked regularly when looking at things like the 2023 Orbea Rise M-Ltd in our showroom which this year has a RRP of £9,999 against the entry level 2023 Rise M20 at £6,499 or the 2023 Haibike Lyke CF SE at £8,999 vs the entry level 2023 Haibike Lyke CF 10 at £5,899 and again, its not very clear cut. 
Lighter bikes cost more for pretty much one reason only - R&D. 
The extra research and development costs to reduce the weight of bikes and their components can run into often millions of dollars for the respective manufacturers. On top of this, each time a big advancement in design and technology is made, it more often than not requires completely new manufacturing techniques and tooling, which when brand new, cost more. Carbon fibre frames also cost more than alloy frames to manufacture. 
Its worth while remembering that with the Rise models as an example here, you're not just paying this R&D cost to Orbea. When designing the Rise, Orbea were specifically trying to make it as light as possible and so they were hand picking the very top end, lightest components they could use and so your R&D portion of the bike is being paid through Orbea to Fox for their suspension, Shimano for their brakes, gears and jointly designed drive system, and all of the other companies who contribute ultra-lightweight components to the end package. 
But, is all of this really worth it?
This is where it gets a little murky and it really comes down to the individual.
In the simplest terms, even if you have all of the money in the world, is it good value to spend £10k+ on an electric mountain bike if you've literally just started out? Absolutely not. You wont get anywhere near the performance limits of the bike for probably 5-10 years.
On the flip side, is it good value to spend £3,000 on an entry level electric mountain bike if you're already riding at pro level and just want something to whizz you to the top so you can get in more downhill runs? The answer is the same. You'll get to the top quicker, but be severely limited by its components on the way back down. 
The best way to choose
Its worthwhile taking a look over the specification of the bike (we provide a component level breakdown near the bottom of each product page) and make an honest assessment of your riding skill.
Don't make the mistake of going straight for the cheapest possible option. Long-term, this is a poor buying decision and you may find yourself as a skilled rider on a bike which doesn't have the specification to match your skills or as a new rider, having put in solid skills work for a year, with a bike which no longer performs at the level that you are. 
Take your time and carefully consider the specification of each model option. For best long-term value, you're looking for an option which offers a little more specification than you need right now, in order to make sure you have room to grow as a rider. 
Likewise, don't be sucked into the trap of needing to have the swankiest bike out on the trail. A more expensive/lighter bike honestly doesn't make a better rider. No-one is ever impressed by a 15kg ebike with its Kashima coated everything, flashy paint job and fully electric gears that spends more time wrapped around trees than it doesn't with your bum on the seat!
Not only is it poor value to be riding around on a 10k bike as a "£6k rider", replacement components are significantly more expensive. An SLX chain and cassette kit for the M20 costs £149.98 at RRP. The XTR components from the M-Ltd will set you back £389.98 and you'll be eating through these once every several thousand miles if you look after them well. If you crash and destroy a rear derailleur the SLX replacement is £84.99. The XTR unit is £214.99. If you're not getting the performance benefits they offer, why pay for them?
Brass tacks/TLDR; There is a roughly 2kg (11%) weight difference between the top and bottom models in the Rise line-up for 2023, at a cost of £3,500 between the two. The components used to make this difference do have their own performance characteristics and they do have real world performance advantages but if your skill as a rider isn't high enough to see those benefits and you have no plans to get there, why spend the money? 


How do you know if you need a "full fat" or lightweight electric mountain bike?
Sometimes its a "need", sometimes its a "want" and almost always, there is never a 100% clear cut answer. 
Through my experience of having sold several thousand electric mountain bikes to all types of rider, I've found it tends to vary based on whether a rider is buying their very first bike or replacing a currently owned one, along with their current experience and fitness level. 
Budget aside, this actually helps me categorise riders in three ways;
The "Power Hungry"
Those who are looking to do as little work as possible or are looking to buy their very first bike are very often influenced by those they have been or plan to ride with, or are very much stuck in the "I want all of the power and all of the range" mode. Sadly, this can often lead to poor buying choices and rider experience if they're not adequately "steered" with proper education on the pro's and con's.  
The "Ex-Racer"
These are already very accomplished riders and/or understand the intricacies of mountain bike performance (not necessarily ex-racers, but highly skilled at least), geometry, kinematics and componentry. They normally take a more considered approach and its this more in depth knowledge which often leads them naturally to a lighter weight bike and/or are generally "fitter" riders and making better buying decisions without needing to be taught to suck eggs. As a result, this group also includes converted roadies or those who flick between the two.
The "Second-Timer"
Second (or more) timers have normally outgrown their current eMTB in one or more ways. Often this can be that they didn't account in the specification of their first bike for increasing their skills with the increased number of miles they're doing now they have a motor underneath them, have previously made a bad buying choice based on lack of eMTB education or prior given information on them or they just feel its time to upgrade and through having already owned a bike, they at least know what one of the "fat vs thin" eBikes feels like.
Is there anything else I should consider when deciding between a full fat or lightweight eMTB?
The intricacies of ownership are often overlooked, so here are a few other things to consider, largely as a "side-note" to purchasing a new electric mountain bike in 2023;
Transport
If you find yourself needing to transport your bikes to get to where you want to ride of for service, electric bikes, even the lightweight ones, need special consideration when transporting them. Thankfully at 6'3" and just the wrong side of 100kg, manhandling the Orbea Rise into the boot of my estate car without the front wheel on isn't all that tricky but for those who are shorter or not very physically strong, it can be a bit of a hassle or might need an extra pair of hands at each end of the journey. Lighter bikes make this much easier. I have, on occasion, struggled to wedge an almost 30Kg Haibike FLYON into peoples boots where they've not been able to do it themselves after having had it serviced. 
Traditional bike carriers such as those which clip on to the panel edges of your car (like the wonderfully designed Saris Bones) will only take a single "full fat" ebike. Even the 3 bike version of the Bones isn't rated high enough to take two and it'll either damage your panel edges, or worse, drop them off somewhere you didn't intend. At speed. Probably into the bumper of whoever is unlucky enough to be behind you.  
Roof racks normally are rated high enough. Most car roof racks have a maximum permissible weigh of around 100kg, sometimes a little more. The trouble is always in the getting them up and down. Lifting a 16.5Kg Orbea Rise above your head isn't too much trouble for many, but lifting a 30Kg FLYON and skilfully getting it into the right slot before strapping down is harder work than it probably sounds. Doable, but not ideal. 
The best solution for carrying electric mountain bikes )and certainly if you're lucky enough to be carrying more than one), is a tow bar mounted rack. These are normally rated to take up to two, with a max capacity of around 60kg. The only downside to them is that if you don't already have a tow bar fitted, the cost of getting one and a rack will put you at around £1,000, just to cart the bikes about. 
Trail obstacles
Off road I ride mostly "cross country", seeking out fast, flowing tracks and trails without too many big mandatory jumps so perhaps I come across this more than most but eventually, they catch out almost every rider. Gates, turnstiles, stiles and other things put in place to keep animals or people in or out of places. 
Recently we had a customer who when buying his first ever bike had purchased it online without chatting to us and several weeks later, came back to us asking to trade it in. He 'd recently joined a new cycling group in his area of the West Sussex countryside but hadn't "cased" the routes and had no idea that he would need to lift his bike above his head roughly once ever 1.5 miles over a 30 mile ride. This was something that he hadn't considered and at almost 70, simply wasn't able to physically do. 
Sometimes these types of obstacles can shape the course of bike ownership if you only ride your local area, but can also be helped with method and practice.
Maintenance and Manual Handling
If you like to do your own maintenance and fine tuning, having a workshop stand in the garage is almost obligatory.
In our workshops we have very swanky electric bike stands which lift the bikes to any height or orientation for our technicians who sometimes might have as many as 20 different bikes in their stand during a single working day but at home, you're more likely to have an ordinary manual stand and you're going to need to be able to lift your bike about 3ft off the floor and with one hand free so you can clamp it in with the other. 
With my 7.5kg road bike it takes little more than a thumb and index finger. With a 30Kg FLYON driven bike, you're liable to put your back out! 
As well as maintenance, there is also the need to physically move the bike around. If like me, you're very tall and your ebike only weighs about 20% of what you do, this isn't an issue at all but if you're a 5'2" lady and only weigh over 50kg when you've got back from a typical British winter ride, you're still soaked through and mostly covered in mud, a 25kg eMTB weighs half as much as you do and its going to be a bit more of a challenge!
So, which are you going to pick in 2023? 
Ultimately, which you go for, should depend on what is most important to you as a rider but it's not always that simple. As a general rule;
Those who aren't particularly fit, are new or returning to cycling as a whole, are trying to protect an injury (Knee, hip, etc) or disability or otherwise need the most amount of support possible, should consider a "full fat" or circa 80Nm power output. 
Those who are already accomplished riders with a good to excellent degree of base fitness, those who are looking at an electric mountain bike with the specific aim of increasing their fitness and not relying solely on the motor to get them about, bike park riders who only want to skip the uplift queue or those who just want something which "feels" and rides like their normal bike should absolutely be taking advantage of a lighter bike in 2023. 


We hope this gives you all of the information you need to make a more informed buying decision on a full fat or lightweight ebike this year but if you're still struggling, you can always Contact Us, or Book an Appointment to visit us and we'll be very happy to help you find the right bike, for your skill and fitness level and your own riding style. 
If this has tipped you off the fence you've been sat on and you're ready to buy your full fat or lightweight electric mountain bike, you can find them all here.