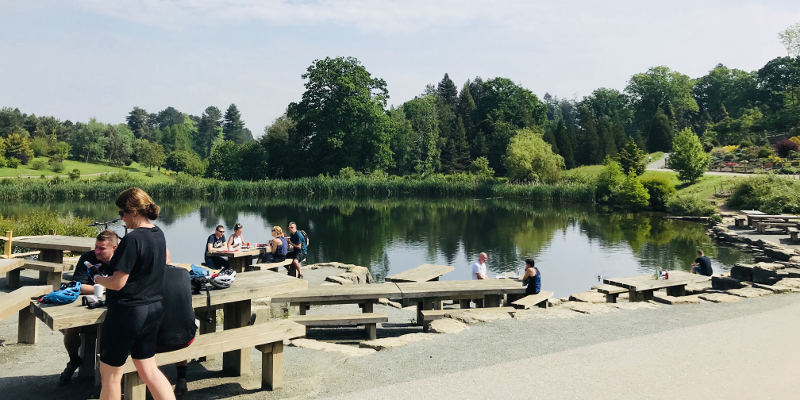 E-Bikeshop Owners Club Ride: Bedgebury Forest May 2018
By Martin Brown |
On Sunday 27th May the E-Bikeshop Owners Club visited Bedgebury Forest for an action-packed ride on electric mountain bikes.
This trail centre is located in Kent & has some great trails on offer! We all met at the main carpark at 10:30am, after a quick coffee and catch up we set out to ride the trails, which are all marked Red, Blue and Black. We learned a new member of the club - Dale, was a regular around Bedgebury Forest, so he led us up to the first trails off-piste to avoid the rather dull fire roads. It was a really hot day with the temperature scaling 26 degrees, but the forest had suffered a thunderstorm the night before which left the trails nice and sticky, which was great with zero dust! After a couple of the main trails, Dale led us off the site to cover a little more ground including some fun singletrack, bridleways and a little road too. It was nice to extend the route and mix it up a little. We headed back onto the main trails, completing a circuit led us back to the main cafe where we all had a cuppa, snacks and a natter. The group then went for another lap of the circuit in the afternoon. https://www.relive.cc/view/rt10000250742 All in all a great day, with no major mechanicals (apart from James snapping a chain link!). It was really nice weather and a great addition to the bank holiday weekend.
Special thanks to Dale for leading this ride and taking us on the excursions. Looking forward to the next ride! The next ride is up and live now on the Owners Club page. So take a look and click 'Join' to confirm attendance. We will, of course, publish all the photos of this ride on the ebikeshop club page in the next few days, don't forget to tag yourself in them.
The E-Bikeshop Owners Club is a closed group of riders, if you have purchased an eBike from us and want to get involved, please find all the details here: E-Bikeshop owners Club.