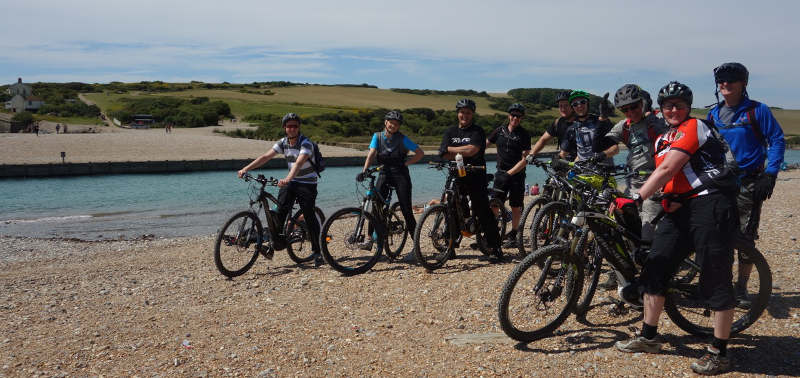 E-Bikeshop Owners Club Ride: Friston Forest August 2015
By Martin Brown |
On Sunday 2nd August we travelled south for another E-Bikeshop owners club ride. This time seeing what the south coast has to offer around Friston Forest! We met mid morning at a small village called Alfriston, here a convenient car park located just a short ride down some country lanes and we were straight onto some tracks.
While a couple of Owners Club regulars missed this one, we did see some more new faces on this ride, every ride seems to show new people and the club is growing in popularity. We rode out of Alfriston and up a steep climb then headed out onto the road to see a fantastic sight - The Wilmington Giant.
We then climbed further up the side of Windover Hill for quite a while until we hit the peak at the top, where some more fantastic views could be taken in.
Fortunately all the climbing at the start of the ride was not diminished as of course we were all on eBikes and could enjoy the up hills!
We then rode down and along into the top of Friston forest, this ride was led by fellow member Gary. This is his local riding spot so he knew exactly where to take us to get the best views, terrain and singletrack.
Friston forest is full of bomb holes following the war. Fortunately for us, these bomb holes made for great riding in between the tight woodland singletrack. The first ones we rode are called Doris and Bert. We then went on to ride 'The Wall of Death Bomb Hole'. All the tricker parts were avoidable for the less experienced in the group. Whilst some got carried away and hit them multiple times, getting more and more confident with each run!
We then went on to ride the 'Fairy Trail' with lots of tight twists, turns, roots and the odd jump to keep things exciting. Gary got us all trying the bomb hole challenge, where you have to enter one side and leave the other side without pedalling.
The temptation to stick the anchors on or add in a little pedal to get back the other side was agonising. But a couple managed to do it after multiple attempts. Entering with enough speed to get back out meant that a little airtime was required as you entered the bomb hole. Good fun indeed!
Lovely trails and the fact that you could ride around most bits if you were not confident was again great for the newer members. Although by the end of the ride most of them were getting air on the tabletop jumps!
From the bottom of Friston forest we climbed back up and Gary showed us the Snow Trail. What appeared to be fairly hidden, I am glad we had him on board as so many of these excellent trails could easily be missed if you didn't know where they were. The bonus of having a local in the club I suppose! We have found this with previous rides too, it's so nice to follow and not have to know where you are going.
Each ride we tend to have a leader that knows the area well. This works perfectly and not only do you get to ride with like minded eBikers, but you learn new places to ride too. Double win!
Conclusion
To conclude the ride we headed out of Friston and rode down through Westdean to Cuckmere Haven. This hotspot was really busy on the Sunday with tourists and locals alike enjoying the beach and a quick paddle in the sea.
It was a great opportunity to stop, unwind and cool off. Forgot to add at the start of the report that once again the weather was amazing!
A short ride back up through Litlington and over to Alfriston left us back at the car park where we met. With high spirits & smiles all round. The big question is when is the next ride out? Well it's live now, so to all of our fellow owners, login and make sure you get the date aside! This next one's going to be popular as we revisit a favourite from earlier in the year.
The E-Bikeshop Owners Club is a closed group of riders, if you have purchased a eBike from us and want to get involved, please get in touch.