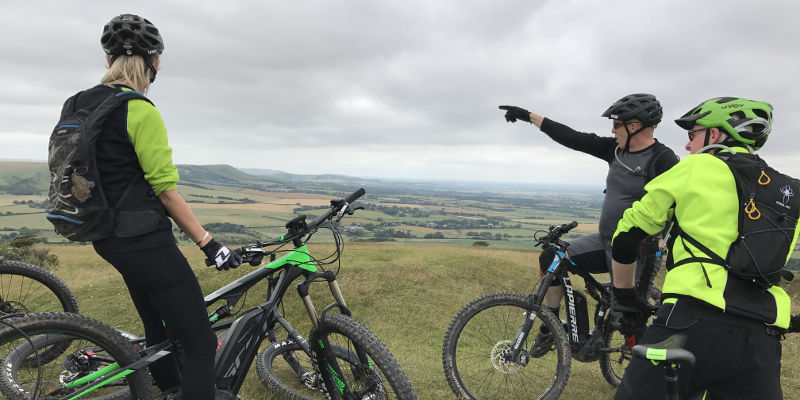 E-Bikeshop Owners Club Ride: Friston Forest June 2017
By Martin Brown |
On Sunday 25th June we visited Friston Forest for an E-Bikeshop Owners Club Ride around Alfriston and the surrounding area of the south downs on eBikes. We all met in the village of Alfriston at 10:30am on a Summers June day. Around 12 riders joined us for a great summer ride on electric bikes. The weather was cloudy but warm with temperatures just into the 20's. Perfect riding weather! Resident E-Bikeshop Club member Gary led this one as it's located at his favourite riding spot. We all had a brief and set off with a big climb to the top of Windover Hill onto the downs, with views to die for. This then followed into Friston forest where we had a day of singletrack, bomb holes (including the famous 'Bomb Hole Challenge!') and then onto more technical terrain. Later in the day the group split, some to tackle some more serious downhill runs and some for slightly more novice terrain. For a moment we did get lost and the 2 groups ended up splitting. Luckily we managed to make contact and Gary darted off to reunite the group. Here's a map of the route we took: All in all a great day out full of fun thrilled riding and great people. We did have a couple of minor falls, but fortunately, the guys got straight back up smiling! We covered approx 22 miles with over 2584 ft of elevation with in total about 4 and a half hours ride time.
Special thanks to Gary for leading this fantastic ride! Everyone is agreed it's one of the best. The next ride is up and live now on the Owners Club page. So take a look and click 'Join' to confirm attendance. We will, of course, publish all the photos of this ride on the ebikeshop club page in the next few days, don't forget to tag yourself in them.
The E-Bikeshop Owners Club is a closed group of riders, if you have purchased an eBike from us and want to get involved, please get in touch.