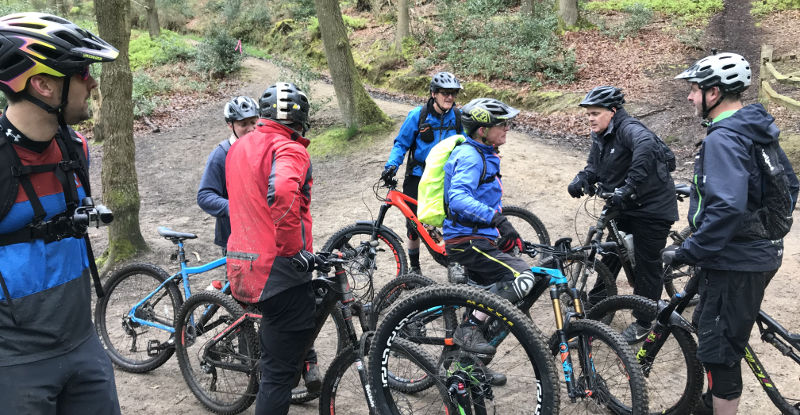 E-Bikeshop Owners Club Ride: Peaslake (Surrey Hills) April 2018
By Martin Brown |
We re-visited the famous Peaslkae (Surrey Hills) with the E-Bikeshop Owners Club for our Spring April ride out. Riding both the trails and off-piste on electric mountain bikes.
The plan was to meet at Holmbury village hall, but the car park here was full. Club member Ken kindly put a post up to say to re-locate in the morning to another carpark down the road. This added a little confusion, in all the times we've visited this area we'd never had the car park full. The plan was to split the pack into 'Beginner' and 'Advanced' riders. But half the group had met and gone elsewhere, so the remainder of us who'd grouped up decided to stick with the 'Advanced' trails, kindly led by club members Chris and Ken. We headed out to a couple of famous trails (Yoghurt Pots and Barry Knows Best) first to then follow some ambitious off-piste riding. The beauty of these trails is they offer such varied terrain and different skill sets throughout. It's so nice that Chris and Ken led us out onto these as 90% of the ride you'd never have found if it wasn't for these guys. Ken has been riding the Surrey Hills for 50 years! A couple of hours in following a few adventures (where Ken decided it best everyone take a look first before committing!) we headed over to the Peaslake Village Cafe where we served up one of their famous sausage rolls and a cuppa. From here we headed back out over the hills to check out some more off-piste terrain and a few good step in trails. Luckily the weather held off all day and in total, we covered around 16 miles of off-road riding set over around 5 hours of riding. Special thanks to Chris and Ken for leading such a great ride and being legends all day!
Shout out to Rob who joined us from eMTB Forums on a brand new Haibike xDuro AllMtn 6.0 we'd lent him to test for the day. Despite the confusion at the start, it was a great day with great company too. The next ride is up and live now on the Owners Club page. So take a look and click 'Join' to confirm attendance. We will, of course, publish all the photos of this ride on the ebikeshop club page in the next few days, don't forget to tag yourself in them.
The E-Bikeshop Owners Club is a closed group of riders, if you have purchased an eBike from us and want to get involved, please find all the details here: E-Bikeshop owners Club.