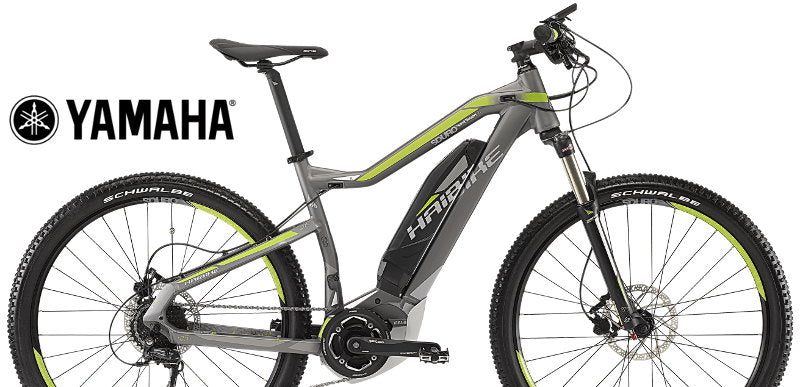 Long Term Test: Haibike sDuro HardSeven SL Review
By Martin Brown |
An existing customer emailed in his lovely long term review after 7 months owning his Haibike sDuro HardSeven electric bike. He has now clocked up over 1600 miles by eBike.
What I wanted to achieve?
When I bought the bike I wanted primarily a bike to ride to work on as often as possible, leaving my car at home as much as possible on a bike that could cope with a mainly off road route of between 12 and 14 miles to work and then get me home as quickly as possible on a hilly 10 mile B Road route. To complicate matters I need to carry quite a bit of stuff to work and prefer to use a rear rack and panniers to do so. The tracks I use are too rough for the trekking style bikes so my choice was quickly reducing. I looked at a lot of bikes but in the end decided I needed a hardtail electric mountain bike that I could fit a rack to. After a lot of research I found myself returning to the e-bikeshop site and focusing on the Haibike sDuro and xDuro HardSeven. I rang Martin who was very helpful, and reassured me that they could fit racks to either bike and said I should come to the shop and try them out. In the end I attended the demo day and was able to ride both the Yamaha and Bosch systems on great tracks and meet some really friendly like-minded people.
After that I arranged to meet Martin at his shop in Farnham where I could see the whole range of bikes and make up my mind in a relaxed way. Martin also suggested a set of Moon lights that have proved to be excellent and fitted some Schwalbe Smart Sam plus puncture resistant tyres and slime filled tubes to avoid as many punctures as possible as a puncture when you have to be at work is no fun.
The Yamaha motor
As other people have noted The Yamaha motor is a gem. The zero cadence works brilliantly off road and means it responds immediately to your input on the pedals and the torque of the motor will pull you up and over anything you aim it at. It will try and engage with any weight on the pedal and if you are at a road junction or set of lights I sometimes switch the assist off while I am waiting and back on again when it is time to set off. Either that or just take your feet off the pedals or un-weight the pedals.
Riding the eBike
I have now been riding the bike to and from work for seven months throughout the summer and hardly had to use the car at all. The off road route to work is a sheer pleasure and I have added more demanding tracks knowing that the bike can cope. I actually want the exercise and now predominantly only use the eco mode on the 13 mile off road route to work but know the bike can pick up the pace and fly at the push of a button. Getting home fast is also a pleasure I use the second standard level of assistance and never use the highest assistance level even on the steep hills and turn the motor off on descents. The Moon lights mean that I can see where I am going now! The 9 speed gearing has a sweet spot for cruising around 20/22 miles an hour. Obviously the speed drops on the steeper hills and you just drop down through the gears until you find the best one for the effort you want to add to the pedals and the gradient you are climbing. However I still find myself climbing some long more gentle hills at an indicated 20mph. Even a fairly steep long hill is dispatched at 12/14 miles an hour. On the steepest hill my speed drops down to around 10 mph. Momentum is quickly regained when you crest the hill. With a crank motored bike you have to pedal and whatever the setting you end up exercising, which for me is a benefit not a curse. Using eco on my 12/13 mile mostly off road ride to work I have about 62% battery left when I arrive at work. Blasting the 10 miles home on my hilly B Road in standard I have about 52% battery left when I get home. I top my battery up at work and am a 17 stone + guy with two loaded panniers.
I did manage 30 miles on a fun mostly off road leisure ride including lots of very challenging hill climbs and by managing the way I rode the bike found the controller telling me I was about to deplete the battery 200 yards from home.
Longer term thoughts?
After 7 months I have so far seen no noticeable degradation in the battery. I look after my battery by bringing it into the house after every ride and charging it if I am going to use the bike the next day. If I am not going to use the bike for a number of days it will have over 50% remaining after my ride home from work and I store it without topping it back up in a warm dry cupboard and then charge it up again on the day I next ride. I was worried about spokes breaking in the back wheel being a heavy guy and carrying panniers but actually wrote off my rear wheel and rear mech after only a few weeks riding when a tree branch jammed in the rear spokes, so I cannot say whether the original rear wheel would have coped with the weight it was carrying as the miles increased. Martin made me up a strong back wheel based on a mavic rim that has so far taken everything that I have thrown at it. The beauty of a crank drive is that if you need a stronger rear wheel you can just build one up and slot it in. A disadvantage of a powerful crank drive system is that it puts quite a strain on your cassette, chain and front sprocket. I would advise changing gear as gently as you can. I read Anthony Flemings excellent review and did find that I also damaged the original rear cassette by unsympathetically changing gear on a steep hill under full load. The system does interrupt power as you change gear but I would still recommend taking a gentle approach to changing gear.
Any upgrades?
I followed Anthony's advice and fitted a cheap rear cassette that has for me proved more durable than the original although I made sure my gears were perfectly indexed after it was fitted. The rack Martin fitted is working well in combination with my Ortlieb Panniers although for my own peace of mind I replaced the standard fitting bolts with much stronger ones that I sourced from the excellent Margnor Fasteners Ltd near Guildford. Like any new bike you will probably want to put a more comfortable seat on and I have found the Velo Inclined Men's Plush Men's Saddle – Black sourced from Amazon the most comfortable saddle I have ever used and have now put this saddle on my other bikes. The Smart Sam Plus Tyres with slime filled tubes have not punctured. Over half my mileage is off road with all the hazards you meet there so I strongly recommend them. I have found enough grip off road and due to their strong construction they are a very fast running road tyre for commuting and very hard wearing. For me the standard brakes have been very good with plenty of power and a nice feel and modulation. I know this contradicts other reviews but they have been fine for me. I also have not had a problem with the seat post and after fitting my new saddle it has stayed in the position I put it in. The quality of the Haibike frame is fantastic, obviously high quality and very well engineered, producing a taut and well controlled ride. I have a Rockshox Recon Silver 100mm fork that is fitted to the xduro hard tail on another bike I own and prefer the Rock Shock to the Suntour fork on the Sduro but the Suntour is air adjustable and works just fine.
Conclusion
So I have to say that after 7 months and 1600 miles I am still very impressed with this bike. I think that the combination of the German Haibike frame and Japanese motor are a great combination and hard to beat. I have ended up with a highly capable mountain bike and fast road bike that can also lug me and two full panniers around with consummate ease. More importantly than all this is that riding this bike is amazing fun and it has enabled me to commute to work by bicycle and leave the car at home which I could not have done on an ordinary bike. You obviously also get a lot of exercise in a way that you hardly notice. I have also found that e-bikeshop provide exemplary advice and very good service.
With thanks to Henry for this long term review on the Haibike sDuro HardSeven 2015.