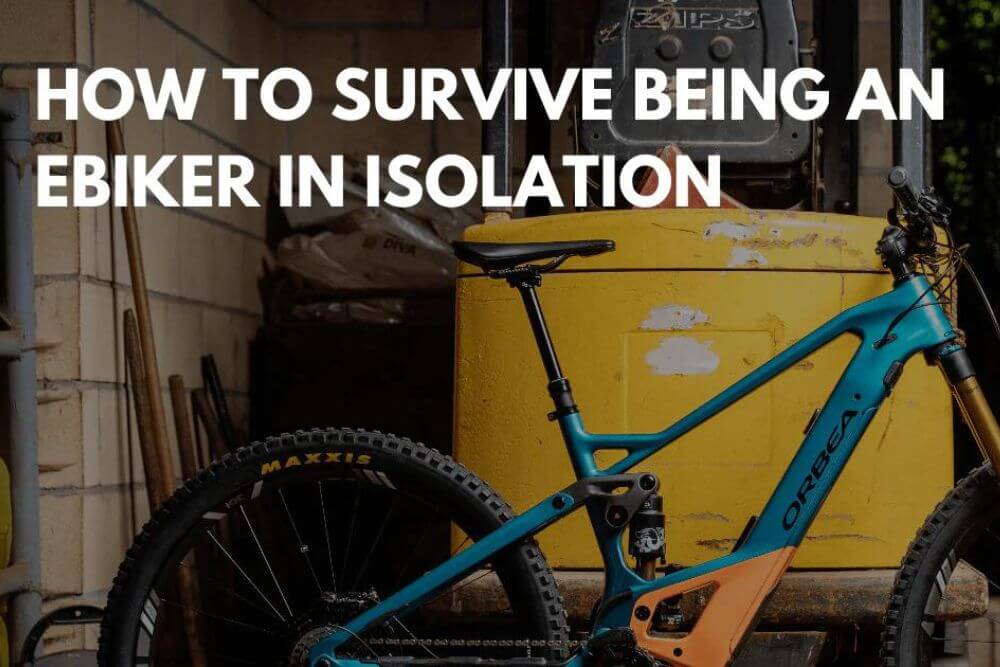 How To Survive Being An eBiker In Isolation
By Martin Brown |
Although currently in "lockdown", everyone is still entitled and allowed to exercise and so there's no better time to get out on your eBike. It's much quieter than usual too. We'll teach you how to survive being an eBiker in isolation...
#1 - Go For a Ride
Your favourite trails are quiet, walkers are limited. The weather is unseasonably good so the outdoors is a welcome break from being locked away at home for the potential of another 6 weeks!
The government recommends and allows one form of exercise a day. "For example, a run, walk, or cycle - alone or with members of your household". If you've been putting off getting fit this year or isolation has prolonged your hibernation, why not do it on an eBike? A new eBike is the perfect way to increase fitness at a pace you decide.
Have you seen our handy eBike riding techniques guide?
If not, be sure to check it out!
#2 - Maintain Your eBike
Maintaining your bike goes hand in hand with maintaining your health.
With many people having to work from home, sneaking to the garage or shed on your lunch break while your boss is unaware is a perfect excuse to tinker when you can't ride!
If you've been putting off servicing and maintenance over winter, now is the time to get it done. You can find our full range of eBike spares available for delivery.
Did you know we have a complete "best practice" guide on cleaning your eBike on our dedicated E-Bike support page? You can also find other useful tips like how to look after your battery, too.
#3 - Book a Video Call With Us
If you've been considering becoming an eBiker, now is the perfect time to start your search.
With better weather on the horizon and biking being one of the few things you can still do, we can help you navigate the ever-expanding market and get you onto the right bike and spending more time outdoors.

Our eBike experts are on hand to discuss your requirements. We can narrow down the options and have your new electric bike delivered to the comfort of your own home.
#4 - Browse Our Website
Over 150 bikes, an extensive catalogue of parts, spares & accessories - at your fingertips!
We work hard to ensure we have a comprehensive range of products that naturally complement the bikes we sell at prices that make sense. All stocked parts and accessories are available for delivery the next working day.
You'll also find hours of helpful and informative blog posts, hints and tips, videos, tutorials, and user guides - there's something for everyone available from the comfort of your sofa while planning your next (short!) eBike escape from isolation! Browse Electric Bikes here.
Hopefully, this has helped you in learning How to Survive Being An eBiker In Isolation! Find out how COVID-19 has affected us and how our operating procedures have changed. Read More on our dedicated page here - COVID-19.