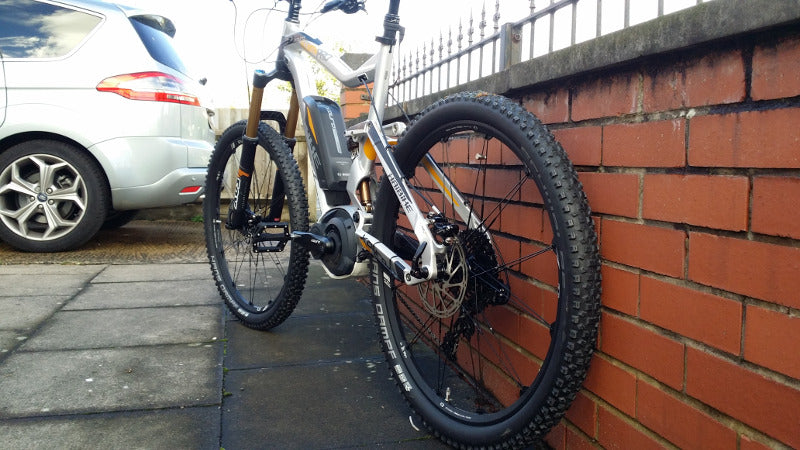 User Review: Haibike AllMtn Pro 2015 eBike
By Martin Brown |
Chances are, if you're reading this, you've already got an e-bike or you're doing the necessary research and in the market for one.
The punchline, therefore, is the
Haibike AllMtn Pro 27.5
is an excellent machine and you should buy one!
User Review - By Ian Coleman
If that's all the persuasion you need to spend your money, then no need to read the rest of this – however if you, like me, tremble at the thought of spending £5.5k on a pushbike, then read on. If you wish to be regaled with stories of how I've conquered Snowdon on the Haibike or how I rip up all the trails at all the national bike parks every weekend – you're going to be disappointed. Truth is, I'm a middle aged, tall, fairly heavy, boring man, who doesn't drive but likes mountain bikes. The key part in the last bit is that I don't drive (because of eyesight issues) so to be able to get around on a powered vehicle of any sort, without fear of being nicked still holds quite an appeal. Also, because I don't drive, I can't simply throw the bike in or on the car and shoot off somewhere in Wales for some hardcore trail riding – the evidence of which I could spice up this review.
What I can tell you though
Is that being able to absolutely fly back and forth to work every day, keeping up with the traffic is absolutely brilliant. Nipping into town to meet friends and arriving without being festooned in perspiration is one of life's small pleasures that only someone else in the same situation will truly understand. Keeping up with the "MAMIL" fraternity (Middle Aged Men In Lycra) on their roadies is also particularly satisfying.
So what about the bike?
It looks great. The wheels are basically what sold it to me. Sure, you can spend a whole lot less on its little brothers (the RX and RC), but you simply don't get those wheels (Crank Brothers Iodine 2) and you don't get that 11-speed SRAM derailleur. If I had one little gripe, it's that I actually prefer the frame colour of the RX, or indeed last year's AMTPro model in matt black. The white frame on the AllMtn Pro shows up every last spec of dirt – and whilst that's maybe cool after a morning out on the trails...if ever...it's annoying when all you've done is ridden a few miles into work and back on normal roads. As I say – minor gripe. When it's all cleaned up, it looks amazing – as hopefully the pictures herewith show. Sorry – no spectacular pictures of me astride the machine on top of a craggy outpost gazing wistfully into a stunning sunset. I work, I have kids, I do domestic things at the weekends!
But before you wander off and look for a more dynamic review, bear this in mind. I ride every day in all weathers. The roads are greasy, salty, full of potholes and there are hills where I live. The bike gets a workout twice a day – every day. So far – in five months of pretty grotty weather conditions (November to March) I haven't had a single problem. All you've got to do is keep it clean.
The best advice I can offer
Is – try one! Martin at e-bikeshop runs a demo day and I happened to come across his blog advert and got myself a last minute place on one of the rides. Go and ride one! Whilst Martin is a good salesman, knowledgeable and personable, he doesn't really need to sell the bikes – they do that all by themselves. If you want to know what it's like, book an appointment with him and try one – you simply will not be disappointed. There is something visceral about accelerating faster than you know you should be for the effort you are putting in. One of my concerns (besides the initial shock of the price) was whether or not this was just a weekend machine that wouldn't stand up to continuous use from a big lump sat on top. I'm 6'7" and fluctuate around the 110kg mark. I pedal really hard and have a reputation for being generally hard on bikes. Immediately, I felt secure on the demo bike – which was a little bit small for me to be honest – so now that I have one of the large frame models, it suits me down to the ground. The larger frame and superb 27.5" wheels actually make things look at bit more in proportion, too. My concerns have not been realised. As stated above, it still bombs back and forth to work without trouble.
To sum it up?
There's nothing more I can say, really except to summarise. An excellent bike from and excellent retailer ….. Go on! You know you want to!! Thanks again to Ian Coleman for this fantastic review. Its great to hear end user feedback and always a pleasure for us to hear how well someone loves their eBike! To view the full spec of this model of for more info please click here - Haibike AllMtn PRO