Orbea Urrun Electric Bikes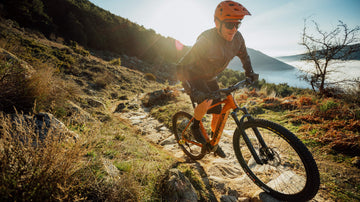 The Orbea Urrun electric hardtail mountain bike range embodies trail prowess fused with electric innovation.
These bikes redefine off-road adventures, seamlessly integrating powerful motors into sturdy frames for electrifying rides. With responsive handling and robust construction, they tackle rough terrains with ease.
The Urrun range offers diverse riding modes, tailoring the experience to every trail and rider preference. Crafted with premium components and enduring batteries, they ensure reliability and lasting performance on rugged paths.
Orbea Urrun models symbolise Orbea's dedication to trail mastery, delivering an electrifying experience that empowers riders with exceptional power and agility, setting new benchmarks in electric hardtail mountain biking adventures.
Can't find the Orbea Urrun electric bike you're looking for? Fill in our special order request form and we'll do our best to source it for you!
The Orbea Urrun is a hard tail electric mountain bike designed for a little bit of everything. One of the lightest weight hard tails we have ever offered, its excels at almost anything you can point it at. Forest trails, single track and gravel are its home, and it makes light work of steep climbs with its 60Nm Shimano drive system.
The Orbea Urrun uses the same RS Tuned motor found in the Orbea Rise model range. Detuned from 85Nm to 60Nm and fed by a 540Wh battery, its power to weight ratio is still equal to that of a higher power bike, but with the handling of a much lighter machine. Although not offering the same total output, the Orbea Urrun is no slouch and is also much more economical than many of its competitors, able to cover the same number of miles as bikes with much larger batteries.
The range on the Orbea Urrun will be relative to the way its used, however technically it can do as many as 120 miles over flat ground, or half this on solely off road terrain. If using the higher power modes and riding on very hilly terrain, around 40-50 miles is readily achievable with efficient use of gears and power modes.