Orbea Wild Electric Bikes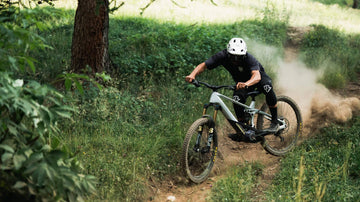 The award-winning Bosch powered Orbea Wild electric mountain bike range represents a pinnacle in off-road cycling excellence.
These bikes harmonize Bosch's cutting-edge motors with Orbea's top-tier engineering, delivering unmatched power and efficiency on rugged trails.
Recognized for their responsive handling and customizable assistance modes, they effortlessly adapt to diverse terrains and riding styles. Crafted with robust frames and high-performance components, they excel in conquering challenging climbs and thrilling descents.
The official Wild series stands as a testament to innovation and quality, earning accolades for redefining trail riding experiences, showcasing the epitome of precision, power, and endurance in electric mountain biking.
Can't find the Orbea Wild electric bike you're looking for? Fill in our special order request form and we'll do our best to source it for you!
The Orbea Wild range of 160mm travel Bosch driven electric mountain bikes are an "all mountain" bike. They're equally as happy riding some of the harshest mountain terrain as they are on fast, flowing single track and forest trails. A highly capable bikes, its a "one bike does it all" solution without compromise.
Orbea make the Wild range of electric mountain bikes in two frame materials (M for carbon frames and H for Hydro-formed alloy frames) and multiple model options within each. The carbon framed "M" options all share the same frame, Bosch motor and battery and the same controller. For the carbon, the range starts with the M20, and moves through M11 AXS, M10, M-Team and then M-Ltd. For the alloy "H" models, the range starts with the H30 and ends with the H10. The differences between models are largely brakes, gears and suspension. As the price increases with each model, these components move through entry level right up to the very top end world stage competition level.
The best Orbea Wild for each rider depends on their skill level and budget. When considering the Wild range, its a good idea to start with an honest assessment of your own skills, then consider your aspirations. Is this a bike just to keep you out and maintaining or increasing fitness, or do you plan to significantly increase your skills as a rider on a Wild? If you have no plans to progress yourself as a rider, picking a bike with specification which matches your skill level now is the best value option. If you plan to be doing a lot more riding where you will naturally become a better rider with time, its worth working out which bike best suits your needs now, then picking the next bike up in the range. This will allow you plenty of headroom in specification, therefore getting more value from the bike for longer.