It's important to your e-bike ahead of each ride
There's nothing worse than turning up to your local ride spot to find you have a slow puncture from the previous ride that went unnoticed! The following checks will help avoid any mishap, you may learn some useful tips too! 
It's also important to make sure you have a few spares to hand for each ride and make sure you take a key for your eBike battery. We'd suggest to always have a pump, multi tool and a spare tube to hand.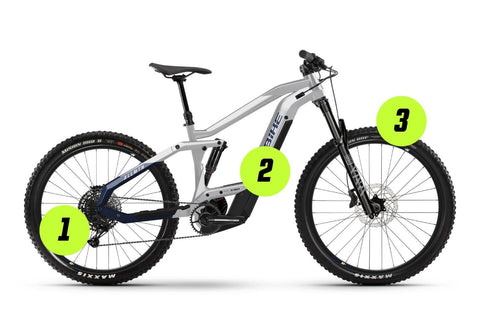 It's important to clean the drive train after each ride ensuring it's well lubricated ready for the next ride. 
We recommend to top up your battery after each ride. This helps to keep the battery to optimum efficiency.
It's important to check your tyre pressures. These can vary for different terrain and tyre sizes. 
Chain Lubrication
If you look after your bike drive chain, it'll look after you in return! We'd recommend to apply a dry lube on the chain or wet lube if riding in very damp conditions, before each ride.
You'll notice in the video, the pedals are rotated backwards to move the chain, this is not possible on crank drive eBikes. 

Top Tip!
For crank drive electric bikes with walk assist, hover the back wheel in the air and activate the walk mode to easily clean the chain as the motor rotates the chain for you. It's best to lube at the rear to avoid ingress and build up at the motor end. Remember to keep fingers out of the way of moving parts!
Up Next Step 3: Cleaning Your eBike