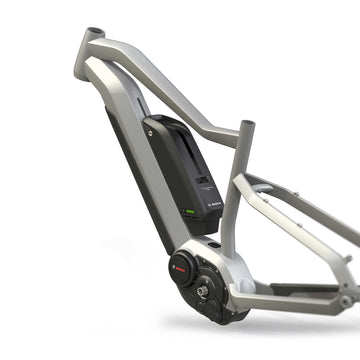 Haibike E-Bike Parts
Haibike MRS TheRangeExtender Bosch
Haibike MRS The Range Extender Bosch

The new The RangeExtender is designed to work exclusively with the Haibike MRS (Modular Rail System). This allows for accessories to be equipped on Haibike's 2018 on wards fitted with the Bosch 'InTube' battery system.
Exclusive product for our customers. Only to be added to the basket along with a bike, this accessory will arrive fitted to your new bike.
The Range Extender allows an extra frame mounted Bosch battery to be mounted on the frame above the current Bosch 'InTube' battery. Effectively doubling the eBike range. The batteries are connected internally so the power runs off in tandem.
This can be used in tandem with TheRailLock, but cannot be located if using TheBottle. You can buy TheRangeExtender and TheRailLock as a Haibike MRS combo pack using the same lock.
This is just for the battery mounts, fixings and cable kit (actual battery not included). You can add either option 400Wh (+£549) or 500Wh (+£699).



Available in 2 options (will appear for pre-approved customers logged in) you can select either:
Option 1: With 1 standard locking cylinder. This means you'll have separate keys for your extender battery and the InTube battery.
Option 2: With 2 simultaneous locking cylinders. This kit comes with 2 key barrels which you can replace one for your current InTube battery lock cylinder, meaning you have the same key for both the Bosch InTube battery and the extender battery. (+£15.00).
This will not work with any other Haibike which is not fitted with the Modular Rail System.
Please Note: This product is only available to customers who purchased their bike direct from us. This part is held in stock and is available to our customers for a quick and convenient solution. We do not supply this product to those who have bought their bikes from others.
IF YOU ORDER THIS PART AND IT'S NOT TO GO ON A BIKE IN THE BASKET, THE ORDER WILL NOT BE SENT AND YOU'LL RECEIVE A REFUND WITHIN 48 HOURS MINUS AN ADMINISTRATION CHARGE.