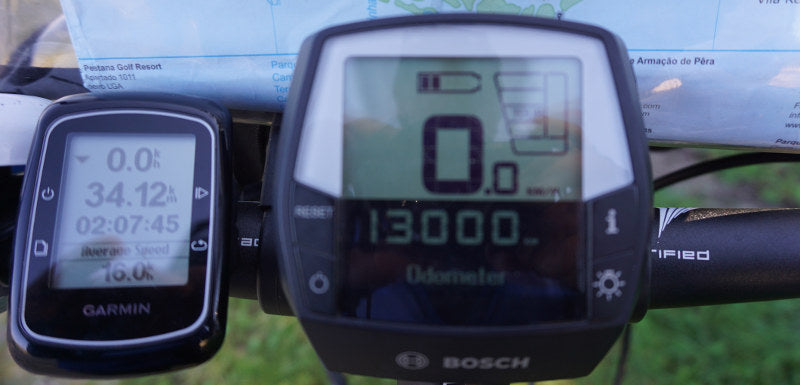 13,000km So far on a Bosch powered Haibike Electric Bike
By Martin Brown |
Seven months, 11 countries and 13,000 kms after setting out from the e-bikeshop HQ in Farnham, Surrey we catch up with Gary and Rachel (The eBike Cycle Tourists). Now at the midway point in an attempt to set a new world e-bike long distance record. After cycling anything up to 140kms per day week in week out, we now consider ourselves well qualified to speak about what is good and maybe not-so-good about our e-bikes. All too often you read so-called in-depth reviews of a product after a weekend or maybe one or two weeks of use at the most. That is not our style and it is why we have waited for so long and so many kilometres to do a "real" review of our Haibikes.
What is our honest opinion of the Haibike xDuro Trekking e-bikes we have been cycling? In a word they are an "amazing" piece of technology and engineering that takes cycle touring to a whole new level! We would recommend them to anyone contemplating a long distance self-contained cycle tour. With the current world record of 16,047 kms now well within sight and our eventual target of 20,000-plus kms clearly more than achievable, our Haibike's have clearly proven that they are more than up to the task given to them.
In fact, our Haibike xDuro e-bikes, in combination with the Bosch Performance crank drive motor and 400wh battery, have not only performed flawlessly, they have surpassed all expectations! A fact all the more impressive given the fact that both e-bikes are towing Tout Terrain single wheel cycle trailers loaded with 40-plus kgs of gear in addition to carrying two pannier bags each on the bike racks packed with camping gear, tents, spare batteries, food, clothing etc.
So impressive has the performance of both e-bikes been, that after nearly 13,000kms of cycling over all sorts of terrain ranging from tarmac roads to boulder-strewn tracks really only suitable for a motorbike and in weather conditions ranging from well in excess of 40 degrees to below freezing, the Haibike/Bosch combination has not missed a beat – testament indeed to the quality of the product. Sure, a long list of consumable parts such as brake disc pads, brake rotors, rear wheels, chains, rear tyres, a Sram hub, pedals, bike stands and an entire rear hydraulic back brake system have had to be replaced, but not the beating heart of our beasts of burden … the Haibike xDuro Trekking RX e-bikes.
The performance of our e-bikes has been all the more pleasing given the long hours of research spent studying the suitability of a wide range of e-bike models manufactured by companies from throughout the world prior to the start of the trip. The list of requirements the "right" e-bike had to have was exacting: a full range of 27 gear options, long battery life, a mid-mounted geared motor and frame-mounted battery, a relatively upright sitting position suitable for long days of comfortable cycling, hydraulic brakes for reliable stopping, front suspension, an overall suitability for long distance touring, 700c wheels for low rolling resistance, a make with an extensive list of dealers throughout Europe and the UK qualified to work on the bikes if needed and, most importantly, a sturdy frame capable of withstanding punishing long distance riding both on and off-road.
In the end it seemed that all roads, no matter what specifications were taken into account, pointed to just one e-bike – the Haibike xDuro Trekking RX e-bike in combination with the Bosch Performance crank drive motor and 400wh battery system.
With thanks to Gary Corbett for his write up, from the team and main sponsors at e-bikeshop. You can follow Gary & Rachel on their journey and see the full review of the bikes here.