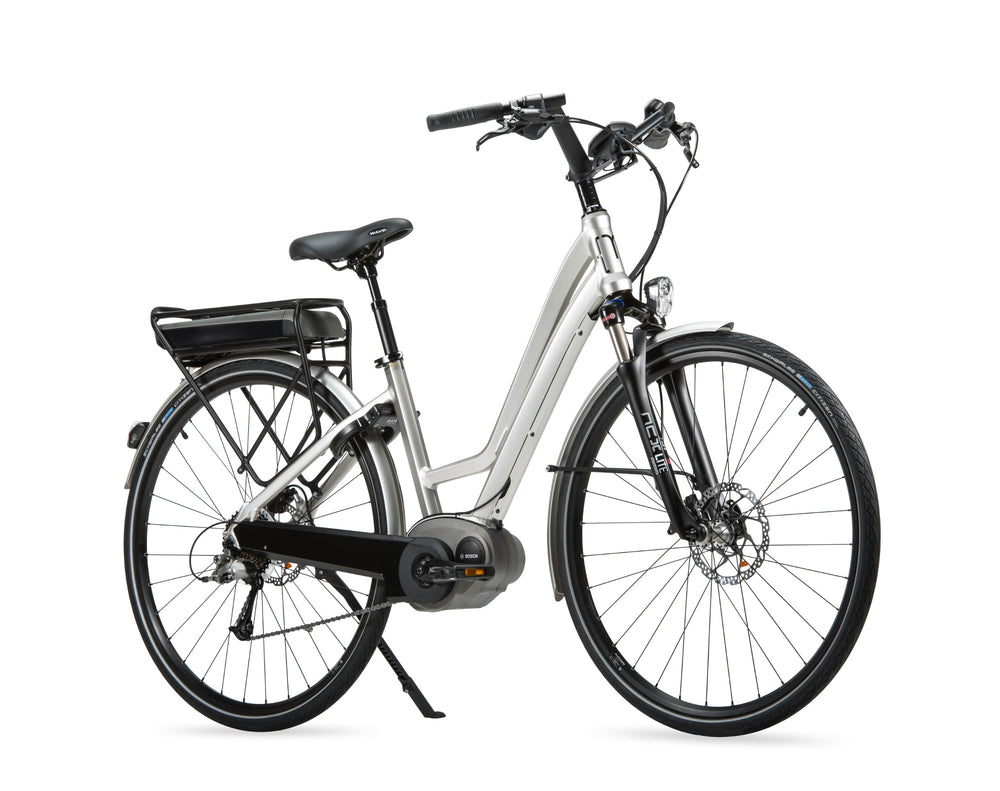 Back in the saddle after many years, now loves his Moustache Samedi 2014 Electric Bike - Customer Review
By Martin Brown |
This is my first electric cycle, so this is more a review of electric cycling in general. The Moustache is every bit as good as the photographs on the e-bikeshop website and is an excellent bike in its own right.
It has a lovely silver finish, elegant metal mudguards made by the company and quirky but stylish composite welded handle bars. The 9 gears work perfectly and provide all one needs for uphill (up to 1 in 8) and up to 30 mph downhill. The disc brakes were my first experience of this type of brakes.
Having tried them I would never go back to rim brakes or hub drums again. The carrier is able to carry my three large camping panniers. The bike is still manageable with 30 Kg loaded in the bags but feels more like a small motor bike to walk with when fully loaded like this. Cycle makers put great store in getting the cycle weight down.
In my case this seems a bit pointless after my 120 Kg of body and camping gear is added. Anyway, the empty Samedi is very light. Even with its large battery and motor, it is about the same weight as a Pashley.
This bike has an old fashioned 'sit up and beg' riding position. I was determined on a step through design, which this 'open' model is. With my top bag extended upwards, it is impossible to dismount by swinging the leg over the saddle. I am 64, 'sit upright' and 'step through' is what I wanted. The Samedi Open is my perfect configuration. My mission is to tour the South Shropshire hills with camping gear. The Samedi would also make a great commuter cycle, but 'they' will not give me a job and I do not want one, so back to long distance touring we go.
My Moustache is fitted with the new Bosch 400 Wh – 250 Watt electric pedal assist system. So technically this is a cycling review of that kit, it is not so much a review of the excellent Moustache bike itself. Having said that, Moustache has done a really neat job of designing the bike for the Bosch system. When I first moved to Church Stretton in the South Shropshire Hills, I gave my mid range 27 speed (hardly used) touring bike to my fourth son to use as a commuter. Even on the flat, my knees hurt too much after a 30 mile ride. I was 60 and decided that my cycling days were over. This area is lovely, but the roads that do not have 40 ton trucks passing through, are all straight up or straight down. Well straight in terms of gradient, in odd places the roads are straight themselves for up to 100 yards at a stretch.
Every so often I missed cycling and wondered if an electric assist cycle might help to scratch the itch. The local bike shop offered a 230 Wh Raleigh. I did some sums and laughed.
The scenic route to Shrewsbury and back is a 32 mile round trip with a 2800 foot total assent. That is typical; any lanes trip around here involves an average 90 foot of assent for each mile of route. The 230 Wh battery would hardly get me there, let alone back home. So when Bosch nearly doubled that to 400 Wh, I sat up and took note. Far from being a lot, 400 Wh sounded like it might be nearly enough. Completely forget the published range figures. Any over-weight and unfit twit like me can sit on a cycle while it rolls down hill and can probably manage a smooth level road in still air quite well too. The trouble is all about going up hill or into the wind. I only go out when winds are light, so in my case the trouble is about going up hills and nothing else.
Now in the case of going up hill, one needs to think. Say a route presented 40 miles of great cycling except for a 2 mile 2000 foot climb. In that case the electric assist is going to make stuff all difference because one needs to walk up the short two mile one in five section anyway. However South Shropshire is not like that. That 90 foot average assent per mile that I mentioned all comes as a little bit here and a little bit there. To get any where round here one needs magic to get up all the little rises. Well either that or get fit, which I refuse to do on account of the old knees. I was a bit scarred of finding out that the electric bike was no good for me. I waited for very compelling weather to find out.
Two days ago, in the afternoon sun I tried my Samedi downhill to Shrewsbury. The route is 16 miles and it took one hour (wow!!). There is a total assent on this 'downhill' route of 700 feet. I never had to get off once. At a pavement café in Butchers Row I had a glass of wine and sushi to celebrate and came home on the train. I had used only 30% of the capacity of the Bosch battery, I was not even tired. My knees did not even twinge. It all looked good to go.
Some people just choose the right town, Shrewsbury.
Martin Brown from e-bikeshop.co.uk had been very helpful and knowledgeable in guiding me to this choice. It was not an easy sell for him. He stuck the course and now I am a happy bunny. I was a bit uncertain about buying from a business the other side of the country. However had I gone nearer home I would have bought the wrong bike. This is because Martin knows so much about the subject and most other bike sellers know almost nothing and are busy selling the wrong thing (or the right thing by accident).
This guy does not do random, he does not make mistakes. Every action has a purpose, a reason. Some people just choose the right e bike shop.
Yesterday was also very calm and sunny. So I left off refitting the kitchen for a wet windy day another time and at 10 am I set off for Ludlow, 20 miles away. Now the route from Church Stretton to Ludlow via the A49 would be a good 16 mile route to test a new Ferrari on but would be hell on a cycle. I carefully picked a route on the lanes through the hills of Wenlock Edge. That way the route consists of 20 miles with a 1500 foot assent and a 2000 foot descent.
You need Memory Map, then you can know what is coming your way.
On a sunny day in mid May, this route is as close to paradise as this little iron ball is ever going to present. There is the smell of the flowers, the bird song and stunning views in every direction. There is time to chat up the pretty girl cutting her father's hedge. There is time to stop and talk to the horses. On foot this route would kill and be a foot throbbing pain in the backside. Driving an open car or motor cycle one would miss the smells, sounds and conversations. In a car one would also miss 90% of the views. The cycle is the only way for non horse riders to fully enjoy it. At 64 and very lacking in fitness, the electric assist cycle is the only way for me (as a non horse rider) to do it. I did it. It was deeply satisfying.
I reached Ludlow with what I thought was 55% of battery remaining. I sat at another pavement cafe in the sun and treated myself to a three course lunch with wine and a huge carafe of Ludlow branch (water). I loaded the bike with 6 Kg of vegetables and second hand Lee Child books from the market and decided to try going back home on the bike. I tried the alternative route home. This goes over a forest track to the West of the A49. I reached Onibury in fine fettle at 26 miles out with what looked like 40% of battery remaining and 14 miles to go. Then using low gear and boost power I winched myself up the 500 foot straight back into the hills. Big mistake! As I reached the tops at 800 feet altitude, the Bosch system tritely informed me that I had 6 miles of battery left with 12 miles to go. The forest bridleway had recently been relayed with football sized rocks. I always wondered how to legally close a bridleway. Now I know. So I had to walk for two miles over these rocks and even that tested the Moustache to the limit. My water bottle bounced off and I had to walk back half a mile to recover it.
The Onny Valley, how to avoid the A49.
When I got back down to Craven Arms I still had 6 miles of battery left but 11 miles to go. I should have got the train home from Craven Arms. I decided to ride it, but walk the big hill up to Cwm Head at 900 feet. It worked, and perhaps the three mile walk up hill was good for my figure. So the range of the Bosch 400 Wh system is about 32 miles in typical South Shropshire hill country and no wind. I used the 'tour' 100% assist setting all the way except for long gradients above one in twelve. On these I used the 'hot pursuit' (turbo) 225% assist.
I found an interesting undocumented feature. The Bosch system has a 'walk assist' mode. It pushes the cycle at about 3 mph when top gear is selected. When using walk assist I found that the gears change normally. So now if I am about to take off from the kerbside but top gear (too high) is selected, I can walk the gears into the correct setting using walk assist.
Some people just choose the right county, Shropshire
How could I have done better? Suppose one has used electric assist to reach a hill crest, the temptation is to use electric assist to accelerate down hill. This is pointless and wastes battery. If it is downhill, switch to zero assist and make the gradient do all the work, every little helps. I found it possible to winch myself up one in eight gradients at 5 mph, using lowest gear with 225% assist. This hardly saves any time compared to walking with 'walk assist' mode. Take for instance the rise out of Church Stretton up to Hazler Hill. This is 400 foot up in less than a mile. It takes 20 minutes and almost no battery walking and takes twelve minutes winching. So why use 15% of battery capacity to save eight minutes? Why spoil ones day out like that? Also if battery capacity is going to be a problem on a ride, get the obvious battery energy economies in early in the ride while one is still fresh.
I could have charged the battery in Ludlow, but then I would have failed to fully challenge the Bosch hill country range limit. The range estimates that the Bosch system gives are hopelessly optimistic for the first 50% of battery capacity. I think that with careful use of 'walk assist' and the downhill economy measure mentioned, the range might extend to 40 miles of hill country in still air. Not bad! Plus there are cafés and pubs with a new technology called 13 amp sockets. So take the charger along. Plan two three hour riding sessions either side of a long leisurely lunch each day, and 75 miles between overnight camp sites is completely possible. The Cotswolds, here I come!
With thanks to Benedict Campbell for this fantastic write up - from the e-bikeshop team!
To view the bike reviewed click here - Moustache Samedi Open Silver eBike