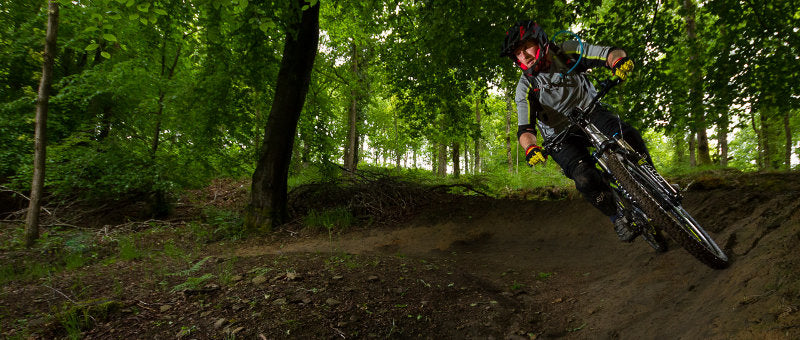 Electric Mountain Bikes: Forget everything you think you know!
By Martin Brown |
Here we see a lovely article from one of our customers explaining the use of electric mountain bikes, how it has benefitted him & his long term impressions using an eBike.
Firstly - A little about me, who am I?
Well I am a 38yr old ex Merchant Navy officer who spent my days on his feet walking miles and miles in hot climates, and seeing that there is little to do on ships once my shift had finished I used to work out in the ship's gym, so its fair to say I was fit, well many years ago; that was the case.
These days I work in the IT industry, so I spend many long days sat at my desk hunched over a keyboard tapping away, with the occasional short walk through to the rest area to make a cup of coffee and have a few biscuits or possibly a nice chocolate muffin. Now I am sure you can see where the problems started…. Too many cakes and not enough exercise. This is a story that I am sure many people know any sympathise with and unfortunately it seems to be the same story for a great many people. Now I was never what you might call a cyclist, I have had motor bikes for years and I have always owned a mountain bike but again like a great many people it sat in the garage gathering dust and occasionally would be used for a short ride with the occasional bit off road.
What made me think about an eBike?
Firstly I should say that over the years all the biscuits and muffins had added a significant measurement to my waistline so losing weight was what I was interested in, knowing that losing weight and wanting to get fit again could be accomplished at the same time, the hunt started on how I was going to accomplish this not so insignificant feat. It seemed logical to me that two wheels could be the simple answer I was looking for, but I also wanted to ease into it and not kill my body while it was catching up with the lifestyle change so I kind of ruled out my traditional Mountain bike that was still dusty and still sat in the garage… I did give it a try…. I had seen e-bikes in the past, and many years ago I had used one while doing a ship dry dock in China to get around the city during my time off and really enjoyed it. Naturally I am like most people so first stop was to Google "eBike". Here started the long process of research, over the next 2 months I tried to learn everything there was to know about eBikes and bikes in general, I watched YouTube videos (like the below) , read online articles, posted to some forums and generally came to one conclusion…. I WANT ONE !!!!
When did I decide to take the plunge?
So about a year ago now, I contacted Martin at
e
-Bike shop
, and as luck would have it he was running a Demo day in a few weeks, so I signed up there and then. Now over the that last few months my beautiful wife had seen me pouring over all the eBike websites and videos and also had to put up with me talking about it in great detail… so now I had to explain to my beautiful wife that I was finally getting up off the sofa and driving to the other end of the country to take one out on a test ride and possibly part with a substantial sum of money.
That day came!
So the Demo day arrived and I woke at the crack of dawn to start the drive down South, its fair to say I was excited about the day ahead, in retrospect I really should have not drunk quite as much as I did the night before… we live and learn. I arrived a little early and was greeted by Martin who immediately took one look at me and handed me a large cup of coffee. He knew I was interested in the Haibike AMT RX 27.5 so over the next 20 minutes he talked my through the bike end to end, he knowledge about eBikes was immediately apparent and that put my mind at ease, my initial impressions regards the bike was one of general happiness.
It's fine looking at web sites and watching YouTube videos but it's not until you see one of these machines in the flesh do you realise how well made they are, for instance I am a pretty good welder, been doing it since I was a kid on and off, but the weld joints on the frames are a thing of beauty, you can see the pride of workmanship, the same can be said for the rest of the machine as well.
My initial Impressions?
So the time had arrived to take the bull by the horns and hit the trails on the Haibike Demo Day. After getting suited and booted we had a quick safety briefing and walk through then we were off, on the day we were accompanied by Martin and his very experienced staff.
Now I don't know what I was expecting, but in my heart I knew it was going to impress and within less than 100 yards it all started to make sense, at this point you could not have wiped the smile off my face with a hammer. We ambled along a few roads and headed out further into the countryside, it really was amazing to me how these machines managed to pull my substantial weight along with ease, within 10 minutes we had arrived at an area that had been chosen to demonstrate the off road capabilities of these wonderful machines.
The next hour was a brutal assault on my senses, we rode up hills that would have given me a heart attack on a normal mountain bike, we ploughed through thick mud, that would have sapped the legs of all but the fittest but we just kept on going, at this point my heart was pumping and my hangover got the better of me…. After a few minutes break and sit down to stop myself passing out we got back on the bikes and continued on the trails. It was clear to see that everyone was having a blast, I already knew at this point that today was going to be an expensive day.
What did I like about the riding / bike?
So what did I really like about the bike and what was it that sealed the decision to part with what can only be described as A LOT of cash, well that is simple… I liked everything, the Bosch motor is smooth yet substantially powerful, the brakes, suspension are all very high quality and certainly better than anything I had ever ridden outside of off road motorbikes. I knew that this bike was going to be the catalyst to me getting fit and losing weight, and as it turns out I was right, but we will come to that later. So after completing our demo we headed back to base, it was without doubt the best day out I had ever had on a bike and I was hooked, no fancy sales pitch required the proof was in the pudding these machines do all the talking.
At this point comes the bit we all dread, handing over the cash, in the past I had bought many motorbikes that didn't cost as much as one of these bikes but I knew I was doing the right thing, after a few hours out I felt like a champion I was able to fly up hills like a pro, I was able to smash the trails and a few quid was all I needed to spend to do it all over again.
Delivery day came! What's it like?
So cut forward in time, to the day of delivery. I could not wait to leave work knowing that it was waiting for me when I got home, longest drive of my life. Martin had kindly charged the battery for me, so after a few minutes of set up I was out the house and on the road, for my first ride I decided to head towards a place I knew had some nice roads and some trails, total round trip distance around 15 miles.
It was a beautiful day so I decided to ease into it and give the electric mountain bike a good shakedown, after about 6 miles of going at it hard, my heart was pounding again and my lungs were tight so I decided to take break, after a few minutes I continued on my journey and sitting here now typing this I can still remember every detail of that ride.
My longer term impressions?
Now as the days passed and my enthusiasm eased off I started to notice that I was not hitting that wall at 6 miles, but my overall journey time was getting less and less, could it be I was getting fitter?
Now I should mention that the day I took delivery of my new trusty steed I also started my diet, part of the agreement with my wonderful wife about buying the eMTB in the first place. The days passed with me out on the bike pretty much every other day, giving my body time to recover in between rides and sure enough I was getting faster and fitter, I could actually feel the difference in myself, and this bike was helping get to where I wanted to be. Now I have had my eMTB around a year now and I still ride at least 3 times each week with two training rides of around 20 miles mostly on the road and at the weekends I travel the length and breadth of the country looking for the best trails.
I also have used my bike for commuting as well, which was actually saving me 1 hour every day of sitting in my car stuck in slow moving Birmingham city traffic, not to mention the fact that I was saving around £50 a week in fuel. Unfortunately a recent change of jobs has forced me back into the car, but I will be starting to cycle in again shortly.
The best bit.. The advantages to me!
Since I bought my electric mountain bike I have now lost a total of 52lbs in weight, I am the same weight now as when I left the Merchant Navy, I am fitter, stronger and even better looking if that's possible, well that what my wife tells me. All this and I am saving money and the planet, it really doesn't get any better.
There really is no better feeling that going out and just seeing where you end up, and with an eBike it really could be anywhere, with a battery that will get me at least 30 miles up hill and down dale on Turbo mode and close to double that in eco mode the world really is your oyster.
Is there any disadvantages?
Now it is not all rosy, as a result of owning one of these fabulous machines, I have had to buy an entire new wardrobe as none of my clothes fitted me anymore, so that has cost me a few quid. Also like any hobby it's the little things that you don't think about, so I spend at least an hour each week washing and cleaning my bike, in fact I have just come back in from doing this exact thing, so that can add up with all the cleaning chemicals and such like.
I am also always looking for where to go on the weekends and that can take up time in your valuable day, and I am still watching the YouTube videos and hitting the websites and now I have started buying bike magazines, who would have thought. It's a wonder I have time to actually ride anywhere…. But rest assured I still do, and I still love every minute of it.
Has this changed me as a person?
Well for one I go out more, I see the world around me, I am able to take in the beauty while out on the bike, this is something you just don't get in a car or even on a motorbike, its life at a slower pace, and by that I mean still faster than a good club road cyclist…lol
And when you are out on the trails away from mankind and out in the wilderness there is no words to describe how it makes me feel, owning one of these eBikes has fundamentally changed me at my core, and I am OK with that.
What's the verdict?
So in conclusion, are they expensive?… Yes and no, but that is the wrong question, are they worth it? Is a better question and the answer is YES YES YES, I am so glad I bought my eMTB.
Would I recommend it others? Yes without a doubt, since I have owned my bike I have tried to let as many people have a go as possible and every time I see the same thing, that same look on their face the one where it all makes sense and a smile 10 miles wide. Yes I have been called a cheater while out on the trails blasting up the steep hills, but those same people are also keen to give it a go at the top and once they do they "get it". There are no hills in my world there are flats and downhill sections only and that's not a bad world to live in if you ask me.
Where to now?
So what does the future hold, well things have come on a long way in the last year, there is now an eBikeshop owners club, which is fantastic, we all meet up once a month and spend a day out on the trails, this has now become a real thing that I look forward to every month, a chance to catch up with my new eBike friends which I now have many.
I am also lucky enough to have a few eBike owners in my local vicinity so we meet up here and there and have a blast. I would like to do a big trip around the Scottish highlands, and this is going to happen within the next few months fingers crossed, keep your eyes open on the owners club for pictures. I plan to keep my eBike until the wheels fall off and judging by the way these electric mountain bikes are made that may well be some time. I hope you enjoyed my little story and I hope to see you out on the trails!.. Bernie
With thanks to Bernie, from all of us here at e-bikeshop for expressing his fantastic journey into the electric bike world. Are you ready to follow this path?