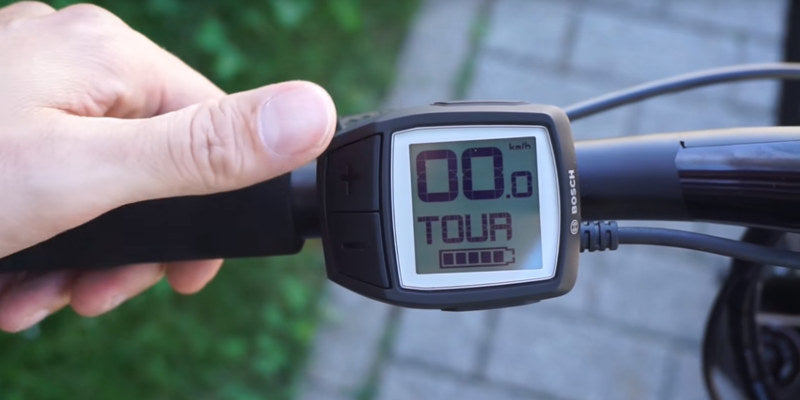 First Look: What's New For Bosch eBike Components in 2017?
By Martin Brown |
We take a look at some of the new exciting Bosch eBike 2017 electric bike components.
For 2017 Bosch make some changes to secure themselves as the eBike market leaders. We see Bosch eBike systems move forward year on year. With the most radical change last year over to the new higher performing Bosch CX eMTB specific motor & larger range batteries. As the latest battery and motor tech was only just released late last year we expected to see some revisions in other areas, focusing on charging, software and user interface.
The official new Bosch eBIke components will of course be launched later this year at EuroBike, but until then we can take a sneaky peak at some of the new features:
Bosch eBike Purion Display 2017
The new Bosch Purion display will predominately appeal to electric mountain bikers looking for a more compact display that will avoid any impacts and spills.
The Bosch Purion display will also appeal to other genres of cycling and neaten up the handlebars in general. Its compact assembly resembles the first ever Bosch classic display. A step back from the larger Nyon display, this new unit is just enough to navigate the assistance levels and view all important on board parameters including speed and battery capacity. Notice the new Bosch Purion display is an all-in-one component. It merges the normally separate display and bar controls into one compact assembly located to the left that controls everything. It still features a USB port but this is just for dealer diagnostics and no longer can you charge auxiliaries like mobile phones etc.
The new Bosch Purion backlit display is visible in low light or at night time and is navigated by fewer buttons. The power button to the top and walk assistance button re-located to the bottom. The battery capacity, speed and assistance mode are shown as standard. To scroll the assistance levels is just a quick tap of the plus or minus button and to navigate into further functions like range, distance, total odometer and when the next service is due the buttons are depressed for longer. We still think the features of the larger Nyon display will appeal to those more techy riders that make use of functions like the extra fitness tracking and satellite navigation features.
Buy the Bosch Purion Display here - Performance Display / Active Display. Summary Advantages: +Compact Display +Cleaner Cockpit +Backlit +Lighter Weight +Retro Fittable Disadvantages: -No USB Charging -Less Functions
Bosch eBike Nyon 2017 Updates
Bosch has released significant incremental updates to the Bosch Nyon controls. With each update comes changes based on user feedback on eBikes across Europe. Every now and again Bosch release major eBike updates with the 2017 update being like no other. The eBike user interface has already taken a pretty radical design change which some users may have already noticed when updating their Nyon display a couple of weeks ago.
Along with many visual revisions the major 2017 eBike changes are in the mapping with advanced controls to do with electric bike battery charge state and range. The Nyon can now take into consideration topical changes in the environment to ascertain better predicted eBike ranges. It will also take into consideration the assistance mode selected and even things like the conditions of road surfaces or off road resistance. We also see Bosch moves forward in the social aspect of Nyon for 2017 with things like gaming and more social media integration. Now Bosch Nyon users can stay more connected and share more than ever before.
Some new features are added to the Bosch Nyon Online Portal, along with a fresh look as explained in more detail further down this article. Summary Advantages: +More Features +Gaming +Social Media +More Range Control +GPX Disadvantages: None - Same platform, better usability!
Bosch eBike DualBattery 2017
Want more range? Bosch have the answer with their 2017 product offering, which now introduces the flexibility to add 2 Bosch power packs to your electric bike inventory.
Bosch have 300Wh, 400Wh and the later 500Wh battery options in their range. With the new Bosch DualBattery option, you could effectively have the range of up to 1000Wh in sync. The new Bosch DualBattery cabling allows anyone eBike to take up two batteries, thus doubling your range! This unique setup allows both eBike batteries to be charged and used together, as one battery gets low the system can automatically switch between the two. This new Bosch DualBattery system will be popular with longer distance touring cyclists along with utility bikes, cargo electric bikes and alike throughout 2017.
This setup will be officially launched later in the year and as such will be limited to OEM manufacturers using this on their Bosch electric bikes. So for the meantime you can't officially just add on another battery to your existing Bosch eBike as the bike itself will require modifications to the frame in particular. Worth noting here that the Bosch Dual Battery setup is not restricted to dual frame mounted eBike batteries, but can also be more versatile in accepting a pannier rack mounted battery and frame mount in tandem meaning much more convenient installation to manufacturers of future Bosch 2017 electric bikes without manipulating frames too much.
Summary Advantages: +More Range +OEM Integration +Automatic Switch +Also Rack Mount Disadvantages: -Not Currently Retrofittable
Bosch eBike Compact Charger 2017
Also new for 2017, Bosch release a new compact eBike charger that will be compatible with both the current 2015 / 2016 Bosch Active & Performance eBike systems and batteries. The new Bosch compact charger is a lot smaller any will be suitable for those wishing to take it out with them for a longer duration in the saddle, in particular long distance riders & eMTB'ers.
With a 40% reduction in size to the already small Performance charger it'll take up a lot less room in any riders luggage bag or a back pack. It's also 200 grams lighter than the standard charger and thus only weighs in at approx 600 grams! As with all positives comes a negative and the new 2017 Bosch compact charger will take a fair amount of time longer to charge your battery. With the current charger charging a 500Wh battery full in approx 3.5 hours, the newer smaller charger will take around 6.5 hours. You can also use the new charger with the older Classic batteries using this Bosch Adaptor.
Buy here - Bosch Compact Charger. Summary Advantages: +Smaller +Lighter +Compatible With All Bosch eBike Systems Disadvantages: -Longer Charge Time
Other Bosch eBike 2017 Changes
We will report back after the official launch with smaller revisions to the Bosch eBike ranges, but until then we do know that the following has also been revised for 2017: Walk Assist: This will be updateable so that the user doesn't have to hold the button down for continuous walk assist support, rather now you can switch walk assist on by a double tap and then a single tap to release. eShift: Electronic shifting will be compatible from more manufacturers across more ranges in 2017. In particular the ability to link up Shimano Di2 with auto downshifting and along with other manufacturers like NuVinci and Sram. The Bosch eBike system and gear changes will be more connected in 2017. Online Portal: Some of you will notice the Bosch Online Portal has been recently updated with a fresher look, now there will also be more functions to work hand in hand with the extra Nyon functions listed above. The user will have the ability to export routes in GPX format and also allow the user to create new routes out of previously un-recorded rides. You can now also see more parameters into each assistance mode and how they have been used across the ride.
What do we think?
Obviously we will be able to tell you a lot more after extensively testing the new components and performance tweaks later this year after their official launch but in the meantime we see many advantages. In particular riders with the DualBattery setup this would have been handy to have access to over a year ago when we set the new World eBike Distance Record! Although Bosch state it's not retro fittable, we are fairly confident our advanced in house eBike technicians will find a way! The new small Bosch Purion display setup is an obvious step forward for many riders in particular eMTB'ers but we feel some will still want the usability and functions of the slightly more in-depth eBike Nyon display. Whilst were on the Nyon, lot's of users will eagerly await the new updates for smoother operation and advanced functions on their electric bikes. The only thing we are not too sure about is the new Bosch Compact eBike Charger, whilst some will see this as a definitive advantage, we feel the weight and size reduction comes at a huge cost of charge time. The Bosch eBike charger is already one of the smallest chargers on the market! What does this mean moving forward? Well, not a huge change for 2017, but in fact some smaller revisions to user controls which will obviously be retrofittable as the end user specifies. So going into the 2017 Bosch electric bike ranges the actual Bosch eBikes (aside from DualBattery) will be the same in respect of power, assistance and range. Utilising the same motor and battery configuration we can tailor each eBike to the customers specification by way of fitting the new Purion eBike controller or the Bosch Nyon and visa versa.
Keep an eye on our blog for more updates along the way, in the meantime, check out our range of eBikes here: - Latest Bosch Powered eBikes.