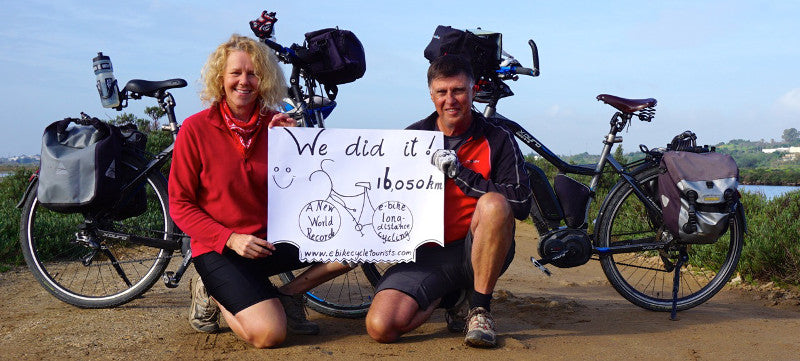 New eBike World Record Set on Haibike / Bosch eBikes
By Martin Brown |
We are proud to announce a new world electric bike long distance record has now been set by e-bikeshop.co.uk sponsored - The E-Bike Cycle Tourists. After 901 hours of e-biking over 220 days at an average of 75 kilometres per day across 12 countries, the e-bikeshop.co.uk-sponsored e-Bike Cycle Tourists have set a new world e-bike long distance record. On January 20 Gary and Rachel Corbett passed the old mark of 16,047kms (9971 miles) – which was set by German Maximilian Semsch who circumnavigated Australia in 2012 – in the Algarve region of Portugal to officially claim the coveted world long distance e-bike record as their own.
Over the past nine months they have cycled through England, Scotland, Wales, Ireland, France, Germany, Switzerland, Austria, Belgium, Holland, Spain and Portugal and are due to fly to Cyprus in early February where they will continue cycling while waiting out their Schengen and UK visa exclusion period. Far from calling it quits now that they have claimed the record, Gary and Rachel have recommitted to continue cycling, with the aim now to have cycled at least 25,000 kilometres by the time they return to Australia in August 2016. From there the plan at this stage is to continue e-biking in Australia during the Australian 2016/17 summer before travelling to the USA in 2017 to continue their record-breaking ride. With at least two more years of e-biking in front of them, who knows what their kilometre total will be when they finally call it quits! The bottom line, Gary said, was to eventually set a record that will take someone else a "hell of a lot of cycling to break". The e-Bike Cycle Tourists chose to ride Haibike xDuro Trekking RX E-Bikes with the Bosch Performance crank drive motor and 400wh battery system for the record attempt and are towing Tout Terrain Mule single wheel trailers.
Since setting out from the e-bikeshop.co.uk shop in Farnham on April 23, 2015, Gary said both of their Haibike Trekking e-bikes had performed brilliantly and had not missed a beat while riding across all sorts of terrain in temperatures ranging from below freezing to more than 40 degrees. "While we have gone through a lot of consumable items such as brake pads, brake rotors, tyres, chains, chain cassettes, rear wheels and a Sram hub, the Bosch performance crank drive motor and Haibike e-bike combination on both bikes has not missed a beat, it has been amazing," he said.


"The only thing that had to be replaced was a Bosch controller on one of the bikes and this was only after it was damaged after the e-bike fell over."


Wherever and whenever possible during their travels Gary and Rachel have promoted e-bikes as a fun, healthy and environmentally friendly form of transport. They said the interest in their e-bike long distance record attempt had been overwhelming, with people at times queuing up to talk to them about their trip and their Haibike e-bikes/Tout Terrain trailer combination. "We have also done radio interviews, have been featured in several newspaper stories and in specialist e-bike/cycling magazines, the interest in our trip has been amazing," Gary said. "We have also had people – mostly in the over 40 age bracket – who have emailed us to tell us that we are an 'inspiration' and that our trip has motivated them to purchase an e-bike and to start cycling after a break of many years or to switch from a traditional bike to an e-bike. "This is fantastic given that all we are doing is what we love to do – cycle, but I guess we have proven that if two people of our age – 60 and 57 – can set a world e-bike long distance record, then e-bikes are suitable for anyone of any age – no matter what distances are cycled." Both Gary and Rachel also said they were personally delighted to have set a new world e-bike record after cycling for an average of 75 kilometres per day during 220 days of cycling. With just six days of wet weather cycling during that time, Rachel said they had been incredibly lucky with the weather.
"I think we are the only people in history who have cycle toured in Scotland and never saw rain," she joked. "We also only had one day of rain in Ireland, which was amazing given the dire predictions before we arrived from so many people of what we could expect from the weather." Above all else the e-Bike Cycle Tourists claim they are delighted to have proven conclusively that it is possible to go long distance cycle touring on an e-bike. Gary said they were told by many people before they set off that what they were planning was not possible due to the daily drama of having to charge their e-bike batteries given the decision not to carry a back-up solar charging system. "While it is true that we did have reservations before setting out about how easy it would be to find mains electricity outlets on a daily basis to charge our Bosch batteries, the truth of the matter is that we should never have worried," Gary said.


"We discovered that there are always many charging options available from campgrounds, cafes, friendly farmers, e-bike charging stations and even when all else failed from people whose doors we knocked on."


When you have to get out of your comfort zone to get your batteries charged it is amazing how many wonderful people you meet who you would otherwise have never spoken to.
"On different occasions this led to complete strangers offering us accommodation, meals, showers, coffees, maps, bike servicing and in Ireland a call out was even put out over Facebook for the e-bike community to show us a "real" Irish welcome. The result was a long list of people throughout Ireland who selflessly offered all sorts of assistance. "We have had such an amazing time over the past nine months that we don't want to stop, we intend to keep pedalling and to continue to promote everything that is great about e-biking." With thanks to both Gary & Rachel (The e-Bike Cycle Tourists) above for the interview.