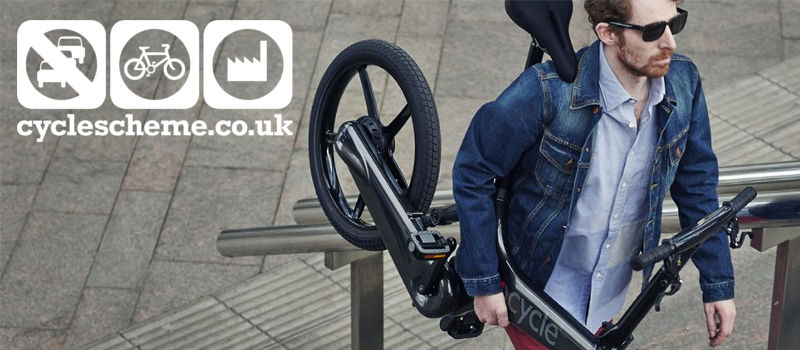 Buying Electric Bikes Online Via The Cyclescheme
By Martin Brown |
E-bikeshop is proud to announce that you can buy electric bikes from the UK's specialist eBike retailer via the Cyclescheme.
A government-funded cycle to work scheme. Riders can save up to 42% off their electric bike purchase, the Cyclescheme offers not just significant savings off the first £1000 but a host of other benefits too. You can reduce your travel costs significantly whilst feeling great and getting fit. Don't forget, there's no commitment to only ride your eBike work, you can use your new electric bike for leisure too.
Example Savings
The below shows an example of the saving on a £1000 voucher, with a higher rate taxpayer. eBike Cost £3299 Accessory Cost £299 Helmet (Safety Equipment) £69 Total Cost = £3667 -£1000 Voucher = £2667 Saving on £1000 = £418.85 Total Overall Cost = £3248.15 There are also benefits to the employer too, offering increased productivity whilst maintaining a happy workforce. The savings are not just for the employee as the employer will save too with National Insurance contributions.
E-Bikeshop & Cyclescheme
As the specialist eBike retailer in the UK,
e
-bikeshop
.co.uk
is proud to be only 1 of 5 online retailers authorised to process Cyclescheme vouchers directly via our checkout online.
E-bikeshop's managing director Martin Brown said:-


"We have been working closely with Cyclescheme this year to fully integrate the platform into our website & back end systems. With the main focus on usability for our customers. We wanted to simplify the process of redeeming Cyclescheme vouchers online. It's great to be listed alongside the 'big boys' and to be the only specialist retailer focussing solely on electric bikes. Fully automating the process, offering the full package from the initial purchase to full support & longterm backup."


E-bikeshop's simple 3 step checkout process makes it easy to redeem Cyclescheme vouchers online,
l
earn how h
ere
. Their qualified eBike technicians will fully build and set up your new electric bike ahead of carefully delivering it with any accessories you may have added.
Start saving today
Cyclescheme has processed over 649,000 bikes to date via the government-funded ride to work scheme.
Start saving on your new electric bike today. Start your journey here »