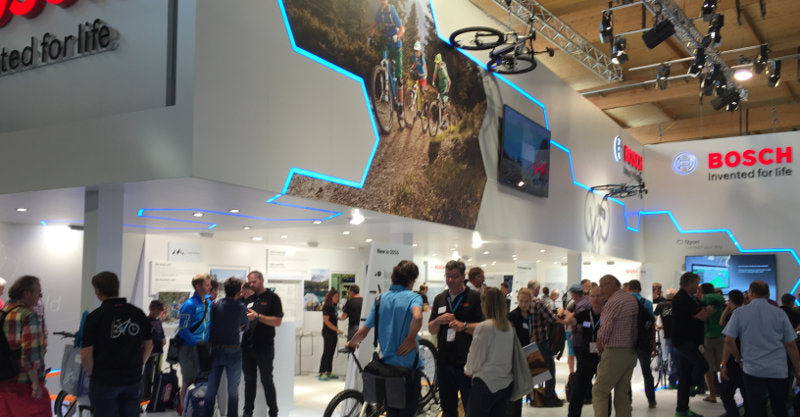 Interesting Electric Bikes at EuroBike 2015
By Martin Brown |
E-Bikeshop are live in Germany this week at EuroBike 2015. We bring you up to date information about the most interesting electric bikes on show in the 2016 eBike ranges.
One thing that was apparent this year was the increase in electric bikes across the board. EuroBike is the biggest cycle show in Europe with every manufacturer showing off what they have to offer for 2016 in both normal bikes, eBikes, parts and accessories.
Last year we visited and eBikes were on the increase, however this year it's quite clear that the eBikes are dominating the space with almost half of it devoted to electric assisted bikes. With over 600,000 eBikes sold in Germany last year alone, it's no wonder every manufacturer now has an eBike to offer.
Some early adopters are taking the eBike scheme very seriously, manufacturers like Haibike now have over 50 different models within the range, lots with more eBike on offer than normal bikes.
The show is split between far east hub drive suppliers and the crank drive suppliers. The dominance of European bikes adopting the latest crank drive systems. It's clear Bosch has the biggest piece of the pie here, but others are following. In particular Yamaha, Shimano and smaller manufacturers like Panasonic, Brose and Continental are entering the crank drive market. All adding to the competition, in our eyes is a good thing because it means we get to see bigger advancements year on year.
With so much on offer this year, we haven't even been able to take it all in. So here below are the more interesting electric bikes we spotted in our travels around the Euro Bike show from over 1000 exhibitors from 54 different countries.. Enjoy!
The new 2016 Scott 27.5+ Bosch powered eBike certainly caught our eye.
This electric bike supplier offering manufacturers a stealthy approach with the battery inside the frame.
Coffee anyone? This Bosch powered Nicolai is fully kitted up for hot beverages on the go!
New beautiful looking Moustache larger travel Bosch eBike for 2016.
This Sinus eBike tucks away the Bosch motor and mounts the battery in line with the seat tube.
Mean looking Lapierre Overvolt with Bosch CX motor for 2016.
Taking a look what goes on inside the new Shimano Steps crank drive motor.
The new 2016 Haibike xDuro Downhill bike, the only eBike we spotted with triple clamps, winner!
Cobi smart phone system that will connect to most eBikes including, Bosch, Yamaha, Brose and Trans-X.
Not an eBike, but had to picture this bike hand crafted out of bamboo!
THE best bike of the show? The 2016 Haibike Full Carbon ULTIMATE.
Wondered what it looks like in the new Bosch Performance CX drive unit?.. Here it is.
Little shopper bike by Lambardo, mounts the Bosch battery in the basket, that's different!
Gocycle had a specially wrapped bike for Levis jeans, looked really smart. How will you customise your Gocycle?
New 180mm travel Lapierre Yamaha powered electric mountain bike, WOW!
Not quite sure what this is, but it's electric and super light weight with a plastic frame.
Not sure if we love it or hate it? The new Spitzing electric mountain bike.
Specialized enter the market with a new crank drive electric mountain bike for 2016.
For the sly eBiker's out there, this system pops down the seat tube for a minimalistic look, not sure how well it will work under pressure.
A Reese and Muller Cargo Bosch powered bike, it's different! Could get a weekly shop in the front.
The new Heisenberg Bosch powered eBike, this it just came off the set of the new terminator movie? It's nuts!
Brand new Haibike sDuro 2016 NDURO Yamaha powered enduro bikes.
Not sure what this thing is, but some crazy European guys have been hard at work creating this piece of electric assisted machinery.
FIRST EVER 24" kids electric bike from Haibike, powered with a unique Yamaha system to assist kids further.
This electric mountain bike is a bit strange, the massive crank drive motor is powered by a battery pack in your rucksack. Not sure if this works?
Last but not least we have a Brose powered electric fat bike. This one taking its inspiration from honey bee comb design.

All in all it's been a great first day at Euro Bike 2015. Not even scraped the surface but lots of interesting electric bikes to look at.
One thing is clear - It's certainly a big year for eBikes in 2016!
You can view many of the up and coming 2016 electric bikes in our shop by clicking here.