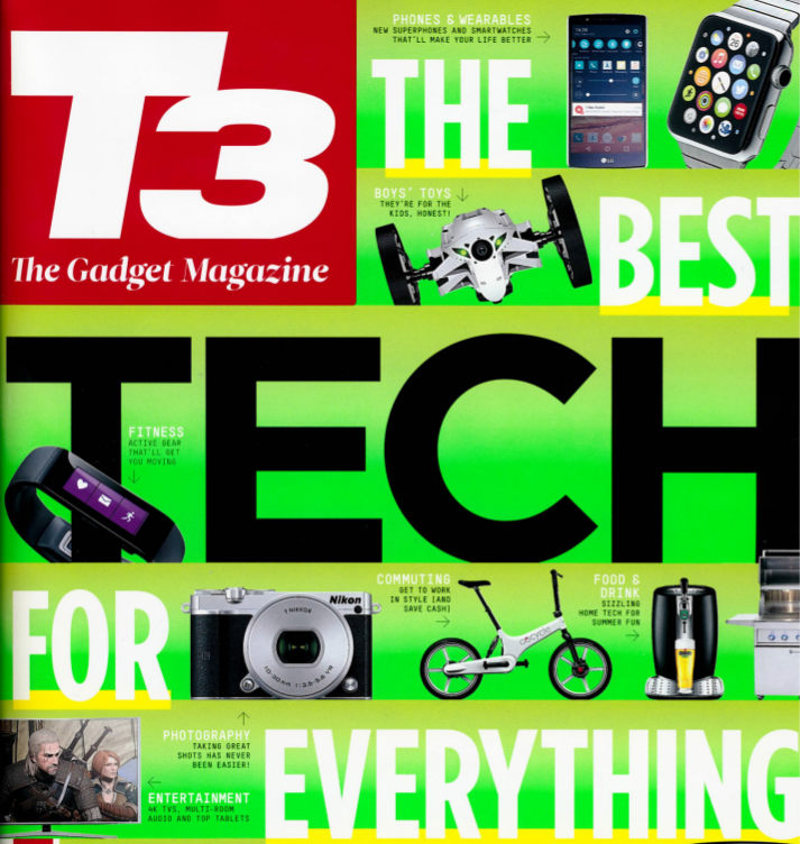 Gocycle G2 Electric Bike in T3 Gadget Magazine 2015
By Martin Brown |
We are proud to see our Gocycle G2 electric bike featured in this months (July 2015) T3 Magazine. Not only shown on the front cover; but also in the 'Tech For Everything' pages as the perfect tool for commuting and work!
T3's words: Gocycle G2 - Folding into a neat package, the bike is easy to store when not in use. Pedal it to burn some calories, or hit the magic red button to let the motor kick in. With speeds of up to 15mph, this'll make your commute more fun.
T3 also featured the Gocycle in the 'Man vs Tech' pages. Where they test electronic devices to travel from London to Bath across varied terrain.
T3's words: Gocycle G2 - It was invented by a former F1 designer and it folds up inside the Tesla's front bonnet. The frame is made from injection-moulded magnesium alloy, so it's light enough to pick up; there's a lithium-ion battery inside that powers an electric motor in the front hub; and it shifts gears automatically. And all this is wrapped in simple styling that would lead some people to think it's just a normal bicycle.
Indeed, you can ride it like a traditional bike, with pedal power alone. Or, if you're feeling lazy, it'll whisk you along purely under its own steam. Today I've tweaked the settings via a smartphone app, going for a mixture of manpower and electric for a boost up hills, of which there are many in Bath.
With up to 40miles of battery range depending on how hard you push it, plus infinitely more under pedal power, it'll take me into town and back to the car tonight. It's quite conceivable that you could use it for a substantial commute every single day, instead of taking the Tube or train or bus/ The electric assistance is so generous that you'll arrive with dry armpits, having justified the purchase price by saving thousands of pounds on petrol or rail fares.
Thanks to T3 gadget magazine for such a fantastic feature of the Gocycle G2 portable eBike. So nice to see gadget mags taking to electric vehicles in a positive way. Finally we have a practical commuter bike, that meets the modern day users. Find out how a Gocycle can benefit you today - The Gocycle G2 Electric Bike Features