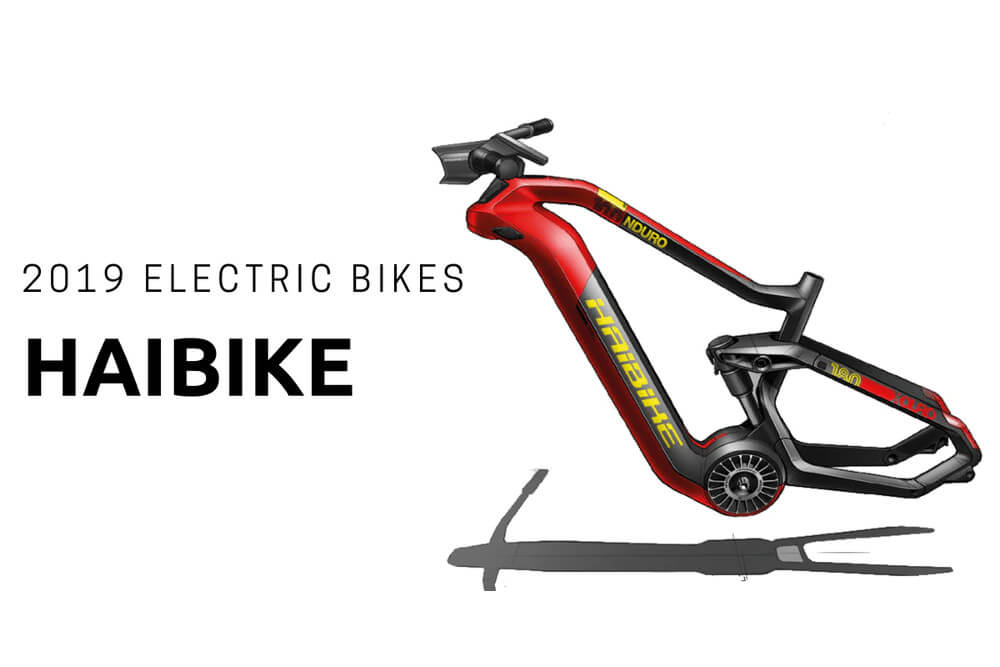 The Complete Guide: Haibike 2019 Electric Bike Range
By Martin Brown |
We are live at EuroBike to announce the launch of the 2019 Haibike Electric Bikes. We're excited to show you the latest line up of 2019 Haibike eBikes, with some extra special models in there.
Haibike have been at the pinnacle of ePerformance since electric mountain bikes began. In fact, they were the very first guys to ever make a Bosch powered eMTB.
Since then the Haibike design team have been pushing the boundaries staying years ahead of the crowd. With their knowledge and product testing, Haibike seems to always be the first to market with the latest and greatest in electric bikes.
*** The images contained in the article are artists impressions.
Price & specification can be subject to change***
What's new for Haibike bikes in 2019?
Last year we saw the integration of Bosch 500Wh PowerTube batteries into many of the higher spec eBikes. For 2019 we will also see InTube battery integration from Yamaha too.
The Bosch powered eBikes remain with some spec highlights and new 2019 models featured. There's a host of new Bosch features for 2019. Full article here.
Haibike introduces their own ePerformance system for the first time in 2019. The brand new bikes will feature a TQ system with unprecedented levels of torque, assistance & range.
Highlights of 2019 Yamaha eSystem on Haibikes
Many of the new Yamaha powered 2019 Haibike range of electric bikes will feature the new 500Wh integrated downtube battery and also the new Yamaha eBike Display A side switch.


The new Yamaha eBike battery integration looks very similar to the Bosch powered InTube models moving forward for Haibike eBikes in 2019.
The 2019 Yamaha eBike Display switch is neat and sits over to the left of the handlebars.
Offering the rider vital stats on the fly whilst keeping the cockpit area clear and clutter free.
The 1.7" LCD display offers the quick reading of stats like Speed, Battery Capacity & Assist Mode. Leaving more selectable options there but hidden away including details like Trip meter, Overall Odometer & Range.
Highlights of 2019 Haibike FLYON eBike System
Haibike have been secretly plugging away in their design and research lab to bring, for the first time ever, an exclusive new product line up for Haibike in 2019.


Offering more torque, assistance & range than ever before... It's called the FLYON!
The motor is designed by a company called TQ. This company designs & manufactures direct-current motors for the control of modern satellites.
TQ has used this technology to create the HPR 120S crank drive eBike motor. the motor provides up to 120Nm of torque and assistance levels up to 820%.
Thanks to the integrated freewheel, the bicycle can be pedalled just like a regular bike without a motor. When the drive is disengaged, no internal components are moving.
It's super efficient with ultra high torque and ability, specifically designed to meet the demands of eBike riders.
View the full range of Haibike FLYON eBikes to pre-order here → Haibike 2019 FLYON Bikes.
Haibike calls the 2019 system 'FLYON'. Head of Haibike engineering Ingo Beutner says:-
The eBike as we know it was completely rethought in order to launch the next generation of ePerformance. With FLYON we have been able to create a system according to our understanding and concepts. This system enables eBike riding as it should feel in our opinion: self-evidently and powerful. All components seamlessly integrate into the overall design, which convinces with a high level of integration.
Haibike have designed all the components from the ground up using all their eBike experience to date. The battery uses a whopping 630Wh high-density cell to deliver a huge range.
The 2019Haibike 10 amp quick charger charges this high capacity 630Wh battery to 80% within just 60 minutes! It can be charged both on or off the bike as the battery slides out the frame.
The system offers 5 levels of assist:- ECO, LOW, MID, HIGH & XTREME. The new colour TFT display offers all the rider credentials in a neat, compact and removable display.


Whilst the 2019 Haibike remote over to the left of the bars is quick and simple to navigate the modes. Five lovely bright colours illuminate to show the assistance mode selected alongside the same colours on the display. Easy to see at a quick glance whilst riding!
All of this built into a brand new 2019 CARBON frameset by Haibike. This not only brings the weight down but allows complete integration of the system.
It also allows Haibike to do special things like integrating lights into the rear swingarm. Not forgetting a front light to match too.
All of the cables run through the 2019 carbon frame using specialist channels, so everything looks really neat.
They've managed to squeeze in their Haibike 'MRS' (Modular Rail System) so all the Haibike accessories (Bottle, Lock, Tool Bag etc) fit onto the frame too.
In true Haibike fashion, the motor is integrated with a skid plate incorporated too, this adds protection & offers complete integration.
Lastly Haibike finish off this new 2019 frame set with a stealth seat post built in, so again no cables are exposed. They have built in the speed sensor within the rear swing arm and instead of a magnet on the spokes, the sensor is built into the rear disc.
View the full range of Haibike FLYON eBikes to pre-order here → Haibike 2019 FLYON E-Bikes.
Highlights of 2019 Haibike eConnect eBike System
Next, we have the Haibike eConnect system. You may have seen Haibike launched this into a few models in the range last year. Now it's available as a retrofit kit (we actually have it in stock for both Bosch and Yamaha bikes right now to our customers).


Following the successful first edition of the eConnect system, now the further developed version follows eConnect 2.0. Offering a new modern design, a user-friendly interface and extended features for 2019.
In a nutshell, Haibike eConnect tracks the bike's movements works as a GPS / Anit-Theft device and tracks routes you take on your electric bike.
It can do smart things like text a family member with your location if the rider has a fall or alert you to your bikes movements if you have it parked up somewhere.
For 2019 eConnect gets an improved route recording and a brand new user interface. It's available in more countries, more languages and eBike dealers can access bike information too.
You can also add more than one bike, meaning all of the families bikes can be controlled by the touch of a button. There's a new app too. All current users can upgrade to the eConnect V2.0 for free!
Now we've summed up a whole host of new features. Let's take a look at some of the new models for the Haibike electric bike range for 2019.
Haibike sDuro 2019 Electric Bikes
The 2019 Haibike sDuro range is designed for sporty riders, this includes trekking, touring, hybrid & light off-road bikes ranging from hardtails to short travel suspension mountain bikes.
Haibike xDuro 2019 Electric Bikes
The 2019 Haibike xDuro range is designed for more off-road and extreme riders. Featuring full suspension bikes ranging from Trail, All Mountain to Enduro and DownHill riding and Fat Bikes.
Haibike xDuro Bikes With FLYON 2019
The new features of FLYON we mention above will come on an exclusive new range of 2019 Haibikes. This includes AllTrail, AllMtn, NDURO and Adventure bikes. All of these bikes feature the carbon frame, 120Nm of torque, 500% assistance and the 630Wh extended range battery.
View the full range of Haibike FLYON eBikes to pre-order here → Haibike 2019 FLYON Electric Bikes.
What do we think?
We are really excited about the new range. The fact that some of the Yamaha models now feature the InTube battery setup means bikes with integrated batteries are available at an even more affordable price level.
There's a 2019 Bosch powered trekking bike in there with the new Bosch ABS (Anti-lock Braking System) which looks really good.
The big highlight is the 2019 FLYON equipped electric bikes with assistance & torque levels never before seen via a specialist eBike manufacturer like Haibike before.
Expect demand to be high!
Haibike has clearly put a huge amount of development into this with so many features that cover all bases for a mix of riders and practicalities. We think they are pushing the boundaries to new levels... Again!
When can I get one?
We will be taking early 2019 reservations on the range with more basic models arriving from September onwards. You can view the current model line up for 2018 Haibikes here.


The models featuring the new Yamaha InTube 500Wh battery should be arriving from November onwards.
The new Haibike FLYON equipped electric bikes will be available in 2019, with drops scheduled as early as April onwards ready for next years season. It will be important to get your order in early.
View the full range of Haibike FLYON eBikes to pre-order here → Haibike FLYON Bikes.