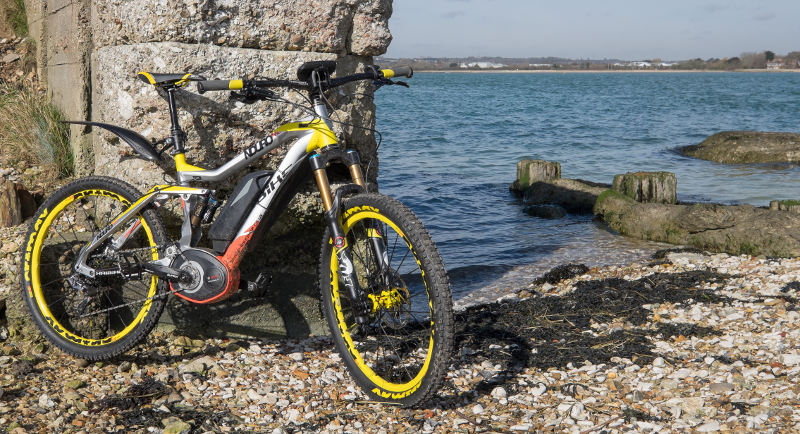 User Review: Haibike xDuro NDURO PRO 2015 eBike
By Martin Brown |
Great to hear feedback from our customers.
This one in particular was so happy with his previous Haibike, he decided to take the plunge and go for a better equipped model.
Where it started?
A few weeks ago I decided to explore the idea of changing my Haibike pro to the latest version, why? I love my Haibike used it lots but found its 120mm travel a bit quick for me, I need 180mm….. and the new dashboard…. and the yellow wheels….. and the look… and and and (trying to convince myself).. I booked a slot with Martin and he took me through all points of the Haibike
NDURO PRO
2015 eBike, (I would like to add that Martin rides these bikes and really knows the bikes you can be confident with his advice) it was loads of money but I fell in love again, so parted with my money, I also purchased the Thule bike rack.
Thoughts so far on the rack
The Thule bike rack - worth every bit of the £400+ price tag, super easy to attach to car, super easy to put 2 bikes on and feels super safe on the car, I would have no hesitation in taking a few bikes across the country and as they lock to the car would be happy to take on a camping trip (I would take additional security and remove removable parts from the bike overnight).
Now to the Haibike NDURO PRO itself
First the good
Really great to ride, the geometry is spot on, a relaxed turn thanks to the 180mm travel (just what I wanted), so many settings on the suspension but feels pretty good as is, the new dashboard (great but had a few issues on setting up see below), the 11 speed, positive gear changes and a great range suitable for every type of ride I can think of, brakes are excellent, Seat dropper excellent and it looks superb… As I previously stated I have the old Haibike pro everything that was great on that bike is still great (I have to sell the oldie but keep finding excuses no delay advertising it)...

The not so great
Nothing with the bike just minor annoyances, setting up the Nyon, what a pain, it does not accept my address so would not let me complete the setup, I had to invent an address (I live less than 50miles from the shop), to open up the maps there is a charge of £12 approx (single payment for lifetime updates) but to do this you need a mobile device (it would not work on any device that I own so I had to use my sons phone), without purchasing the full maps the GPS works OK but rides are not recorded, if you have a dongle fitted all ride and map data will be incorrect (I knew this at time of purchase but wanted the dongle).
The reaction of E-bikes with other cyclists - on one of my rides I saw a friend who used to be heavily into road racing, I put him on my bike explained the simple controls and off we went, he returned 10 minutes or so later with a smile that went from ear to ear, his words:

"I could never see the point of E-bikes but now I have ridden one I get it"
I replied:
"But of course E-bikes are cheating and not for keeping fit"


He agreed so then I asked him why he was sweating and breathing heavily, to that
he replied:
"I'm knackered, was that the bike or me doing the work"


I decided to keep him guessing…..
Advice to others
I guess the biggest issue and will probably only be an issue for me is the saddle. Since I can remember I suffer with pain when riding so much that I can hardly sit for a few days after a ride, after trying everything from padded shorts to saddle position to new saddles I was convinced it was something I would have to live with. Until I visited my local cycle shop to get another pair of shorts (more padding), I explained the problem and was given an explanation of the cause, I had my sitting bones measured and advised on a saddle to fit, £70 for a new saddle and I'm in saddle heaven no more pain. A lot of words to get to my issue, when we pay thousands of pounds for a bike should we not as a routing ensure the saddle is a correct fit, I was unaware of saddle sizes and the importance as are most people that I cycle with (we are not club members and don't have anyone to give us advice) just hoping that these few words may help someone avoid the years of pain that I have gone through.
Thanks so much to Pete for his kind words, written in his own time, it's always great to hear real world feedback and it's also nice for other to read in advance. For the full specification of this bike, please click here - Haibike NDURO PRO 2015