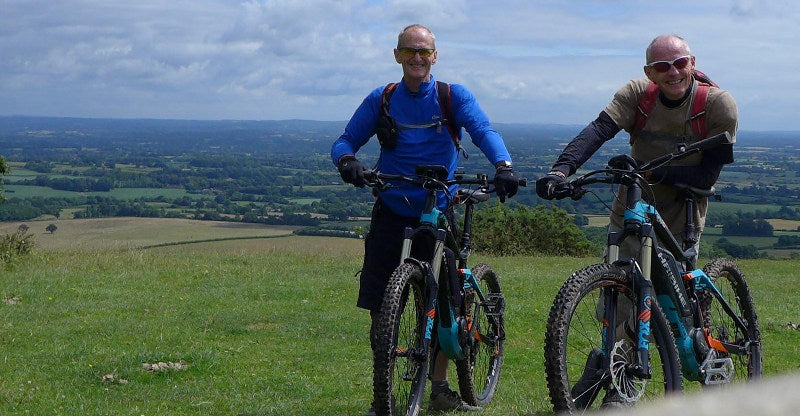 User Review: Haibike xDuro NDURO RX 2016 eBike
By Martin Brown |
It's always nice to get good customer feedback post purchase. Here is a review of the 2016 Haibike xDuro NDURO RX sent in by one of our customers after owning the bike a while. The xDuro NDURO RX electric bike took a lot longer to arrive than anticipated, but the wait was definitely worth it. I collected my new eBike on Friday 6th May, and can still remember the excitement of seeing this beautiful bike in the flesh for the first time. Due to family commitments, I was unable to ride my new eBike for a couple of days, which was quite hard. Finally, I was able to take it to my favourite mountain bike trails in the Surrey Hills and put it through its paces.
The first thing I noticed on the 2016 NDURO RX was how smooth and forgiving the rear and front suspension units were..... Rockshox Vivid Air on the rear and Fox float 36 on the front.
I spent a bit of time setting these up for sag and rebound
I was completely blown away by the way the bike handled over a variety of terrain and particularly how it cornered, which I had some concerns about due to the slack head angle of the forks. I needn't have worried.
The next thing to check was how the new Bosch CX motor compared to the Bosch performance line fitted to my old bike. I took the bike up a very steep hill which the performance line motor didn't quite have the grunt to make it to the top.
The CX motor fitted to my 2016 Nduro Xduro and with the Shimano 11 speed cassette fitted at the rear, the bike flew up the hill......Very impressive.
The new 500Wh Bosch battery really extends the range of the electric bike, which is a great asset.
I've always been a Shimano man when it comes to brakes, and was a little nervous of the Magura 5 fitted to the bike. I needn't have worried, as these brakes are very powerful and modulate really well.
I've been so impressed with this xDuro electric bike, and truly believe that this is the start of an e-bike revolution. I've had some hard core mountain bikers ride my bike and everyone of them loved it!! The service I have received from the guys at the E-bike shop has always been fantastic. Thank you guys!!
Thanks so much to Ken for his words on the - Haibike xDuro NDURO RX 2016