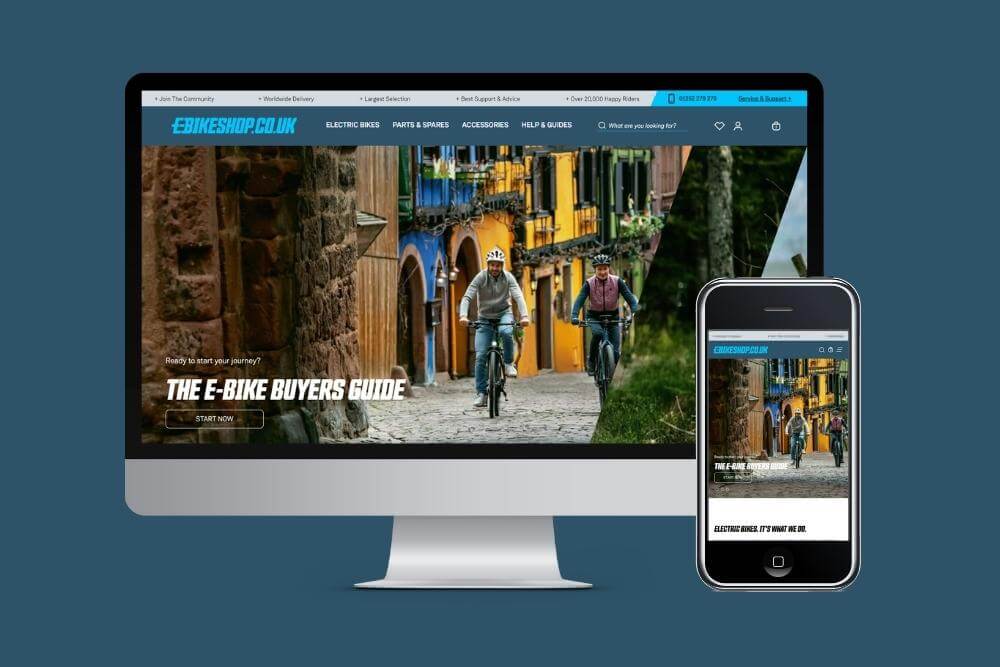 New website, features, branding, building - new us.
By Martin Brown |
Every couple of years we like to move the business forward. Following our expansion and new HQ in 2020, we set a new goal to address the ever changing needs of online E-Bike sales in 2022.
What we knew?
We all know things have changed in the world over the past couple of years. This couldn't be more true of the bike industry. Following the start of the pandemic in 2020 we saw a huge increase in demand, coupled with supply issues equalling long lead times for bikes and ever more people shopping online when they couldn't visit shops.
We knew we had to update our website and we had plans in place for a fresh new design. In the background our systems were still running on something we created 10 years ago. Since then our business has grown significantly along with our stock, customer base, product lines, visitors & of course the internet.
We knew it was time for change, but what a mammoth task to re-platform our website entirely, create a new design, implement brand new back end systems and make our website more dynamic for the modern user.
What we wanted to do?
We went back to basics and asked our self 'What does the customer want?'. We jotted down what the ideal website would/should look like, what functions it should have and how it would best operate.
We quickly found that no other website was offering what we wanted to do. We also found that what we were trying to achieve had never been done before and was probably more advanced from an IT point of view than what our suppliers and industry was used to.
Here began a two-year project to tackle the task and add a custom back-end solution to achieve it.
What we achieved?
We launched our new website on 24th March 2022. Along with the new site came a fresh new logo, look and feel. We hope you like it!
Our new website is tailored to the home shopper who can learn a lot of the information visiting a store in person, right there on their mobile sat on the sofa with a cuppa.
Rather than presenting you, the user, with a huge list of electric bikes for sale, we decided to turn your experience into a learning journey down the right path. Rather than expecting you to already know exactly which bike and style works best for you, we help you find your dream e-Bike; whilst learning along the way.
So what's new?
Really the list of new features is too long to note (and pretty boring too!). However some notable upgrades/functions include the following:-
New user journeys: Which rider are you? (Tracks & Trails,

 

Road,

 

Mountains,

 

Commuter & Town).
Improved & more responsive checkout: 10x faster than our old checkout.
New eBike type: Which kind of bike would you like? (MTB Full Suspension, MTB HardTail, Trekking & Hybrid, Electric Road Bikes, Folding Electric Bikes).
Estimated ships from date facility for all bikes on pre-order.
Find the correct frame size tool.
Live chat function.
Live online availability on all parts, accessories and bikes.
New Service & Support portal: Instant online bookings and submit warranty request online function.
Improved Search function and suggestive results.
Brand new Customer Reviews portal.
Brand new Wishlist function.
New Help & Support: Access all Instruction Manuals online, new guides - Buyers Guide, Setup Guide.
V12 Finance: Process your finance application directly via our checkout.
Improved UX, Accessibility and Navigation.
Opt for 14 Days Free Insurance at the checkout.
Cycle to Work Schemes

 

Portal: Dedicated areas for all the schemes we operate with online instructions. Process

 

Cyclescheme

 

vouchers directly via our checkout.
Why the new look?
We felt that our brand is stronger than ever before and it needed a refresh to reflect this. We kept our distinguishable 'electric blue' colour, but changed the font and style of our logo to reflect our new look and feel.
Here's our new (left) and old (right) logo side-by-side:
Our eagle-eyed readers may spot the hidden cue within our new logo design, can you tell what it is?
New HQ too?
That's right, we planned to move our HQ in early 2020 and take things to the next level. However, the demand & disruption that Covid bought to us meant that we had to delay the move by 6-Months. We finally moved into our new premises in October 2020 and really up till now, we've not had time to shout about it!
What does the new HQ mean for us?
It's allowed us to expand to be where we need to be. Whilst we wanted to expand anyway, Covid accelerated this for us.
So to move into a brand new building with a much bigger showroom, new offices, meeting room, handover bay, reception, workshops and warehouse space was imperative in being able to offer the service that we strive to maintain.
Keeping things green?
It's imperative that we reduce our carbon footprint to complement the eco products that we sell. We took an ECO approach to the design of our new HQ.
We've integrated high efficient, low energy LED lighting throughout, with sensors to turn zones on/off as needed so that we are not wasting lighting when it doesn't need to be on. We've also expanded our recycled material for all packaging where we are re-using 95% of bicycle packaging when boxing bikes. Heck, even our coffee machine only fires up hot water when absolutely needed!
What's next?
As with all things that are new, we are still ironing out issues in the background (bear with us!) to make our own tasks more efficient and manageable.
One of the biggest criticisms currently in the bicycle trade is the lead-time on both bikes and parts. We've managed to reflect availability on our website in real-time to the end-user. Customers can now also view their estimated shipping date in the 'My Account' portal for all orders. In our next update we're rolling out automatic email updates should your shipping date move forward or back at all.
The key here is communication, the fact is that things can change but it's important we be pro-active here in communication where-as most dealers are very much re-active to customer communications.