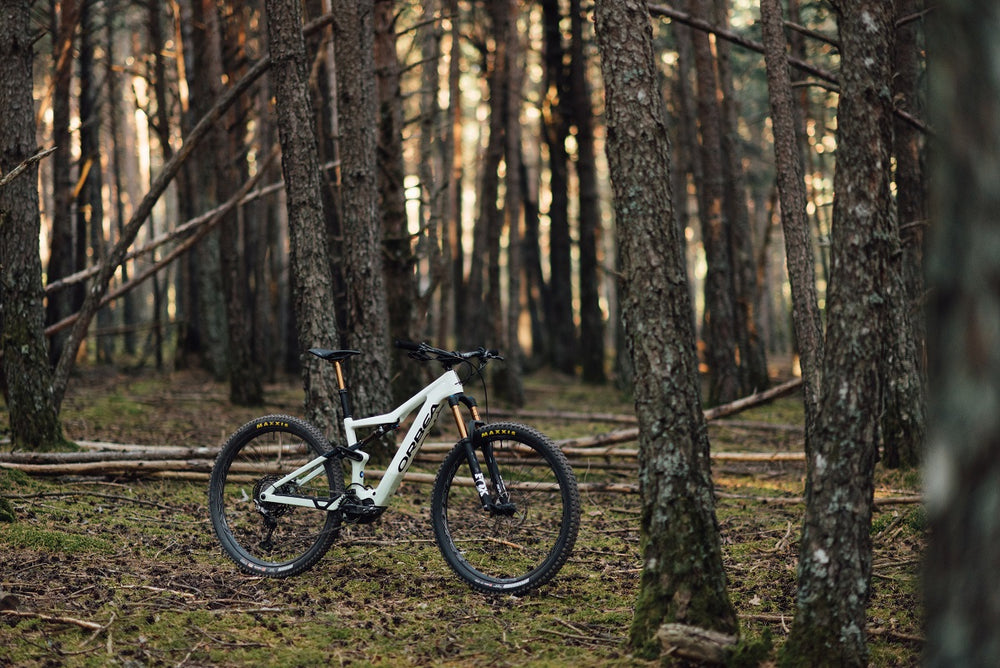 Orbea eBikes - A history lesson.
By Ben Mowbray |
The Orbea brand has been around for a very long time - almost as long as bicycles themselves. Like many businesses who've survived two world wars, a civil war, political overhauls and global economic downturns, bikes also weren't their first product. Orbea ebikes are in fact a very recent addition to the portfolio.
Founded in 1840 in Eibar, the Basque region of Spain as a rifle and gun manufacturer, in a turnaround similar to Birmingham Small Arms Company in the UK, they switched to producing bicycles between the two World Wars. Unlike BSA however, they didn't turn back to firearms and have continued to build some of the best, most competitive and arguably aesthetically pleasing bikes the cycling industry has seen.
Orbea ebikes didn't start like this. In fact, it took almost 165 years to get anywhere close. As one of the only remaining companies still doing almost everything by hand, including painting and finishing frames, assembly and final inspection, Orbea are set apart from the rest of the cycling industry by their obsessive attention to detail and design concepts.
In their formative years in cycling, having switched to producing bikes in 1930, Orbea began to make a name for themselves in the Basque region of Spain. They began competing in the coveted Tour De France races as early as 1934 with already well known Spaniard Mariana Cañardo placing 9th that year on one of their bicycles.
He later went on to claim a 5th stage win (and 2nd overall) in the very first Vuelta a España (Tour of Spain) race the following year, again on an Orbea bicycle. Promoted by the cycle manufacturers from the Eibar area where Orbea were originally based, this race is still run each year today.
Between 1936 and 1939, Spain was gripped by civil war. Having ridden out the stormy economic fallout, by the end of the war, Orbea employed more than 1000 staff and produced 50,000 new bikes each year
Their Eibar factory at the time had the tooling and skills to produce every single component they needed to build their products. A complete, start to finish manufacturing process where absolutely everything was done in-house and under their own control.
In 1969, while Brian Adams sung about his personal dilemma in choosing whether to settle down or strive for fame, America landed Apollo 11 on the moon and NATO troops were withdrawn from Vietnam, Spain struggled with a dire economic crisis. Unable to escape the downturn in country-wide fortune despite having survived so much beforehand, Orbea found itself on the now very real brink of bankruptcy.

Undeterred and with unwavering faith in the brand, the workers of the Orbea factory took the decision to form a cooperative and purchase the company from the Orbea family, saving it from almost certain collapse.
With the wind and previous financial troubles behind them, the newly formed cooperative left Eibar for a brand new site in Mallabia just 10km away, where they built the very first dedicated bicycle factory with more room and accessibility.
Through the 1980's, Orbea surged forward with their development of new model lines. As well as returning to road racing in 1984, they also joined the mountain bike market for the first time, at a pivotal point where many of the most recognisable brands today were only just starting out on their journey.
The 90's was the decade of mountain bikes - With lots of other European and US brands having only just begun to emerge over the previous 10 years, Orbea took up the challenge of an entirely new model line designed in the US and with frames manufactured in Asia. The Orbea MTB Team was born and the challenge to bring Orbea back to the international stage took a turn off the tarmac and onto the dirt roads.
Fast forwarding to 2003, the Orbea Orca is born and provided the the first real predecessor to the Orbea Gain "M" (carbon frame) electric road bike range. "Orca", a combination of "ORbea" and "CArbon", became the name for Orbea's highest quality and most technologically advanced racing bikes still in production today.
As well as the Orca, Orbea also launched the Ordu, their first Triathlon specific bike which propelled Craig Alexander to victory in the 2008 and 2009 Ironman Haiwaii races. At the same time, Orbea also launched and expanded the Orca brand of purpose designed helmets and apparel for Triathletes.
The arrival of Orbea eBikes
Hitting the fast forward button again, this time to 2016, and news is spreading of a revolution. Orbea are launching the Gain at Unibike in Spain. Their first electric bike for the road market, it promises to be everything that is Orbea. Light, manoeuvrable and with a great specification and built to the same quality and design ethos Orbea customers have come to expect.
Not only was the initial Gain launch a success, they've continued to develop the model and in 2018, after more than 6000 hours of testing, it won several accolades including a Design and Innovation award from several prestigious cycling magazines. Fielding questions such as "Are you sure its an eBike?", and "It doesn't look like it has a motor"?, it ushered in a wave of new articles about what the future has in store for electric road bikes.

Not content with boosting the performance of their road bikes, Orbea started work on their mountain bike offering. The Orbea Wild FS range was born and in 2017, was launched to the world.
It seems such a long time ago that this Shimano E8000 driven monster first started making waves. Offered with a choice of wheel size, a fully integrated battery, speed sensor mounted in the rear brake rotor and a reinforced skid plate the Wild FS 10 was already ahead of its time and has continued to be updated to keep it at the very top of its game.
Orbea electric bikes in 2021
Orbea ebikes have come a long way in a comparatively very short space of time - a testament to their unwavering commitment to evolution, design and value from their products backed by a Lifetime frame warranty and outstanding dealer support package. Year on year, Orbea continue to innovate and increase the end user experience with the latest technology and components.





The Orbea Gain range is still a hugely popular option for those looking for an assisted entry into the world of road cycling, with 13 model variants in Carbon and Alloy frame options. Offered 5 frame sizes, multiple colourways as well as the MyO option for Carbon models from their entry level Gain D50 at just £2,359, right the way up to the flagship Gain M10i at £8,199. Our most popular option is the Orbea Gain.




The Gain isn't the only model to have received significant updates since launch. The Wild FS range is now offered in 8 different model/specification variants, 3 sizes, two frame materials, multiple factory colours and a MyO option for Carbon frame models making the Wild FS one of the most customisable electric mountain bikes on the market before it even leaves the factory with tens of thousands of specification combinations.
Building on the success of the Wild FS electric mountain bikes, late in 2020 Orbea announced the Orbea Rise. One of the most exciting Orbea ebikes of the year, the Rise pushes right up to the edge of the boundaries on what's achievable with currently available components.
Arguably one of the best looking trail bikes on the market (especially if you take advantage of the free MyO custom paint options like the model above), the Rise isn't just a looker. Orbea have, from the very beginning, sought to be at the forefront of development of ebike technology and weighing in at as little as 16.5Kg on the M-Ltd model while still managing to produce 60Nm of torque and more than 4 hours riding from their collaboration with Shimano on motor firmware, this is the bike that has many of its competitors on the back foot in 2021.
Having previously held the titles for the lightest bikes, Specialized and Lapierre are likely to be paying very close attention to this model over the next few years, especially given that the Rise undercuts the price by a percentage that makes the Rise stand out as the true champion on value.
For this reason, the Rise M10, with its perfect balance of spec against cost is currently our most popular from the Orbea ebikes range.


As you can see, with 180 years of experience behind them Orbea are one of the most forward thinking, design concept led and technically advanced cycle manufacturers in the world and continue apply this knowledge and experience in everything they do.

Despite having a slightly longer than average lead time caused by (but more than made up for!) their attention to detail and quality of finish, Orbea continue to turn out industry leading products while remaining competitive on price, which is why they're one of our favourite manufacturers, and they should be yours too!