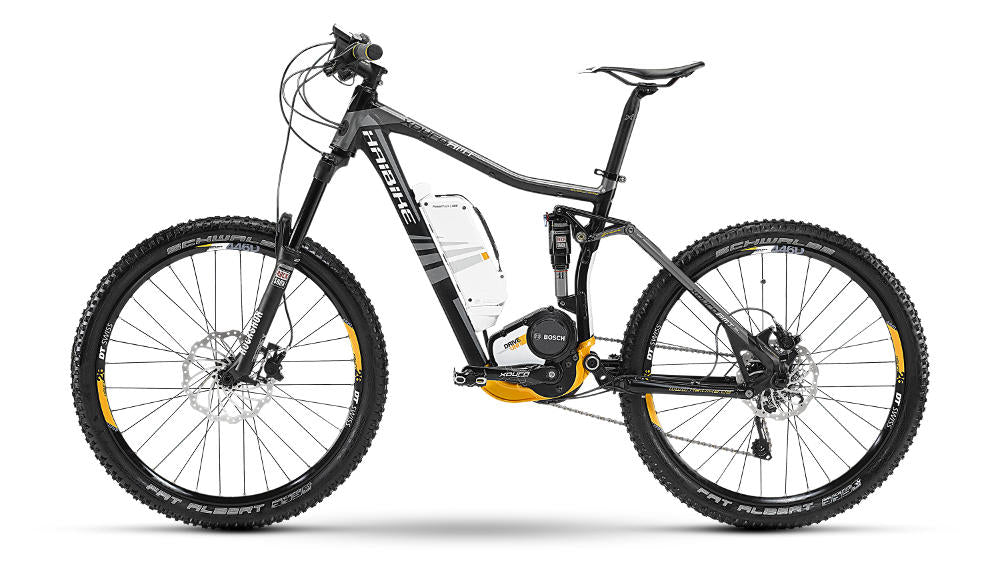 The Pilgrims Way by Electric Bike - Haibike xDuro FS AMT 26 Customer Review
By Martin Brown |
I've always loved exploring green roads and trails on a bike since I was a young lad. Discovery of mopeds at 15 years old and motorcycles at 17 meant that push bikes were used much less. On an assortment of trail and enduro motorcycles I could cover a much larger number of lanes for less effort and it was much more fun as they had engines.
I first purchased a mountain bike once they had front suspension developed in the mid 1980's. It was a way of checking out new routes in a stealthy manner. Access is restricted for motor vehicles and it has become more draconian within the last 15 years. Its always been a reason to keep cycling.


Mud, hills and headwinds are a limiting factor for push bikes, so around 5 years ago I started looking at the electric hub motors and conversion kits. Until recently electric bikes were only designed for your grannie to go shopping and there were few e-mountain bikes of good quality. Mountain bikers are purists and seem to focus on human power and gravity. Electric assistance? Thats for the aforesaid grannies and the old and disabled. Pay more, pedal harder and reduce weight is their only vision. As a motorcyclist I think differently. POWER is what you need.I tried a Heinzmann kit bike which was ok, but not very torquey and the cost of a conversion kit was around £1300. About 3 years ago I found a Bafang kit for £700 which I fitted to a hard tail Claud Butler. This was followed up by a similar conversion in a TREK EX5 giving me full suspension, after a few engineering headaches. Great fun but range is under 15 miles for these hub motors in spite of claims of more.
Something else was needed to go any good distance. Bigger batteries? Too much weight. Ok more efficiency? Crank motors seemed the way to go. However crank motors tend to dangle below the bottom bracket just waiting for a rock to smash it to bits. Then I saw the Haibike. The motor was rotated up inside the frame like a motorcycle. Also the various chassis alternatives looked like they were designed for serious off road use and not shopping. Some e-mountain bikes you see are really commuters with knobbly tyres. I tested out a Haibike in Bedgebury forest in Kent and was impressed. Good power even though rated at the European legal 250 watts.
However the best overall package offering zero finance was from the e-Bike Shop aka Crank Cycles based in Farnham and Alton. Initially, I was looking at the Xduro FS SL 26". That model has the smaller 300 watt battery with a range of about 30 miles. Martin at the shop suggested I look at the next model up. This was the AMT 26" which offered a larger 400 watt battery capacity and improved suspension at each end, plus better cycle components all round. I must say I agonised about this. Three and a half grand is a lot of money for a bicycle. Then again a pedal only bike of that specification would have cost over £2000. Add in a motor and battery; let's call it £1500 and there you are. By the way the off road dongle is an expensive (£150) but worthwhile option. I took it on holiday to the New Forest. That showed it to be a lot of fun and the performance and range was good. The first problem that arose was the front suspension lockout button kept jamming. To release it is a matter of tugging it; the warranty should sort that.
Haibike FS AMT 26 On The Pilgrims Way The longer test was to ride the Pilgrims Way along the North Downs in Kent. The starting point was the car park at Wrotham and aim to finish at the Kent Gliding Club at Challock.


This used to be entirely open to motorcycles but thanks to legislative duplicity and downright lies by anti vehicular groups parts of it are now closed being bridleway and restricted byway; but not to my Haibike!


Riding from Wrotham through Trottiscliffe to Halling is now possible. The Haibike rode even better than my electrified TREK EX5 through the ruts and bumps and I'd always been impressed with that and its overall motor performance. Problem two occurred as the system shut itself down reading 0 mph. A stone or stick had broken the pedelec sensor off its mounting. Investigation showed this to be of a really poor design made of thin flimsy plastic and not fit for purpose. Bosch really need to redesign this. Temporary repair with self amalgamating tape, but it's another warranty matter.The rest of the ride is a mixture of unclassified roads, over the River Medway and then over Bluebell Hill and along more byways to Detling. I overtook one guy on an unpowered MTB who was struggling up a hill and after a brief chat; as I accelerated away, I was not even sure he understood my comment that my MTB loves hills!
A lot of cyclists don't realise what the Haibike is and a few that do, don't understand how good they are, or say it's cheating; most are in oblivious ignorance. All I know is I'm probably having more fun and enjoyment than they are on their unpowered bikes.


After a recharge of the battery and coffee for myself watching the gliders, it was a ride down to Charing station and then the train back via Kemsing and the final western section of the Pilgrims Way, to the car.
In summary, the Haibike AMT 26" works brilliantly. These are fully competent off road bicycles and are truly "all mountain terrain"; not just cosmetic MTBs. The range with the bigger. 400 watt hour battery is over 40 miles. This was using mainly tour and sport modes, with the occasional burst to turbo. If you can afford another £650 (ouch!) then carrying a spare battery ( 2.5 kg) would give a total of up to 100 miles of more gentle riding. So long distance touring is possible. If, assuming the glitches are sorted I'd recommend a Haibike for serious off road bikers who might just also be motorcyclists at heart; but you do need deep pockets.Now for the Ridgeway across Wiltshire and Oxfordshire.Thanks to Steve Neville from Kent for this article.. (Ridgeway report to follow).To view this eBike please click here - Haibike FS AMT 26