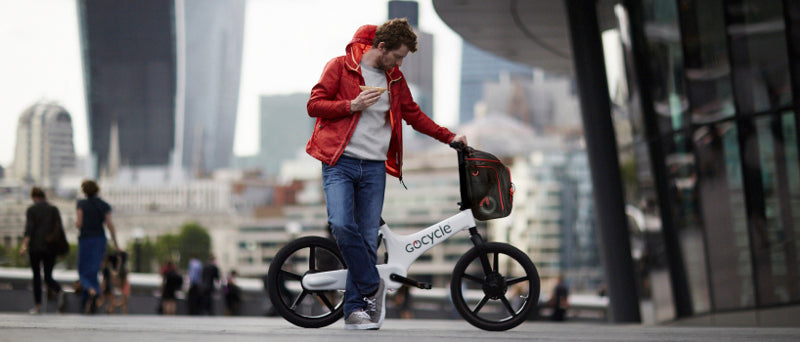 New Review: Gocycle G3 Front Pannier Luggage Bag
By Martin Brown |
We are pleased to look at the new Gocycle G3 front pannier luggage bag which will be released to the public very soon. Here we take a look at some of the new features. The new bag will attach directly to the front of any Gocycle G2 or G3 without the need for any extra pannier mounts, rods or fixings. A smart solution for many Gocycle users answering previous load-carrying dilemmas.
This versatile product has been specifically designed by the Gocycle team based in London, UK. The new Pannier Bag doesn't compromise the Gocycle's seamless design or ability to fold and become portable, taking only seconds to remove, without tools, whilst leaving no brackets or fixtures. Richard Thorpe, designer of Gocycle said:

"I use my Gocycle daily for commuting and running errands. The hassle-free convenience Gocycle offers is unmatched. But when it comes to carrying stuff , traditional bike panniers just don't cut it! They're cumbersome, inconvenient, and ugly, and my complete dissatisfaction with using them has led to the development of a new, no compromise front pannier designed specifically for Gocycle."
Richard Continues:
"We started by maximising all usable space, using expanding pockets wherever possible - the rear facing double baguette holders being a personal favourite! We've chosen lightweight, water resistant materials and selected moulded zip pullers for easy access even when wearing cycling gloves. We've designed a bespoke and integrated mounting system which maintains Gocycle's clean and seamless lines when the pannier is not in use. Inspired by high-tech backpacks, the pannier has a lightweight and rigid internal support structure to transfer weight directly to the Gocycle for confident handling. Versatile, convenient, and fun - it's a no compromise design - just like Gocycle!"
Features
Multi-use rear and side pockets with drawstring adjustment to suit any occasion, making use of all available space. Deep main compartment designed for maximum useable volume. Internal support structure ensures a robust connection with the Gocycle for re-assuring handling when fully loaded.
Top pocket and colour-matched, soft-touch moulded zip pullers for fast access to your essentials even when wearing gloves. Internal padded pocket for tablets and laptops locates weight close to the steering axis for sure-footed handling. No cumbersome mounting brackets are required to be fitted maintaining Gocycle's clean and seamless design. Inspired by Gocycle's patented Pitstopwheel®, with one simple movement, the front pannier can be effortlessly detached or re-attached
Available for pre order now with first stocks arriving in late August / early September. See the full spec & more pictures on our dedicated pre order page here -Gocycle Front Pannier.