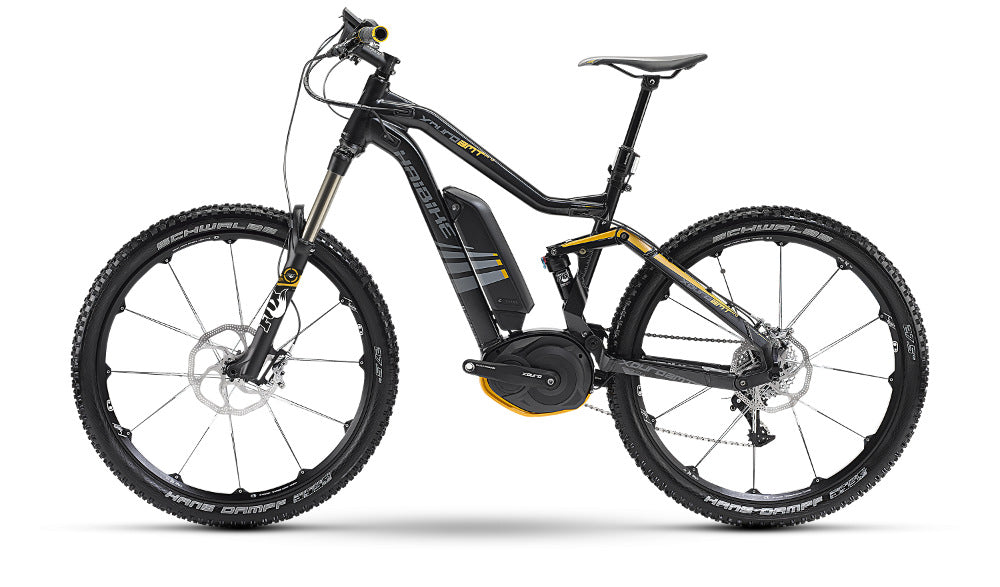 Across the Surrey Hills by Electric Bike - Haibike xDuro FS AMT PRO Review
By Martin Brown |
I completed my first proper ride on my new Haibike xDuro AMT PRO on Sunday: possibly one of the best days of the year so far for weather and dry trails.
As a regular cyclist of many years, I ride a 30m round trip most days to work, and MTB in the Surrey hills with a group of up to 25 local riders every Sunday morning; all year round. Occasionally we venture further afield to Swinley Forest, Afan, Coed Llandegla and Coed Y Brenin.
Recently I have turned to e-bikes since discovering I am nearing kidney transplant, in order to make up for the deficit in energy levels I am experiencing as a result.
Having been let down by another supplier, I spoke to e-bikeshop.co.uk whom I'd been aware of and who had the added attraction of being local to me in their new custom built facility and showroom in Farnham. Check it out if you haven't already done so – it's impressive. As luck would have it they had a demo-day cancellation and before I knew it, less than 3hrs later I was on a test ride in the Surrey hills with a selection bikes to try!
Group photo after the ride @ e-bikeshop in May 2014
The knowledge of the products by the whole team at e-bikeshop.co.uk was second to none and by the end of the ride I knew an e-MTB was for me. It quickly became apparent that the Haibike xDuro was the right model for me as I use my MTBs quite aggressively and I needed something which could cope with the hits, under the "All Mountain" category. It's pure off-roader I was after, as I already have an e-hybrid which I use for daily road commuting.
Given the increasingly national shortage of higher-end e-MTBs available, Martin at e-bikeshop.co.uk calmly helped me through the whole process smoothly and confidently and my customer experience was second to none. Even a minor initial technical glitch was resolved quickly and efficiently the same day.
So back to the ride, I was justifiably nervous embarking on my first Sunday morning ride with e-power, would the bike be up to it? would I have enough battery power? how much respect would I lose with my ride-buddies, and the nagging feeling of "cheating".
Lovely shot taken along the way, Surrey Hills offers beautiful scenery! If you can keep your eyes of the eMTB!
Despite the fact my fellow MTB-ers are of above average fitness levels, it quickly became clear that Eco setting was plenty to keep on the pace and near the front of the group. We covered the "3 peaks" ride – one of my favourite in good conditions as the views are spectacular: along the canal to Guildford, up Pewley Downs, St Martha's and Newlands Corner on the North Downs. Across and down to Shere, back across Albury Heath, Blackheath and Chinthurst. On the climbs I used a touch of turbo to see how the bike climbed, and it was simply astonishing. My fellow riders were simply blown away – event the fittest of the group.
I actually didn't need turbo, tour setting would have been plenty but of course I had to see what she could do, and what Strava would make of it all. One of my biggest fears was losing the fun factor of my previous ride, an Orange Gyro. Although a very different type of bike altogether, I was delighted to find it just as much fun in an alternative kind of way.
The ride across the Surrey Hills on the Haibike FS AMT PRO mapped on Strava
Coming down the back of St Martha's there are some wonderful pieces of single track with berms, jumps and drop-offs-a-plenty. With the additional weight and low centre of gravity, due to the crank drive motor and low mounted battery I found the Xduro to be incredibly well planted with the Schwalbe Hans Damf tyres providing seemingly endless grip - especially on the sidewalls.
Although not as nimble as my previous bike, it was still more than possible to jump and get airborne and I found myself using most of the 150mm travel provided by the front and rear silky smooth Fox Kashima coated suspension. The Haibike Sprocket Equalizing System (SES) was perfectly balanced and provided increased confidence and predictability. The 27.5" wheels provide exactly the right balance of nimble turning but with the traction and bite of the bigger wheels.
After 30 miles, 4 hours in the saddle, several sizeable climbs and a 10 minute "turbo" blast home after saying farewell to my ride buddies I was astonished to see I still had 2 bars of battery left! (I'd unnecessarily taken my charger in my Camelbak with me on the ride as I was unsure what to expect..)
As it turns out by the end of the ride my fellow MTB-ers had nothing but respect for my new Haibike, and to say it raised a lot of interest in the group would be an understatement.
It's probably fair to say there will be a few more in the group as time progresses!
My bike has been set up perfectly by the team at e-bikeshop.co.uk, with no adjustments required other than saddle position and height. After a good clean, polish and re-lube the Xduro was back to showroom condition once again and ready for action again.
Next stop: a 5 day MTB adventure on the Isle of Man in June, and I can't wait!
With thanks to Matt Dibb for this lovely write up - From the e-bikeshop team. Expect an update on Matt's trip to the Isle of Mann soon.
To view the full specification of the model featured, please click here - Habike FS AMT PRO Electric Bike