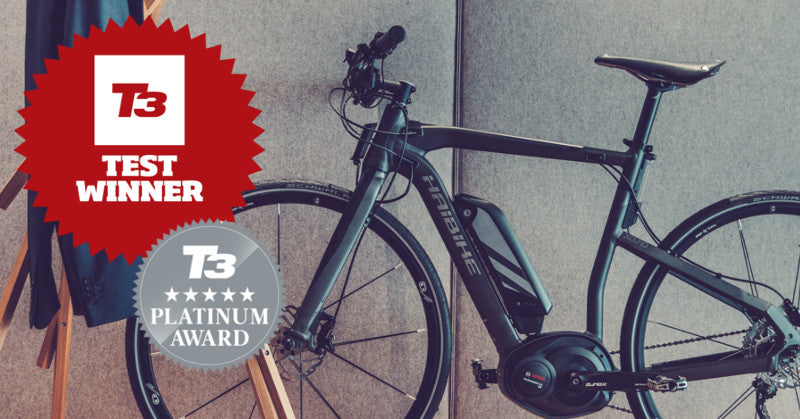 T3 Mag: World Class eBikes on Test Haibike xDuro Urban 5 Star Review
By Martin Brown |
Have you picked up the latest issue of T3 magazine yet? If not, then go grab one! The 'Best Electric Bikes Rated' makes for a real good read.
Here the test winner - Haibike xDuro Urban. In the latest July issue
T3 magazine
took three world class eBikes and road tested them to the max. This included our Haibike xDuro Urban RC road bike, the Gocycle G3 and the ETT Trayser.
T3 Says: "Once you've ridden the Haibike, you'll never want a normal bike again."


Side by side T3 reviewed the bikes and competed at 3 stages - Design, Power & The Ride.
Read the full review below. For mobile readers it's easier to navigate by clicking here.
We are really pleased to not only see 2 out of 3 of the bikes in T3 magazine are bikes that we offer, but to also come 1st and 2nd. With the Haibike winning overall first place and the Gocycle leading second.
T3 Rates: The Haibike offers a perfect blend of power and battery life, with optimum gearing to suit. It also looks great and is fantastic to ride - even more so with the optional Nyon computer. Garage-dreamers will love the removable battery.


Both with 5 star overall reviews and both winning all 3 of the major tests. This is a real feat!
Find out more about the electric bikes featured: Haibike xDuro Urban & Gocycle G3. Credit to the guys over at T3 Magazine who clearly know their tech. Makes for a great read.