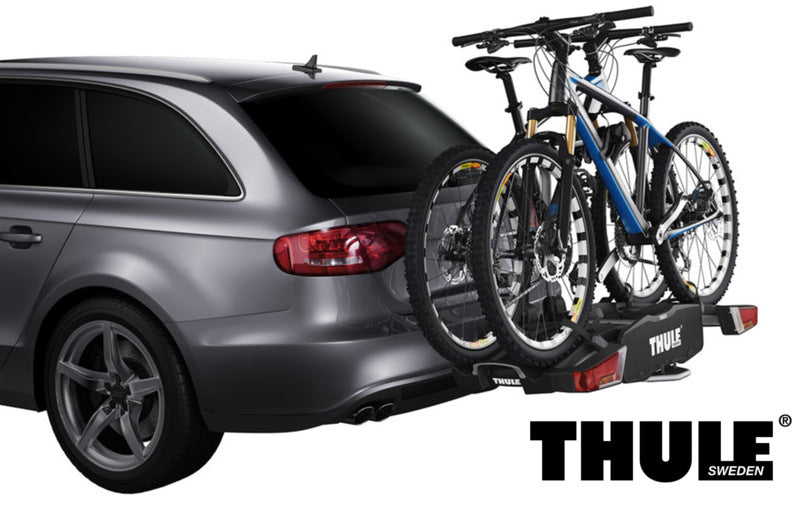 Thule Towball Cycle Racks Explained - Which is best for electric bikes?
By Martin Brown |
We get asked many questions about which Thule towball (tow bar) mounted car bike rack is best. We decided to do a brief review of the Thule range and explain what sets each car rack apart.
Although this article is more focused on electric bikes it can be used to explain some of the key features of each Thule bike carrier.
To set the record straight, who are Thule?
Thule was founded in 1942 in Malmo, Sweden. It set out with a passion to 'make life easier' for outdoor enthusiasts to transport equipment in style, safely and easily. Thule don't just make bike racks, they actually produce for many different sports and applications, for skiers, fishermen, family luggage (roof boxes), surf boards and bikes alike. Plus much much more with an ever expanding product portfolio.Thule quickly established itself as the leading brand in the cycle industry for their car cycle transport options. They offer lots of applications from rear mounted racks to roof racks. Today we will be focussing on their range of tow bar (eBike) cycle carriers.
Why choose a Thule eBike carrier?
Thule are the market leaders in cycle transport, due to the 'ease ability' of their racks. They are well made, very well thought out & easy to use, with every aspect of the rack thoroughly thought out to make it a simple as possible. Often car racks have been fiddly to fit and can be a pain to use. This will only put you off using the rack and taking your eBikes further afield, so its worth spending a little on a decent rack you will actually not resent using.
What's the difference between the racks?
Thule offers 8 towbar mounted bike carriers in the range. We are going to focus on the top 4 latest racks, which also happen to be the best sellers. We will eliminate the Thule 'Hang On' & 'Xpress' as these look like traditional clip on racks that hang the bike from the frame (nothing for the wheels to rest on), but are towbar mounted to the car. We feel that if you have a towball fitted you might as well make use of a 'base rack' where the wheels are supported securely on a base and the weight is spread. This also means that minimal lifting is required as the bottom of the rack sits close to the ground so you don't have to lift eBikes (often heavier) too high off the ground. We will also eliminate the Thule 'RideOn' & EuroRide' as both these racks are very basic and have been improved on, although still available these racks have been developed and now have newer models taking their place.
So that brings us down to the top 4 racks available today, the Thule 'EasyFold 931', the 'EuroClassic G6', the 'EuroWay G2' & last but not least the 'EuroPower 916'.
What are the new features?
All of the above racks have the latest features including new improved detachable frame grippers that offer limiter knobs so that not too much torque is applied when tightening to your precious new electric bike. These rack offers a large base so even slightly longer bikes wheels do not overhang the base too much.
All of the featured racks also have a smart foot pedal release so that the rack can be tilted forward (with the bikes attached) for easy access to the boot, even with very wide doors the boot can be accessed without having to take the bikes and the rack off. The Thule car racks also feature a lockable tow bar mechanism so the rack itself requires a key to remove from the car and also the frame holders have a key lock for added security to the electric bikes themselves. All Thule racks come complete with easy click number plate mount, so you don't need to use tape or tap holes and screw the number plate on. They all feature built in lights with steady light, brake, reverse and fog light. Lets have a brief overview on each of these models..
Thule EasyFold 931 Towbar Rack
This carrier is by far our most favourite rack of all. The Thule 'EasyFold' pretty much does what it says on the tin! Its unique design folds away easily to allow the rack to be transported with ease. In fact it fold so small that you can position it behind the drivers seat if the boot is full. We also offer a carry storage bag for this rack.
Its the latest rack in the Thule range and set to be the most popular in the range due to its versatility. The 'EasyFold 931' weighs in at only 17.1 Kg's and is capable of carrying 60 Kg's. This means that it is perfect to carry 2 of our eBikes. The low weight of this rack coupled with small folded design means that it is easy to manoeuvre around gents and ladies alike. Here's a video of the EasyFold 931 rack in action to demonstrate its capabilities -
The Thule EasyFold 931 is only available as a 2 bike rack. It offers a 13 pin power plug. It does not fit cars with spare tyres. You can view the full specification of this rack here - Thule EasyFold 931 Specification
Thule EuroClassic G6 Towbar Rack
The Thule EuroClassic G6 is the follow on from the G2 featured below. It has an improved sleeker design and ease of use and folds flat for easy storage. This rack is available in both 2 or 3 bike options as standard. We tend to stock it is the 2 bike version as the load capacity of this rack is 51 Kg's so will take two of our eBikes comfortably. This rack weighs in at 17 kg's.
This rack is popular with both car and motor home users alike. It is the latest top of the range full size towball carrier rack on the market with great flexibility and loading capabilities. The Thule EuroClassic G6 is available as 2 or 3 bike options. Interestingly if you buy a 2 bike rack and wish to fit a 3rd at a later date, we can offer an extra bike adaptor that will fit. Here's a video of the EuroClassic G6 rack in action to demonstrate its capabilities -
This rack features a 13 pin power plug and is compatible cars with a spare wheel with the purchase of a special adaptor.
Thule EuroWay G2 Towbar Rack
The Thule 'EuroWay G2' is the mid range towball bike carrier for everyday use. It is compact and lightweight. It folds flat for easy storage and is available in 2 or 3 bike options. It weights just 13.3 Kg's which makes it one of the lightest racks we offer.
The G2 is the model beneath the G6, it is capable of holding 46 Kg's, so just about enough for 2 eBikes or 3 normal bikes. Unlike the G6, you can't add on another bike extender mount onto the 2 bike rack. So its best to weigh up how many cycles you may wish to transport ahead of buying one. We stock it as standard in the 3 bike version. But it is available to order in a 2 bike version as well. Here's a video of the EuroWay G2 rack in action to demonstrate its capabilities -
This rack features a 7 pin power plug and can fit onto cars with a spare wheel with the purchase of an adaptor.
Thule EuroPower 916 Towbar Rack
The 'EuroPower' Thule bike rack is designed specifically for eBikes or heavier bikes with a long wheel base. The rack features a sturdy profile to cater for the extra weight and has been extended width wise by 25cm catering for longer bikes. The EuroPower is only available as a 2 bike rack and cannot be extended at a later date. It has a load capacity of 30 Kg's per bike or obviously 60 Kg's overall.
Surprisingly as an electric bike specialist, we don't actually stock this model. We can of course order it on a next day basis for you. Why you may ask?.. We feel that the newer racks already have a long enough base to accommodate longer eBikes, a lot of bikes nowadays are 29" wheels so the new Thule racks absorb this into their design anyway. Also this rack has the same load capacity as say the 'EasyFold' and its only 9 Kg's off the 'EuroWay G6' load capacity of 51 Kg's. Its ideal for some heavier eBikes on the market, but most of our (own) eBikes are around 22 Kg's so in fact most of the racks we offer are capable of carrying 2 with no problem. The overall weight of this heavy duty rack is almost 19 Kg's so it does come up a bit heavier than the other racks available. Here's a video of the EuroPower 916 rack in action to demonstrate its capabilities -
This rack features a 7-pin plug and can operate on cars with a spare wheel with the purchase of a special adaptor.
To sum up the range
The 'EuroClassic G6' is one of our most popular racks due to its sleek design and the capability of adding a 3rd bike on at a later date. However those looking for the ultimate rack with good load capacity and handy fold down mechanism for storage should look no further than the 'EasyFold'. Weigh up if you want to carry 2 or 3 bikes. If its just 2 then any of the range will cater. If 3 bikes then the 'EasyFold' and 'EuroPower' are out of the question. Remember 'EuroClassic G6' can be purchased in 2 or 3 bike racks or be adopted at a later date with the use of the '3rd Bike Extender Mount'. If you have a particularly heavy eBike (more than say 25 Kg's) we would suggest that the 'EuroPower' is the one. It also works well for Impulse and Panasonic equipped eBikes that have the battery between the seat tube and frame, causing a slightly longer bike. Most Bosch powered eBikes do not need the extra length as they don't come up any longer than a regular bike. For those not worried about fold-ability and sleekness, but want an everyday sturdy rack available in 2 or 3 bike options then choose the 'EuroWay G2', Simple.
What else do you need to know?
After reading this article you should have a fairly good idea of which rack to choose. You can view the full range on our website, which most are in stock ready to go out the door.
Remember Thule products come with a fantastic 5year warranty and are built to last. They are certainly our favourite car rack brand, that's why we sell them! As an official Thule stockist we will deal with any warranty query in store, making sure you have a trouble free car rack for all those purchased from us. We like Thule because they also offer a large range of accessories and fittings for their racks. Be it from wheel adaptors to load ramps, they have thought out every possibility to make sure you are covered for your needs. We try to hold as much stock as possible, however if there is something you cannot see on our website, then please get in touch as we can have it here ready very quickly. The same goes for any spares as Thule give us access to a wide range of spares from keys to clamps to ensure it lasts a lifetime. For any other queries please get in touch, we can offer advice on vehicle specific fitment. You can view our Thule products here - Official Thule Partner Stockist in Surrey UK
Other Thule products include