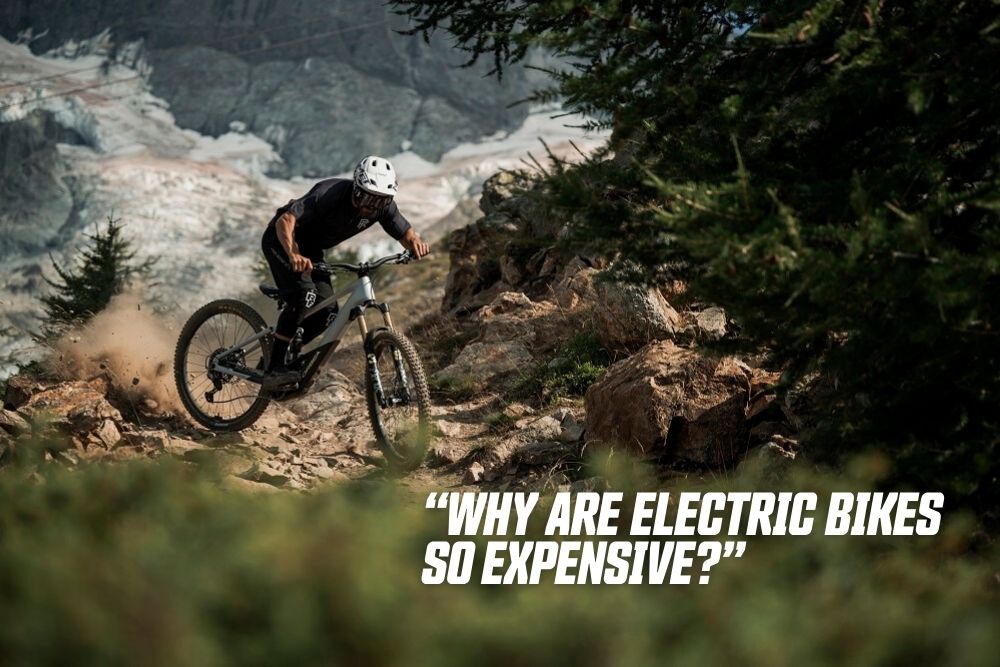 Why are electric bikes so expensive?
By Ben Mowbray |
Why are electric bikes so expensive and is it really worth paying more for a bike of a specific brand or with specific components? Do you really "get what you pay for", or, as some online comments often suggest, are bike manufacturers and their retailers just "ripping people off"? 
Can you build one "cheaper"? 
We'll break down the cost of a modern, European manufactured ebike and compare it, as most do, against its sub-£1,500 competition. 

Why do electric bikes cost so much? 
Firstly, "expensive" is of course, subjective. Someone with millions in the bank will naturally find £3,000-4,000+ for a new bike to be much "cheaper" than someone on minimum wage but it's not that simple - manufacturers aren't just targeting high earners with high prices to the exclusion of all others. 
Since 2020, prices have been rising in all areas of the market.
The final RRP price of a bike, high or low, comes down to multiple factors;
Raw materials
Components
Labour
Location/Transport
Aftercare/Warranty
Lets break these down; 
Raw Materials
The base cost of raw materials has been rising steadily since before the start of Covid. Rubber for example, increased over by almost 100% from $1.05/kg to $2.00kg between 2020 and 2021. You can imagine what this does to the price of a set of tyres, and not just on bicycles. 
The same goes for everything else. Over the same period, the price of Steel jumped from $451 per ton to $811. Oil jumped from $16 a barrel to $116 a barrel and the world runs on the stuff. 
Components
This section actually ties in many of the other "reasons" into one. Raw materials, labour, transport and aftercare all has a knock on affect with the price of components and we've seen the prices on Shimano and other parts gradually increasing by a couple of percent each year. 
At manufacturer level this is compounded by all of the components suffering the same fate of globally increasing prices on everything at a rate faster than normal. 
Labour
Labour prices globally are continually on the rise and generally only a recession with massively increased levels of unemployment tends to bring the average down, where there are significantly more people than jobs. This hasn't really been the case since circa 2008 and so right now, wages are on the up. Along with everything else... 
Location/Transport
The location of a factory and the transport of finished goods to the end retailer has a big part to play in the final price of a product. Wages in the Far East are significantly less than the West and much of the raw materials also originate there and so pre-Covid, it made sense to manufacture components there and take advantage of the highly robust but also very cheap sea freight over to Europe for final assembly and addition of the largely German made drive systems. 
While Covid restrictions were in place, with less ships on the water and full containers paying more than empty, prices to ship a container from Malaysia (where Shimano manufacturing is based) to Europe went from $1,500 to over $20,000 in some cases. It also took longer to arrive. This was driven by lack of capacity and fewer empties being taken back to a country which like many Far Eastern territories relies on its export trade to function. No empties in means no stuff coming out. The less stuff comes out, the more it costs...
This has for the most part settled down now, but its still more expensive than it used to be to move things around - especially with the price of oil still being at $80 a barrel at the time of writing. 
Aftersales/Warranty
I left this bit until last because although its not the most expensive portion of the price of a bikes RRP, its arguably one of the most important and normally completely overlooked by new riders at point of purchase. 

Bosch now have more than 650 registered service centres in the UK, and Yamaha aren't all that far behind. 
Their warranties are not only very good (2 years on all non-wear parts) but perhaps most importantly, the parts are generally readily available and cross compatible, making it far quicker and easier for shops to repair these systems. 
Offering such an iron-clad service for maintenance and repair does come at a cost. It means manufacturing at zero return and then storing tens of million of pounds worth of parts, "just in case". 
The companies making £500-£1,500 bikes are absolutely not doing this. 
The difference between "cheap" and "expensive" electric bikes 
Not selling the entry level, low cost and low quality end of the market products is something we've always taken great pride in and so we actually have very little experience in them outside of taking dozens of calls a week from people complaining that theirs is broken! 
Typing in "electric bike" and hitting the search button on the two most popular online market places, I'm instantly served up a limitless list of sub £1,500 ebikes. 
If they can make them for this price, how are Cube "getting away with" charging £3,399 for their 2023 Kathmandu Hybrid One 750? 
Its not a secret. Its not rocket science and it certainly isn't a con. Cyclists aren't being "ripped off". In fact, in many cases you're more likely to be ripped off on a sub £900 bike than on a bike of £9,000+. 
How? 
Performance, reliability, longevity and post sales support. 
These four things are what the previously discussed raw materials, components, labour, location/transport and aftercare/warranty translate to for the end user - You. 
Performance
Generally speaking, the term "performance" is pretty wide reaching but what we're talking about here is how the bike performs against what it was designed to do.
A folding bike is generally a lighter weight bike. Sub £1500 versions are generally around 20-25kg because steel is far cheaper than the specially formulated alloy/carbon bikes. Cheaper versions can be harder and take longer to fold or require things taking off. 
A mountain bike should be capable of taking on the roughest of off-road trails and so the much cheaper ones, made to a slim budget, aren't expected to last as long as a £5,000+ full carbon framed bike with suspension from Fox or Rockshox. Top end Fox front forks alone cost more than many entry level bikes because their performance characteristics (off the back of decades of R&D in world stage racing) come at a price point which just isn't achievable for less.  
As well as the overall level of components and function of the bike, an electric bike wouldn't be electric without its motor/drive system and the entry level bikes tend to use unbranded motors and batteries from Far Eastern companies who you've probably never heard of. You'll also likely find their performance data (torque output and battery range) either lacking from what you were promised, or well above what the law permits in the UK. On top of this, they have have a bit of a smoking problem that "expensive" bikes don't suffer with. 
You'll be exceptionally hard pressed to find a Bosch, Yamaha or other top drive system fitted on a sub-£1,800 bike unless its heavily discounted in a sale. More on that a bit later on... 
Reliability
No one wants to be left stranded at the side of the road. Likewise, no one wants to be in and out of their dealer for repairs on something which was supposed to make their life easier, healthier or otherwise better. 
Sub £1500 bikes are widely known to not be anywhere near as reliable as those at the £2,000+ price point. This bit is really quite simple and you've probably already heard the saying "buy cheap, buy twice" - that's exactly where we're heading with this... 
The cheaper bikes tend to use much lower quality components which have gone through considerably less (if any) product development and testing when compared to the 102 years Shimano have under their belt. Their batteries also tend to fail much earlier and their wiring systems can be unrefined and difficult to work on. 
So bad is the problem of reliability of some of the very cheap bike models in their supplying countries that there are now "bike graveyards" springing up, with owners dumping their bikes in their tens of thousands out of frustration with lack of support or parts available to repair them, or where its simply cheaper to throw it away and buy a new bike. It's a bit of an industry "dirty secret" and we don't see it here in the UK where they tend to just end up in smaller numbers at local waste recycling centres or left locked up somewhere, never to be ridden again. 
Longevity/Post sales support
Again, this is where the real value lies and the investment in a £2,000+ bike really starts to pay dividends.
Longevity
All of our bikes (and many of those from the brands we don't stock here at E-Bikeshop) at this price point are designed to last a minimum of 8-10 years with very little in the way of unnecessary or difficult fuss, maintenance and hassle. 
Most of the sub £1,500 bike manufacturers have been in business for less than 5 years and many for as little as just a few months at the point they launch a bike using unbranded motors, batteries and brakes/gears. These are all of the things you rely on the most to get the use and value from your bike.  
All of our bikes are made from either alloy or carbon fibre, so their frames will never rust. Their motors are made by companies with over 15 years development. Bosch have been around since 1886 and are unlikely to disappear in the next 10. The rest of the components on the bike are also from companies with lengthy history in the bike industry and you'll find their components on everything from ordinary leisure bikes to the world stage at the Tour de France and Olympics. 
Post Sales Support. 
This is where the real value of a better quality/higher priced bike starts to make itself obvious and paying a higher price for a better bike, pays itself off. 
Using components from the top manufacturers like Shimano, SRAM and Magura for brakes and gears as well as Yamaha, Shimano and Bosch for motor/drive systems means that should you ever need repair or routine maintenance, the parts will be readily available to you not just from us but from almost any bike shop, anywhere in the world. 
A customer can purchase a bike from us here in the UK and we can ship it to Sydney in Australia but what if they have a Bosch speed sensor issue 6 months into ownership? Its the same as here in the UK. There are 61 Bosch service centres in Sydney alone. Taking it on Holiday to France? Even better. There are 1496 Bosch accredited service centres there too and the number is growing globally every day as more retailers see the value in only stocking things they can repair. 
On the opposite end of the scale, we take several dozen calls each week from people who have purchased a sub £1,500 bike online and within a few months (weeks, in some cases) have a problem. Having normally bought it through online only businesses who conveniently almost never have a telephone number, they're struggling to get support and turn in desperation to local bike shops for help. 
The often highly frustrating downside to this is that most bike shops can't and in all honestly, don't want to help unless it was something they supplied. The onus of support and repair is on the company who already pocketed your profit but now can't/doesn't want to help. In fact, in many cases, they're not even bike businesses. Its just a small team in a warehouse full of cheap bikes chucking them into delivery vans each day and even if they wanted to help, they often seem to know next to nothing about them!  
To make matters worse, parts and spares for these bikes are in about as good supply as their support offering. Effectively, there normally isn't any. You pay your money and if it works, great. If it doesn't, you throw it in the bin and start again. Some spares like chains, brake pads etc are generally easy to find but if you have an issue with the drive system it normally spells "new bike day". 
Suddenly, that £1,500 bargain bike is being replaced and if you spend another £1,500, will it happen again? Regardless, you could have bought a next to bombproof Cube Touring Hybrid Pro for that £3,000. Or, recognising the value in a good quality bike, do you spend that full £3,000 now, taking your total investment in eBikes to £4,500? That £4,500 could have bought you a Haibike AllMtn CF 12, currently on sale at £4,299 down from £5,899.
Or worse. It puts you off them altogether...
"Building or converting your own ebike is less expensive"
This argument is actually absolutely true and offers a really cool level of flexibility, especially on custom built bikes like choppers, cruisers and all the strange and wonderful things (including lots of very old models) people can dream up and there's a hugely diverse following for these kind of bikes. Despite riding a top of the range Haibike Trekking model to and from work, our technician Steve here also owns an electric bike he built himself;
It can be significantly cheaper to build an ebike than to buy one. The downside is that your whole drive system is almost certainly going to be coming from the same place as the sub-£1,500 bikes and the level (lack of) of support is very often going to be the same. 
Bafang, the largest and most well known supplier of retrofit kits are now very well respected in the DIY community and appear to be starting to compete with the other major players in terms of performance and reliability, however their parts and spares capability is still catered for mostly from the Far East. 
Getting parts and spares normally means a trawl on Alibaba or other Chinese wholesale site, can take weeks to arrive and lots of bike shops wont touch anything they didn't build themselves and so you're almost always going to be very much on your own with this kind of route. 
Yes, its cheaper to buy all the bits, but adding in the time to modify your current frame, build the kit and then maintain it will eventually be outweighed by the cost and future support value of a purpose-designed ebike from a reputable dealer. 
There is also the satisfaction of having done it yourself and for many, this is a key factor in the conversion of a bike. Sadly, at any price, this isn't something we can sell to a customer!
We love seeing some of the crazy things people build online but because the support for their parts and spares doesn't meet the minimum standards we expect of our manufacturers, its not something we would ever involve ourselves in. 
So, are electric bikes really that expensive?
If you've ever felt like electric bike are expensive, you wont be on your own, for whatever reason it is. 
Are electric bikes expensive? Well good ones aren't necessarily cheap and they're a lot more expensive if you make the mistake of buying one twice. 
Many of our customers come to us with the feeling that eBikes are expensive, but many of them have also been bitten by a "cheap" one and felt bitter about it, so much so they've put off buying another, which is a huge shame.
The sub £1,500 bargain they purchased on eBay or Amazon from a seller they've never heard of and doesn't have a physical shop was later inevitably not able to support the bike the way a proper bike shop can, and they ended up with an expensive garage ornament that they've felt pretty upset about. 
What they've since found is that by purchasing a bike from a European or other well known manufacturer built using industry leading and well recognised components and from a proper bike business with a physical location and easily reachable support is that even in the much lower likelihood of something going wrong, they're always safe in the knowledge that they have the support there when they need it, and the parts are almost always readily available whether at their own dealer, or away. 
In summary
No, eBikes which cost as much as or even more than a reasonable second hand car aren't expensive if you you consider more than just the initial purchase price. More often than not a bike which some would consider "cheap" to buy often ends up being the opposite in the long run. 
Its also worth bearing in mind that if you can't see the value in a particular bike, IE, you're a mountain biker but think £14,000 for bike is ridiculous then its highly likely that the bike in question wasn't designed with you in mind, and that's absolutely ok. Bikes with these kind of price tags are aimed at the very highest/competing skill level riders, where its expected that these kind of riders will get the best out of the top end performance componentry and wouldn't ride anything less. 
In paying more for your first or next eBike, you're investing in something which was designed from the very outset to not only be the best and most reliable version of what it is, but also includes complete product lifecycle support at almost all good independent bike shops.
When looked after, they're more than capable of seeing out at least 8-10 years of service before requiring anything major and many of our customers who purchased eBikes from us when we first moved over to selling only electric bikes back in 2012, are still bringing them in for annual service in 2023! 
If you're looking for a super reliable and exceptional long term value electric bike with a globally recognised warranty and after sales support, you could do far worse than taking a look at our wide range of Electric Bikes for all types of riders.