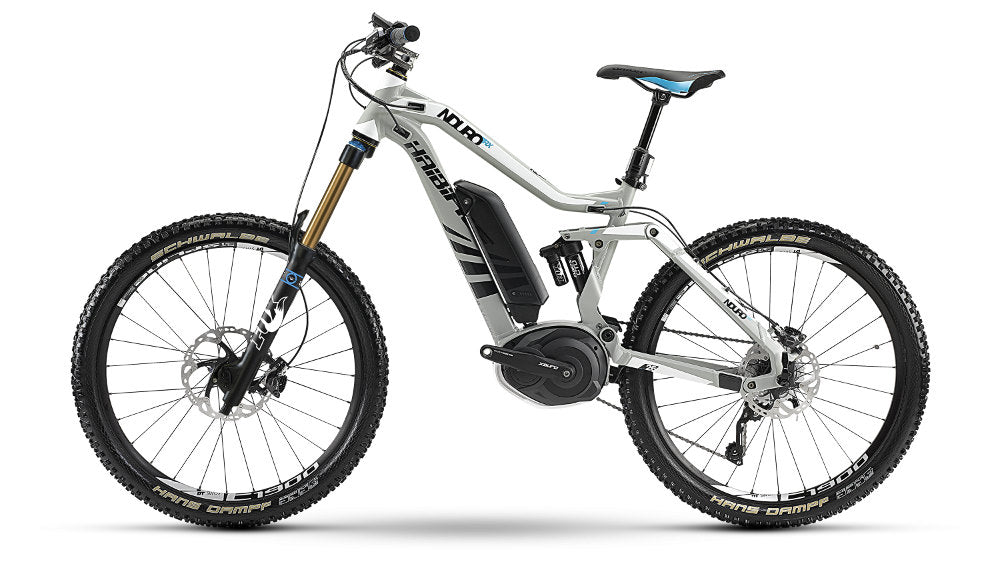 2014 Gen 2 Haibike xDuro NDURO RX 26 – eBikes Coming Soon to UK Dealer Shores!
By Martin Brown |
So we will soon see the brand new Gen 2 Haibikes arriving with us in Jan 2014. Very exciting times for us at e-bikeshop. One model in particular is the Haibike xDuro NDURO RX 26 2014. As the biggest selling Haibike dealer in the UK we have already started taking deposits on this free ride/enduro/downhill enduro machine.
Below is a quick overview / review of the new 2014 Haibike xDuro NDURO RX 26.
With 180 mm travel and the Bosch performance motor, the NDURO turns your home trails into a bike park! Up lifts are made redundant with the new XDURO NDURO RX.
This machine is actually the younger brother to the NDURO PRO. This bike will pretty much handle anything you throw at it. Its perfect for the serious mountain biker from full on downhill trials to local bike parks. However the 2014 NDURO RX is still a serious trail bashing eBike but its also the ultimate boys toy!
Although not quite the same spec as its bigger brother it's still the same travel and offers an exceptionally good value for money mid-high specification. You have a DT SWISS wheelset, Shimano SLX drive train and, of course, completely newly developed suspension of the Haibike Sprocket Equalizing System (SES). The bike also features a Fox's Talas 36mm forks and CTD rear shock.
Shimano's SLX Ice Tech brakes on big uprated rotors supply more than enough stopping power in any condition they also disperse the heat through their special heat dispersing fins on the brake pads. Couple this with Haibike's newly developed frame geometry and you have an eBike you can really put through its paces. Its unstoppable!
The new Haibike Gen 2 bikes also feature the latest Bosch Performance crank drive motor, so you can be sure it's fitted with the latest kit and setup for optimum performance.
To find out more about this please read some of our Bosch information articles in our blog.
Haibike are the only manufacturer to mount the motor with the swing arm pivot bolt in a raised position ensuring the rear end is much shorter than any other eMTB. This ensures a shorter wheelbase for the ultimate control and manoeuvrability off road. They fix the chain line with their new S.E.S (Sprocket Equalizing System). Which raises the chain off the front sprocket up to the same level as the swing arm pivot point so the chain is not affected by the rear end moving up and down over bumps. Read More about the S.E.S System in my blog.

To read the full specification of the Haibike xDuro NDURO RX Electric Mountain Bike.
If you would like further information or to place a deposit on the stock arriving please call us on 01252 279 279 (ask for Martin).