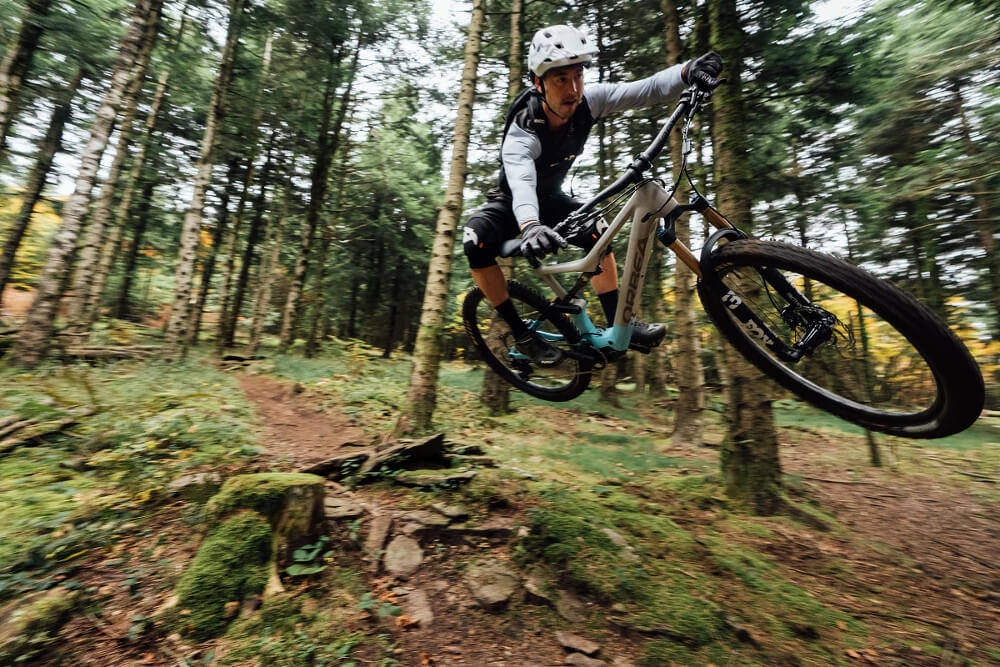 2022 Orbea Rise Alloy - The best new bike of the year?
By Ben Mowbray |
Just when we thought the new Orbea Rise range of electric mountain bikes couldn't be any better, mixing ultra-light weight with top shelf components at a price that should have scared many of its competitors back to the drawing board, along come 3 brand new models for 2022! Now with an all alloy frame, the 2022 Orbea Rise Alloy weighs a few pounds more but gets a brand new, larger capacity battery to keep you out enjoying the trails for longer.
2022 Orbea Rise Alloy - Its Roots.
A year ago, we proudly introduced the new Orbea Rise model range for the first time, with a great degree of exclusivity.
Offered initially to only their top tier dealers of the Wild FS range, not only was the Rise the lightest electric mountain bike on the market at its price and spec level, but it came at a price point that probably made many of its competitors eyes water.
£8,999 isn't an inconsiderable sum of money for the top spec M-Ltd model, but with its competitors prices for a comparable ebikes circling the £12,000+ mark, the Rise gained popularity very quickly. This was seen most heavily with the M10 model at £6,999 which for the majority of "every day" mountain bikers, offered the best spec vs value proposition and pre-orders stacked up quickly. The entry level M20 model came in at just £5,599.
2022 Orbea Rise Alloy - Its Heart
Like its carbon sibling, the beating heart of the Rise Alloy range is the Shimano EP8 motor with its unique RS firmware packet. Designed to offer "less E, more BIKE", the RS Power software was designed specifically for the EP8 motor and can only be found on the Orbea Rise models.
Highly responsive and super efficient, the EP8 motor offers its assistance where you need it most, and when you're at your most powerful. Cadences of 70rpm+ are where it really comes alive on the trails.
The 2022 Rise Alloy gets a brand new battery.
One of the best features of the Rise range is their efficiency. Despite its comparatively small 360Wh battery, the Carbon model was good for 3-4+ hours of riding with a decent amount of climbing thrown in the mix. The new 2022 Orbea Rise Alloy models now have an even larger 540Wh built in battery.
Because the system is so efficient and the bike so light, the 540Wh battery has a capacity equivalent to around 800Wh when compared to the batteries of Bosch, Yamaha and other systems.
The previously offered optional Range Extender is also directly compatible. Adding another 252Wh, it bumps the total capacity on the bike to a shade under 800Wh. With an efficiency rate of around 1.5x a normal eBike battery, this equates to circa 1200Wh from an equivalent Bosch system.
2022 Orbea Rise Alloy Models
Offered in 3 different models, along with its larger battery the specification of the Alloy range of Rise bikes has been carefully considered with a much wider field of riders in mind.
Orbea Rise H10
Topping the model range for 2022, the Orbea Rise H10 gets all of the bells and whistles. A Fox FLOAT DPS Factory rear shock and Fox 34 FLOAT Factory FIT4 140mm front forks with matching Kashima coat keep you firmly stuck to the trail. The gearing is taken care of by a Shimano XT M8100 12 speed group set and the whole party is bought to a halt by a set of Shimano XT M8100 twin piston anchors. Priced at £6,399, its a snip of the price of its competition.




More Info - Orbea Rise H10
Orbea Rise H15
The middle weight contender and we expect to be the most popular option from the new Alloy range, the 2022 Orbea Rise H15 gets a Fox FLOAT X Performance EVOL rear shock and Fox 36 FLOAT Performance Grip-3 150mm front forks. Like the H10, the H15 also gets a Shimano XT M8100 derailleur but uses SLX M7100 shifters. Braking is provided by a set of Shimano M6100 hydraulic discs and the whole package will set you back a very reasonable £5,499.




More Info - Orbea Rise H15
Orbea Rise H30
Although the entry level model of the range, the 2022 Orbea Rise H30 still offers impeccable value. Priced at £4,899, you'll find it equipped with Marzocchi Bomber Z2 140mm front forks and a Fox FLOAT DPS Performance rear shock. It also gets a Shimano SLX group set and MT410 brakes. As an introduction to super lightweight trail and mountain biking, its doesn't get much better than this!




More Info - Orbea Rise H30
Is the new Alloy framed Orbea Rise the best value new bike of the 2022 model year?
If its not, its certainly up there. Every year, manufacturers are looking to get more from less. More power. Less Weight. Likewise, owners are also looking for the same. More bike. Less money. Very few bikes tick all of the boxes but for the last 12 months, the carbon versions have been doing just that.
Weighing in at sub 20Kg and offering a maximum 60Nm of torque with a battery capacity that'll keep you out on the trails all day is hard enough, but to do it at a price which makes them a lot more accessible is something really special and for that alone, the Rise Alloy models get a big tick from E-Bikeshop this year. Especially from a company still painting and putting everything together by hand!