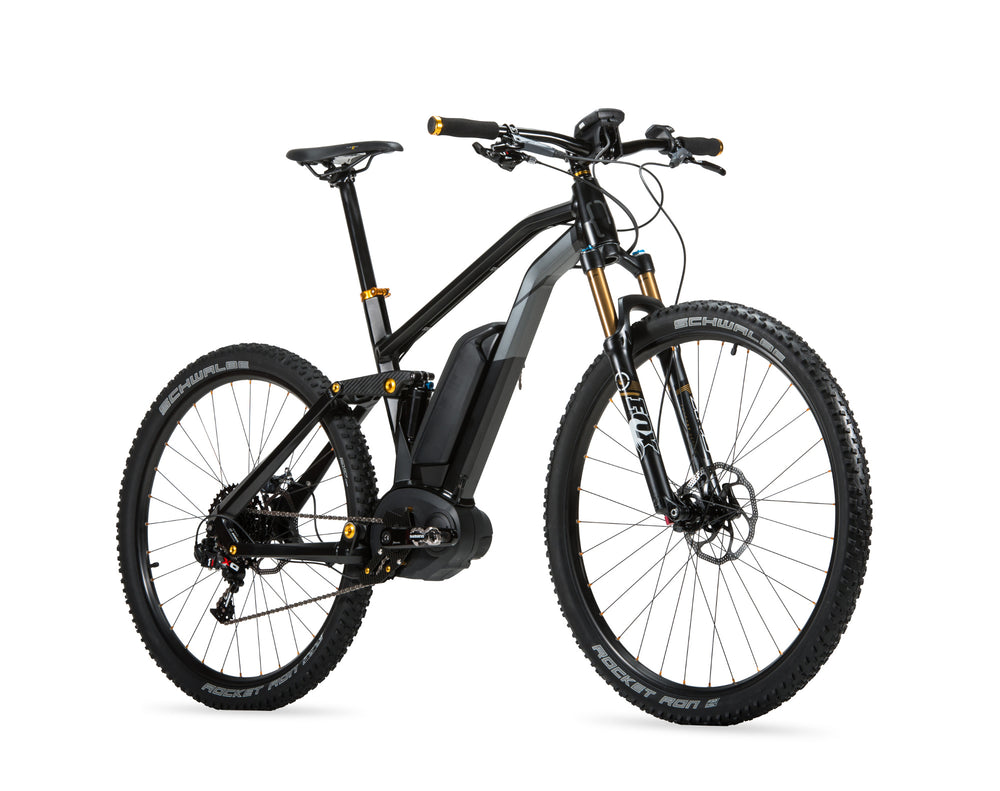 It's Cycling – But Not As We Know It. Moustache Electric Bike Review
By Martin Brown |
We just received this review in from one of our eBike customers. This chap explains his journey into the electric bike world and how he concluded on the Moustache Samedi Gold Full Suspension Electric Bike.
Full range of eMTB Moustache, Haibike & Lapierre eBikes
It started, as these things so often do, without a plan. And that was my first mistake.
If I had thought about it long enough I might not have been so eager to call in to see Martin at E-Bikeshop last Wednesday afternoon, or accept the offer of a coffee from his master mechanic, Jeremy.
It was Jeremy who first suggested I take a close look at the new Moustache range. He proceeded with -
Check out the Samedi 29/7, it's the best-looking bike in the shop – but pictures don't do it justice.
Now, I do know my Haibikes from my Hai Karate but still, the Moustache range had passed me by up until this point. And if following the crowd is the way you roll too, they may not have pinged up on your radar either.
I asked Martin why the biggest supplier of Haibikes in the UK had chosen to offer the Moustache range as an alternative. "The Haibikes are well-engineered machines," he offered, "but cycling is not just about specs and dimensions and the Moustache bikes have a fascinating aesthetic which some people, me included, just 'get'."
So, side-by-side, I pored over the Haibikes and the Moustache range and, to my surprise, the French brand looked fresher, cleaner, more cohesive, cooler. If you're more MAC than PC, old Rolls than gold Rolls, or Jack Wills than Fat-Face you might feel the same. Although it is hard to explain why.
What I can say is this: You have to see the bike in the flesh to appreciate it – even now when I look at pictures on the website they don't appeal in the same way as some of the Haibikes.
Moving on to the nitty-gritty, Martin asks questions. And more questions. He said -
It's my job to make sure you get the right bike," he explained, I'll tell you what type of bike will suit you best – it's then up to you to decide on what look you like the most.
I've a feeling he's done this a few times before.
Anyway, it turned out a hard-tail Samedi 29/7 Silver would be just the ticket. Or a RC29 Haibike. Both, reassuringly, at the lower end of the price range.
"Yes, that's all I need, it would be mad to go to a full-suspension model, its capabilities would be far beyond mine," I agreed.
Oh how we laughed at the spec-bling fan-boys who over-spend on unnecessary kit, dazzled by the latest, fastest, lightest components. Which does make it rather difficult for me to explain how I ended up with the top-spec, full-bling, Samedi 29/7 Full-Suspension Gold.
I blame Jeremy and that bloody coffee. Oh, and my lack of a plan.
Now, if you're buy-curious like me, then you'd do well to leave your wallet behind when you visit Martin – one quick demo ride and you may be punching your pin into the little machine he keeps right beside him on his desk. Just like I did. Doh!
So, how to describe the sensation of riding an electrically-assisted cycle? Well, imagine you were driving a gingerbread train on biscuit wheels. Actually, that's not much help, is it? But in a way I'm right.
You see there is a definite feeling of euphoria as your forward motion exceeds your inputs – there is a visceral disconnect between what you do achieve and what you expect to achieve. This can be quite heady. It's a little addictive. And great fun.
The Bosch power gives you four levels of assistance – with the top-rated 'Turbo' delivering a 275% boost – almost enough to give you a Jeremy Clarkson face-wobble.
I asked my wife what she thought as she powered by me up our drive. "A-maz-ing!" was all I heard, as I watched her head towards the gravel.
"Might have been a good time to mention the hydraulic disc brakes," mentions my son to me, eyebrows raised, arms spread wide, palms up. Nodding, I winced at the thought of his mum pulling on the front like an old block-and-cable.
No drama though. All safe and sound. All under control. And she was riding a large frame bike, when she'd be better suited to a small - That was one I dodged, then.
Seriously though, I can see an unexpected benefit of these bikes is their ability to level-the-field in terms of enabling a group of disparate abilities (and fitness) to all have fun together.
For us, that's a big deal because in the past mum has always been a bit of a laggard – not through lack of trying - and to now have our wheels turning closer together for more of the time adds chocolate sauce to the ice-cream experience.
"Keeping up with you two is soo easy now," she said while idly cycling past us up 'two-top' hill. While polishing her nails. (I made the 'polishing her nails' bit up, to be honest). You get the idea though.
One last thing. You might be wondering how this high-spec full suspension mountain bike performs on gnarly trails, or technical descents - Who knows? Certainly not me.
I've hardly had a turn riding it since I got it home – I'll prise it from the fingers of the family soon though, and I'll let you know.
Thanks to David Jenkins for this letter. To view the full specification of the bike in review click here - Moustache Samedi Gold Full Suspension Electric Bike