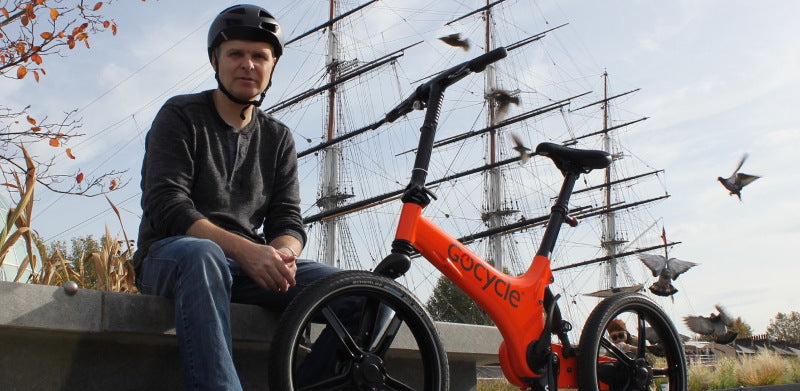 My eBike Journey: Gocycle G2 vs Haibike sDuro Full Nine
By Martin Brown |
One of our customers decided to give us an update of his eBike journey throughout 2015.
This includes a detailed review of both the Gocycle G2 and the Haibike sDuro FullNine SL.
Where it started?
It was late September 2014, my brother was visiting for the weekend and we decided to pop up to Covent Garden and do something touristy. As we walked through Covent Garden, we passed a Smart Car display, and there were a couple of Smart e-bikes on display too. I hadn't really done any cycling since the early nineties. I briefly tried cycling again back in 2007, but this only lasted a few days! So I wouldn't say that I was that mad about cycling, but the idea of an electric bike seemed quite appealing.
The next step?
While surfing the web, I came across the Gocycle G2, and decided to take a closer look. So the following weekend I went to the closest dealer to try out the Gocycle G2. It was surprisingly easy to ride! It really was fun, but it seemed expensive (for me at least). After much deliberation I popped back to the dealer the following weekend and came away with my new Gocycle G2. I cycled home in the pouring rain with big smile on my face.
To sum up the Gocycle?
I've now clocked up nearly 1,500 miles on it. It's not like cycling as I remember it, you don't notice the hills so much, you don't get so frustrated when you have to stop and start in traffic, and best of all you don't arrived at your destination dripping with sweat. It's just a more civilised way to cycle. I'm not saying the Gocycle is necessarily the best choice for an e-bike, but it was my first choice. I'm not sure that I was very clinical with my selection process though, I just liked the look of it.
Longer term thoughts?
Now that I've lived with it for a year I can say that there are some points that really stand out.
It's very easy to keep clean (which is quite important given that it is stored in the living room). It's fairly light compared to some other e-bikes, so still fairly easy to carry when necessary (unavoidable sometimes when the lifts are out in the Greenwich foot tunnel). It is possible to fold up. I don't think you would want to do this on a regular basis though. I've not used the folding feature that much, although there have been a few times where I popped it in the boot of the car or took it on the bus. It's very simple to use, and fairly easy to adjust the amount of assistance you want. One thing I'm not so sure about though is the attention it attracts. If you don't like to be noticed then the Gocycle is not for you. People can't help but comment on it. It really is a head turner.


The Gocycle is a great little bike that attracts a lot of attention!


I'm guessing the range may be a bit short for some. I probably get about 15 miles, but obviously this will vary depending on hills and the level of assistance. The Gocycle really opened my eyes to the benefits of e-bikes, so much so that I bought another e-bike!
What did you go for?
Back in March 2015 I had been surfing the web again when I came across the Haibike range of mountain e-bikes and I was curious about the crank drive system. I phoned e-bikeshop to see if they could give me a bit more information about the benefits of the crank drive over the hub drive. I spoke to a very helpful chap named Martin and he simply said I should try it out. They were organising a demo day on the South Downs and Martin suggested that I come along and try a few different models.
How did it go?
The Haibikes are a very different proposition to the Gocycle. The demo day was a lot of fun, and I came away trying to work out how I was going to convince my wife to let me buy another e-bike so quickly after the first one, because my mind was definitely made up.
The next week I took delivery of the Haibike sDuro FullNine. It is a great bike!


The crank drive kicks in as soon as you start to pedal, which really helps if you are trying to push off on a steep hill. The ride is really smooth and everything feels so tight. The range is surprisingly good. It's just an awesome bit of engineering.
Do I prefer the Gocycle or Haibike?
That's actually quite a difficult question to answer. The Gocycle is just so easy to live with and is bursting with great ideas, not to mention that it is possibly the most stylish bike I've seen. On the other hand the Haibike is a marvel that you feel you could ride just about anywhere. They both have their advantages and disadvantages, but I'm not sure I could choose one over the other. I use them both fairly equally. I love both of these bikes and I don't plan on parting with either of them anytime soon.
To sum up my eBike experience?
I would say that the e-bike really has changed my life. I look forward to the daily commute to work! They are expensive but I have only been on public transport a handful of times over the last year so I have already saved myself about £1,500 in bus/tube fares.
If you haven't considered an e-bike, I would thoroughly recommend that you do.
I've seen articles which suggest it is for those people that aren't very fit for one reason or another, but I don't really agree with that assessment. An e-bike is a really efficient means of personal transport for anyone, much better in the city than a car, or even a motorbike.
With thanks to David for this interesting article covering both the Gocycle G2 Folding eBike & Haibike FullNine.