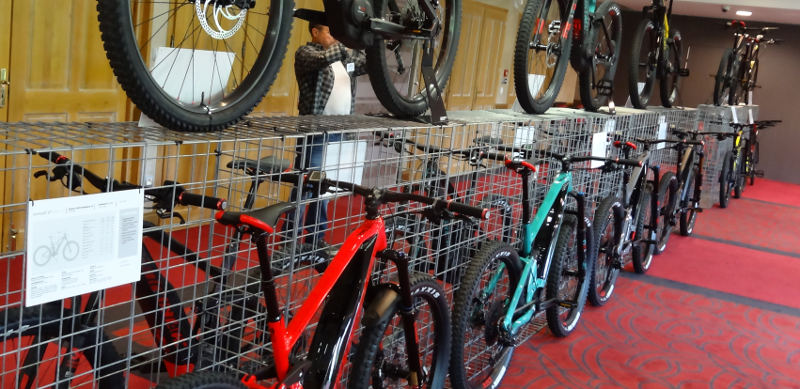 First Look: Moustache 2018 Range of Bosch Electric Bikes
By Martin Brown |
Today we were invited to Moustache eBikes based in Golbey, to preview the new 2018 Bosch powered electric bikes.
Let's learn more about the 2018 range of eBikes. Moustache bikes, now in its 7th season of eBike production, invited us over to France to preview the new 2018 range of electric bikes. Since the beginning, Moustache solely focuses on Bosch powered electric bikes, they are not a standard bike brand configuring existing bikes into eBikes. Hence the superior design, quality and ride you get when it comes to any Moustache electric bike. You can learn more about Moustache in our
Moustache eBikes Factory Tour
article. New for 2018, Moustache has developed an awe-inspiring range. Featuring many new enhancements across a host of model variants including town, trekking, city mountain bikes and even a tandem eBike!
Moustache Samedi 28 2018 Models
Last year we saw the 'Hidden Power' battery integration into the Moustache electric mountain bikes. New for 2018 Moustache develops this technology into the new Samedi 28 range of trekking and commuter bikes.
Using the latest 2018 Bosch eBike technologies, the Samedi trekking bikes now have fully integrated batteries on certain models. In particular, the Samedi 28.3 2018 models, available in both crossbar and low step variants. Offering a Bosch performance drive coupled with a long range 500Wh battery, 10 speed Shimano gearing and Intuvia display.
A great bike for touring, trekking and commuting alike. We'd expect these to be around the £3000 mark with fully integrated mudguards, rack and lighting setup.
Moustache Samedi X-Road 2018 Models
Alongside the Samedi 28 bikes are a fantastic intermediate between a trekking bike and a mountain bike. Likely to sit just above the £3k mark, forget having two eBikes for different rides.
See the X-Road electric bike as a do-it-all machine with all the essentials like mudguards, rack and a lighting system but with a 27" MTB wheel and tyre suitable for all occasions. Like the 28 models, these also have the higher performing Bosch Performance motor and highest spec 500Wh battery. Again available in both crossbar and low step offerings. The neat thing with the new frame design on both crossbar and low step designs is that the battery is completely interchangeable between the 2 variants. Previously you'd have a rack mounted battery on the ladies bike and a frame mount on the gents. Now both crossbar and low step use the frame mounted battery hidden in the frame.
Moustache 2018 eMTB Models
We had a sell-out year with the 2017 range of Moustache electric mountain bikes, mainly from the decent spec, hidden power and fantastic pricing across the board.
2018 is likely to be no different, with new models announced and improved specifications. The model range has been expanded, to include a higher spec Race 11 160mm Carbon model and also the introduction of a more basic spec entry level Trail 4, 140mm travel option.
With the 'Hidden Power' carbon frame models jumping from a previous 3 variants to now 5 models for the 2018 season. The Moustache Samedi electric mountain bikes will all feature the highest performing Bosch CX motor drive system and Purion displays.
Likely starting around the £4000 mark for Shimano SLX spec's, with higher performing bikes equipped with the latest Sram EX1 high range (11-50t groupset) anywhere upwards of £8000.
When are they available?
We will be taking pre orders already on popular models with some in stock right now. Find your 2018 Moustache and view the full range here:-
Moustache 2018 Electric Bikes
.