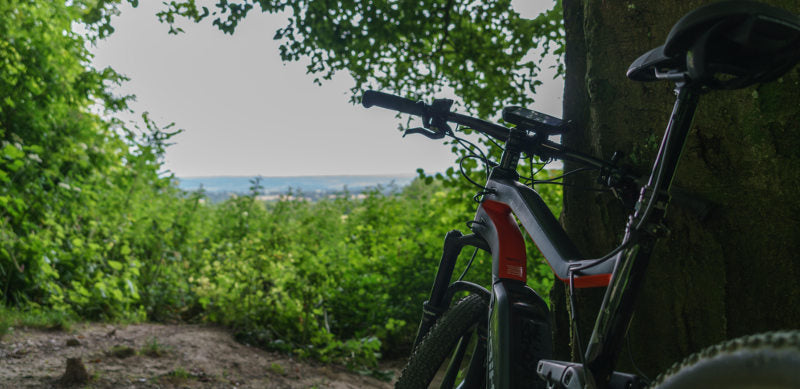 User Review: Haibike Full Carbon Ultimate Electric Bike
By Martin Brown |
Thinking of buying a Haibike Full Carbon Ultimate electric bike? A really good review here from one of our customers (Peter) who has a few Haibike eBikes, this actually sums up the experience of the xDuro FullSeven RC, NDURO PRO & the Full Carbon Ultimate. Read on..
A little history
I purchased my first Haibike from Martin when he was in Alton, it was a 2012 Xduro, the bike was excellent never had any problems, the only minor issue for me was it was very fast in turn and I prefer a lazy front end. I sold it to fund my next Haibike a 2014 Xduro Nduro pro which I still have and love it, this ticked all the boxes for me. Again this has been reliable with only a bearing replaced at a cost of £5, not bad for 2 years use.
Read Peter's previous review on the Haibike xDuro NDURO PRO 2015.
Present day
I made an appointment with Martin to purchase an E-bike for my wife. Martin recommended an Xduro Fullseven RC. While she was deciding I saw the full carbon (a customers bike Martin had in stock), memories came flooding back from my Marin days when Carbon was something very special and I said one day…..
My wife being the understanding person she is (or can't stand me going on and on and on) told me to purchase the Carbon, I was in the lucky position of having the money without having to raise a mortgage. We purchased two bikes, the RC for my wife and the Carbon. The RC was in stock so we were able to collect a few days later, the Carbon was about a month away but as I had another E-bike time was not an issue. Martin kept me updated on expected delivery times.
Our first ride out
With my wife on RC and me on Nduro, she is not experienced on E-bikes and has not ridden for quite a few years, so she took it nice and easy. The ride near Salisbury was mostly tarmac with some steep hills. She loved everything about the bike apart from the saddle.
A short 6 mile trip finished with a very steep climb and some green lanes. She lead the return journey, as I did not want to show off and leave her miles behind. I got that wrong - by the time we reached the top of a steep hill she was a good 70 ft ahead of me -
"Have the bikes changed or did I forget to connect the battery on my bike? The bikes must have changed."


Second ride - again near Salisbury - about 12 miles mainly tarmac. I am faster downhill, she is faster uphill (it's the bike). She loves the bike but for some reason does not want to ride it without a pillow tied to the saddle!!
After a few delays the Carbon arrived
Wow what a bike, very understated (which is a good thing), I was a little unsure about the riding position as the bars drop slightly but give it time… I opted for a dropper post and new saddle, the saddle and seat post that are supplied with the bike are carbon and weigh about the same as a coffee cup (empty) and probably about as comfortable to sit on as a coffee cup. Martin has a device for measuring sitting bones to ensure the saddle size is correct (highly recommended), I also changed the front sprocket for a larger one (more top speed, about 17mph assisted). I have done this on all my bikes, I never use 1st gear so happy to lose a bit on the climbs.
It was also recommended that I fit protective tape over the Carbon parts of the bike that may suffer from stone chips, a very simple process at a cost of about £7 for a meter (I have used about 11 inches in total). First ride on the carbon was about 16 miles, bridal way, beach, hard mud and tarmac. Initial thoughts - this bike just rolls and rolls, maybe the tyres maybe the 27.5inch wheels, maybe better bearings, all I can confirm is it never came out of ECO mode.
"The assist was in the OFF position for a fair bit of the ride, this is a major difference between the Carbon and the Nduro."
The
xDuro Carbon Ultimate
feels lighter, after 16 miles the riding position is fine, however the gear selector is driving me nuts. Haibike have moved the levers, every gear change is wrong, I want to go up a gear, I go down, I want to go down I go up, just a case of getting used to it I guess. (Update: After seeking e-bikeshops advice, I have since found out I can actually invert the shifting lever using the cable and software Martin supplied me with the bike. Neat!) While on gears the electric gear change is quick and is accompanied by a audible clunk, you know the gear has changed. It's a shame the shifter has its own re-chargeable battery that has to be charged via USB and is not powered from bike battery. I have been told about 25 hours between charges so maybe not a big deal, time will tell.
How does the Carbon eBike ride?
We have just completed Queen Elizabeth Park (QEP,Butser Hill) to Petersfield and back - a brief description for anyone who does not know the area - starts in the main carpark at QECP, short tarmac road to start of climb, gentle path through woodland, bit more gravel track then back through wooded section full of tree roots, a horrible descent on hard uneven gravel that was very overgrown to the lower carpark, then another descent through the old chalk pits at Buriton followed by country lanes to Petersfield pond and the cafe. The return was a similar route until we left the main track and hit the blue route (the easier ride), ending back at the Cafe at QEP visitor centre and the car.
Both bikes performed as they should, the biggest surprise for me was the amount of braking I had to do. As I previously said the bike just rolls, on a steepish decent a release of the brakes saw the bike accelerate from standstill to 26mph in less that 100 ft. I regularly see over 30mph on downhill tarmac (on the same road the Nduro would max at 22mph). On to the Blue section, this is what the bikes are designed to do. Select sport mode, lower the saddle and begin the zigzag climb, fantastic. I have done this section on many bikes and the carbon was best by a mile, I was hitting 16+mph in the uphill sections, I would speed ahead then wait for my wife to catch up, making sure she was OK before I zipped away. She was fine and loved every minute of the ride, for someone that has not ridden for some time her bike made it possible to enjoy a route that would not have been possible for her on a non E-bike (I did change her saddle for a touring one).
Final thoughts
Was the RC worth the money? Yes every penny, my wife keeps asking where to next, she loves it. Was the Carbon worth it? Probably not, I will never be a good enough rider to really get the best out of the bike but I don't care. I was told to keep the bike in mint condition as it will probably increase in value but I can't do that. I will clean, polish and maintain it to the best I can, but it will be used, as much as possible. I believe if you buy something it should be used, if you don't use it you don't need it so sell it. Do I prefer my Carbon to my Nduro? Yes and no, they are very different bikes. The Nduro will always be better downhill, 180mm travel does that, the Carbon will be better overall. Will I keep both bikes? I don't know. If I enjoy the carbon so much I don't use the Nduro, it will go - then I would regret it and want another.
Special thanks to Martin for his help and support. It is great to be able to make an appointment and have 60 minutes of one to one time with someone that is passionate about what he sells.
"The only negative aspect about Martin and his warehouse full of goodies is the hit on my wallet when ever I visit"


Thanks so much to Peter for his words on the – Haibike xDuro Carbon Ultimate 2016