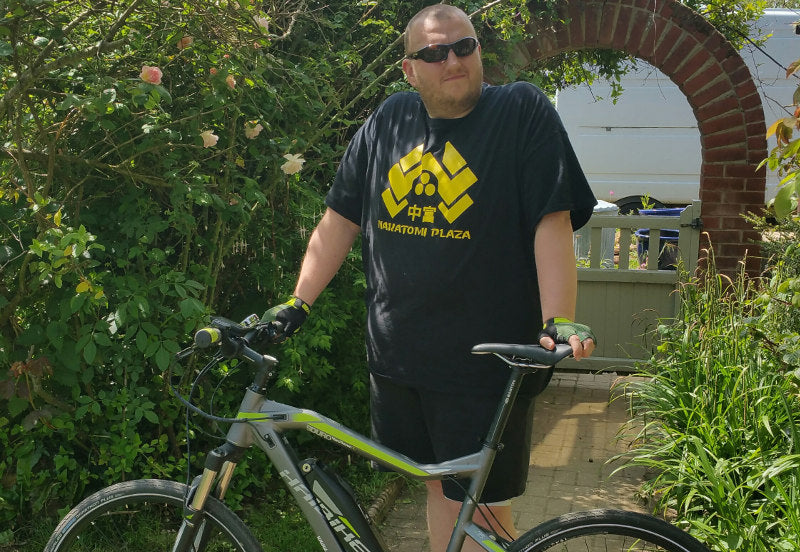 User Review: Haibike sDuro HardSeven SL 2015 eBike
By Martin Brown |
When looking to buy one of these Haibikes I found that there was a real lack of detailed information that would help me choose what to buy.
The reviews I read of the Haibike electric mountain bikes were positive but lacked detail; which is why I have tried to provide a more detailed review of the bike.
My Requirements
I have to add before I start that I am a large man, 6'4" and a heavyweight (fatty!). This means the bike was put under greater strain than a smaller, lighter individual! I have a 25 mile round commute and after having issues with my lower back, I lost a lot of fitness and struggled with the distance on my usual bikes. I have been into bikes for years and went from a carbon frame Specialized road bike and Alu Orange 29er to the e-bike hoping it could fulfil both roles. I purchased the Haibike sDuro HardSeven SL 2015 Yamaha at the end of February.
Why did I go for this model?
I have a background in engineering and I ran my own garage for 11 years before changing career. I have to admit I have taken to disliking Bosch products, having seen so many issues with their electric components in the past. The Bosch system may well be fantastic but having had experience of Yamaha engined road cars (Toyota MR2/Ford Puma) I thought it was likely to be a reliable choice. For those of you unaware, Yamaha is a branch of the Toyota car company; known for reliability.
The wheel choice I was less sure of - 27.5" (more commonly known as 650b) is a new wheel size which is meant to bridge the gap between the traditional 26" rims and 29". Because of this there are fewer tyres/spare wheels available at the moment, but still a good few 26" in my opinion is just too small now, I had a 29er and loved it BUT it was clear that off-road it was a little sluggish in the turns, in comparison. There was also the front chain ring, I did not want the added complexity of a front dérailleur and I have certainly not regretted that decision. The last issue was, the 27.5 was in stock but the 29 was not! I called and spoke to Martin at the E-bike shop, bombarding him with questions before leaving a deposit on the bike. I was impressed by Martin's knowledge. He asked questions about where I live and my size/weight and gave me realistic range figure, which has been incredibly accurate.
Hows the bike?
My experience of the bike since then is probably best summarized into categories below, bearing mind that in my eyes it is a great bike but has not been trouble-free. I have now covered around 800 miles or so on the bike so feel I can give a reasonable account of it.
Yamaha crank assist:
The system is frankly amazing. It provides incredible torque. In Eco mode this massively heavy bike speeds along in a manner closer to a carbon road bike, even with the Rapid Rob tyres. In Normal or High the assistance is incredible and hills are dispatched with ease; believe me there is simply no need for more than the 9 gears available. The only issue that I have encountered with the system is that the battery shakes around a bit in the housing, this is just annoying rather than an actual fault.
Range is exactly as Martin stated. For me I get around 25 miles in normal/high with the dongle fitted and can get a bit more if I am having a real lazy day. In Eco you can definitely stretch it further although I am yet to try a full battery discharge in Eco mode as I enjoy the speed too much! Having the dongle engaged does reduce battery life a good bit though, although it still is not enough to make me remove it all of the time.
Riding it:
I have ridden it a lot on road and off-road. First of all, if you ride on road a lot the Rapid Rob's are not going to be up to the job. I find that unless they are above 50psi on the back the bike actually feels unstable. Above that pressure its fine however and is great off-road. I have a set of 650x38 Schwalbe marathon plus tyres (and a spare set of wheels, but I'll come to that later) which are superb road tyres and incredibly resistant to punctures. The rapid Rob's have been punctured twice now while the marathon plus tyres look unlikely to ever puncture. The bike is incredible on road and has better performance and range (this is really noticeable too) with the road tyres fitted. The fork (and I was sceptical of a Suntour fork) is superb and the remote lock out is one of those things you wonder how you ever did without before you got it. The bike is stable and has great handling. Off road it is even better. The fork works really well and has the best performance of any bike I have owned over rough ground. The fact you can cruise over a trail this fast, really makes for an incredibly thrilling experience requiring concentration. Tree roots and small drops are easily handled by the stock tyres and fork. This is probably the most fun you can have legally on two wheels in the forest (I live in the New Forest). The seating position is incredibly comfortable and far more upright than my previous bikes which makes it just lovely to ride. I have improved this further by fitting Easton handlebars with a riser to give a more upright riding position. The saddle is decent but the seat post is DIRE and I had to replace it with a better quality unit. No matter what I did I could not adjust it to a different position, it would always move itself back mid ride which was a real annoyance.
I also ditched the saddle for a Specialized 155mm Avatar PRO Gel which is technically for road bikes but has some extra give and therefore comfort over the standard Selle saddle (which is pretty good to be fair).
Weak points?
Unfortunately there is one real weakness with the bike in terms of rider feel which is certainly exacerbated by the weight of the bike and rider. The standard brake rotors are appalling. They are 180mm Tektro items and have thin spokes connecting the centre to the outer part of the disc. These flex when braking hard giving a horrible feeling under braking. I replaced these with Shimano SLX discs which are much stronger and do not give the same problem.
The Mechanics
Along with the issues mentioned above, I haven't had a trouble-free time with the bike. The frame, fork and Yamaha system are fantastic but in my opinion it's well worth budgeting to replace some of the componentry which is average at best. Again you must bear in mind I am a heavy rider so have put this bike to the test. On my first ride I had gear slipping as the derailleur was not perfectly indexed. Because of the huge torque this absolutely annihilated the cassette, which was luckily not expensive to replace. It took me a while to identify this issue and this was all the more awkward as I live around 90 mins drive away from the E-bike shop or I would have simply taken it back to be fixed. They were reasonable and realistic with this however so I have no complaints about service. When I was tracking down the fault, I decided to replace the rear dérailleur. Know the Deore unit is meant to be good, lots of people have told me that is the case but it has a medium cage length which is not required for a single front chain ring. I ordered a Shimano XT short cage dérailleur and once set up the gear change performance is absolutely incredible.
I now keep a spare cassette however just in case and make sure to make regular checks to the gear indexing. If you can't do this, I strongly recommend learning how. It's not hard but takes some patience and practice and will save you a lot of time and money in the long run.
Issues?
The most annoying issue I have had has been an issue with the back wheel. However, after a few weeks riding the spokes starting getting ridiculously loose. I tightened them a bit by hand but ended up completely wrecking the back wheel in the process. A decent wheel should not come loose like this however. I bought a pair of spare wheels, Shimano MT35 (28 spoke only on the rear!) and I have not had the same issue at all but as an experiment I bought a 36 spoke wheel Raleigh wheel and within one ride I had the same problem as the original wheel, this was swiftly returned. I have since had a wheel built with Mavic rim, Shimano XT hub and DT Swiss double butted spokes, again 36 spoke. I hope this is up to the job and allows me to have a set of wheels with road tyres fitted and a set with the mountain bike tyres for easy swapping. I suspect the extra weight, lack of sidewall flex and high pressure of the marathon plus tyres did not help either.
The front wheel does seem fine though but this is helped by the fork absorbing much of the bumps. The frame is a thing of beauty. It has nice chip resistant paint and is designed in a way that you would not know it was an e-bike without paying close attention. You are paying for the frame, fork and Yamaha system in reality and the fact that these are all fantastic is what really counts.
Summary
Plus Points:
+ Incredible Yamaha performance + On and off-road performance, easily replaces a road bike and mountain bike + Beautiful frame, very scratch resistant + Superb Suntour fork with remote lockout + 27.5" wheels give great handling properties + Rapid precise gear shift
Negative Points:
- Some poor quality components, namely; wheels, brake rotors and seat post. - Gears need regular finessing to avoid cassette destruction - Lack of choice for tyres/replacement wheels in 27.5" size (improving all of the time).
To Conclude
This is a fantastic bike. I wouldn't say it was cheap but I feel that it is fairly priced considering the riding experience. Budget a few hundred quid more to make upgrades as I have (or better) and you will have an absolute monster of a bike fit for all conditions. With thanks to Anthony for this incredibly in depth review of our Haibike HardSeven SL.