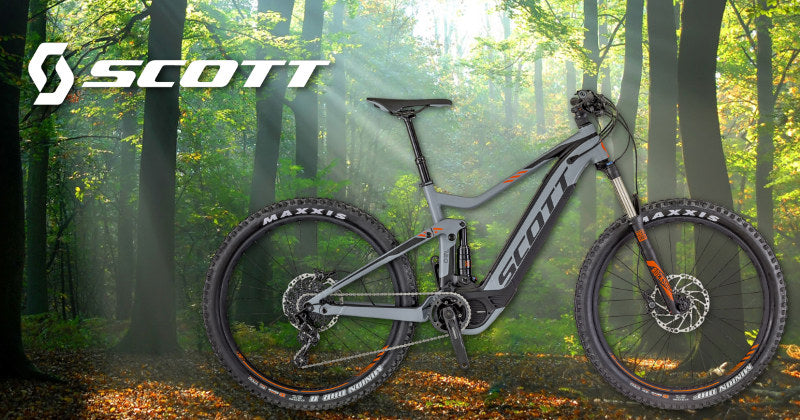 First Ride Review: Scott E-Genius 720 2018 Shimano Steps eBike
By Martin Brown |
We handed the brand new Scott E-Genius 720 2018 electric mountain bike over to our tamed MTB rider Fred
, who put the new Shimano E8000 eBike through its paces.
Introduction
I've been looking forward to getting out on a
Shimano Steps E8000
system for a little while now, so when Scott dropped by with a Demo E-Genius 720 2018 in my size, I was soon brandishing a shock pump and my favourite winter pedals. A quick play with air pressures, rebound settings, and some wheelies in the carpark (why not), the 2018 E-genius was soon squirrelled away in the back of the car, "claimed" for the weekend.
Initial Impressions
Turning on the Shimano Steps system is as simple as pressing the power button situated on the downtube. After a couple of seconds the display changes from the loading screen to show speed, assistance mode and battery levels, a nice little touch is a power bar showing the input from the motor.
The Shimano E8000 display has a nice little clicky button to scroll through display modes, showing speed, trip distance, full distance (ODO), range, trip time, ave speed, max speed, cadence and a clock. I found the display to be clean and uncluttered, making it super easy to read at a glance.
Assistance Modes
Assistance modes on the Scott E-Genius 720 are controlled via a Shimano Firebolt Shifter on the left-hand side of the bars.
This same shifter design is used for Shimano Di2 groupsets and has a light throw with an excellent tactile click, so no guessing if you've changed modes here. For me having the control triggers slung under the bar is an excellent design choice, making changing assistance on the fly a breeze without having to adjust your grip.
Riding The Scott E-Genius
The start of my ride on the Scott E-Genius 720 was along some freshly laid tarmac in eco mode, hardly a grueling test for the bike but I found myself exceeding the Shimano motors assistance on the flat easily enough, this was noticeable compared to other systems where you can feel a little resistance through the motor, requiring a bit more effort to get the bike past this.
Whilst I could feel the weight of the eBike with the system off compared to my sub 13kg 160mm enduro bike, this electric bike still picked up speed and rolled along just fine. Clicking up into Trail mode for the first steep hill and dropping a few cogs on the rear block to keep my usual preferred cadence, the additional power eased in very smoothly, offering a welcome surge keeping my speed from dropping below 15 mph. Very nice!
Moving Off Road
My first stretch of off-road was along a local bridal path, whilst a relatively flat route, the recently melted snow added to some amusing puddle skipping, and plenty of claggy mud sections. With one section, in particular, I found my shoes and pedals were being introduced to the detritus, but eco mode continued to push on keeping me from dropping too much speed and having to wade out. A quick hop back onto the roads and I was soon at my next little test section, a rooty singletrack with some off-chamber sections followed by some technical climbing. This particular section is clay giving way to a bed of chalk in certain sections, so I was glad for Scott's sensible tire choice of some Maxxis Minions on the 2018 E-Genius. These shed the mud well when keeping a relatively relaxed speed going and helped to keep me rubber side down.
Assistance Modes Whilst Riding
I found myself skipping between the 'Trail' & 'Boost' mode through this section, using 'Boost' to get a bit of speed up quickly for a technical feature and dropping down to trail when a bit more traction was needed. The Shimano Firebolt shifter allowed for these snap changes in assistance modes with little thought or planning, allowing me to focus on the important stuff.
If I was riding this particular terrain all day, I would likely adjust the 3 assistance levels using the Shimano Steps Etube app to fettle the power given as a couple of occasions I found the boost mode giving too much power and losing traction. As previously mentioned I was able to quickly bail out with the Firebolt shifter and regain some grip, and this is fairly common with most "full power" modes on electric bikes where some finesse is needed on the more technical climbs.
To Conclude
I found the Shimano E-8000 system to offer smooth power from starting off, and plenty of power when out on the trails and rolling.
With the Q factor of the cranks matching that of a standard XT chainset, hopping on this bike for the day felt incredibly natural compared to my usual steed. The motor definitely rewarded use of a higher cadence on the climbs much like an "analogue" bike, whilst still offering plenty of usable assistance for those with a slower cadence who prefer to "grind" up the hills. With the motor off you could almost believe it was a standard bike, if not for a little-added weight. Combining all this with the option for super clean integration of Di2 shifting, an uncluttered display and ease of use, this system and the Scott E-Genius 720 2018 is a seriously strong contender for anyone's hard earned money. The Etube phone app offers easy customisation for Di2, power modes and also allows for system updates too, another plus in my books.
With thanks to Fred for this bike review. To view the full spec click here → Scott E-Genius 720.