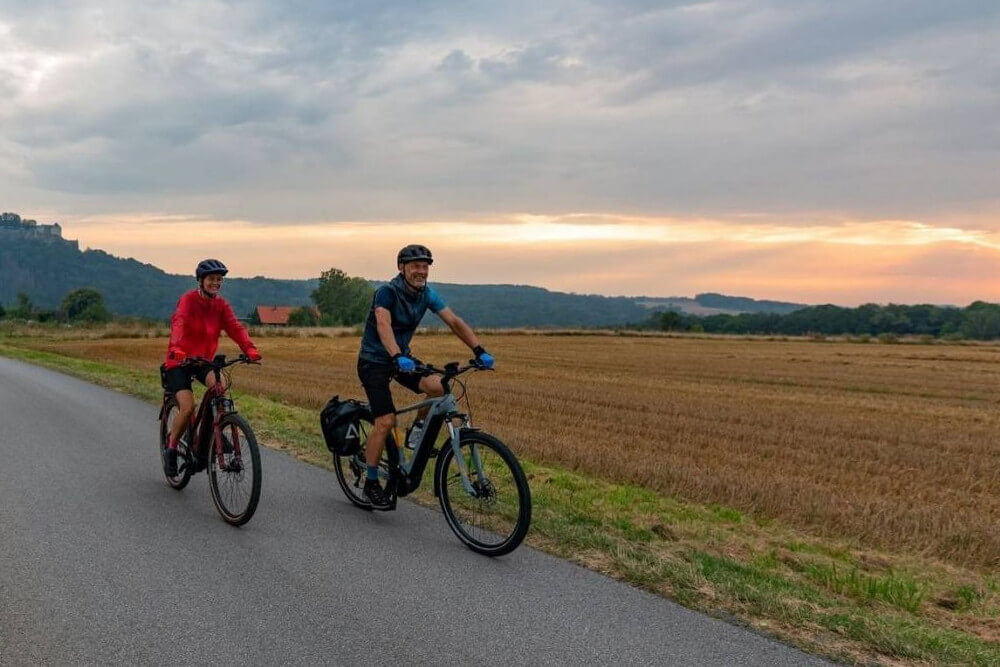 2022 Cube Electric Hybrid, Town and Touring Bikes
By Martin Brown |
With the door having closed on last years bikes almost as quickly as it opened and the industry dogged by supply chain delays and component shortages, we're very excited to announce the launch of model year 2022 Cube electric hybrid, town and touring bikes with newly revised specifications and colourways.
Which 2022 Cube Electric Hybrid, Town or Trekking bike should you buy?
Did you know that for model year 2022, Cube are manufacturing 198 different ebikes (yes, we counted!) including a few brand new models? Its a huge number from just one of dozens of manufacturers and a mind-numbing minefield if you don't know what you're looking for in a market already crowded with choice.
Each year we carefully consider the specification and price of every bike from each of our manufacturer partners and carefully narrow it down to the very best options based on end user value. Not only does this remove the headache of trying to work out which models are best suited to UK terrain and use cases, but it also means that no matter which option you choose from us, you can be sure that its already been carefully considered by ebike experts with over a decade in the industry to make sure you get the very best specification for your money. Often, this can mean that although a bike is £100 more than the next model down, it might offer £300 more in component value!
For 2022, we've chosen 6 models to cover the touring, hybrid, town and leisure riders looking for a robust, German built, Bosch driven ebike with a price tag that makes their competitors eyes water! These are broken down by Cube into two key model variants. The Touring Hybrid, and the Kathmandu Hybrid.
2022 Cube Touring Hybrid models
2022 Cube Touring Hybrid One 500
Offered in two frame styles - Crossbar and Trapeze (often referred to as "Uni"), the 2022 Cube Touring Hybrid One 500 is an the entry level model in the "Touring Hybrid" range, but still offers a huge amount of value.
The Cube Touring Hybrid One is the perfect entry into the eBike world. Whether you're looking to nip to the shops, drop the car or public transport from your daily commute or just get out and enjoy the local B roads, cycle trails and forest paths, the Touring Hybrid One is "your bike companion for all occasions". Built in mudguards, side stand, lights and pannier rack are equipped as standard, leaving you nothing but to get out and enjoy the fresh air!
Despite being their entry level offering, it still packs a huge amount of features into its modest £2,599 price tag. 100mm travel front suspension, 9 speed Shimano gearing and hydraulic disc brakes roll effortlessly low drag and very comfortable Schwalbe Big Ben tyres. Their extra width and volume make for a super comfortable ride on a bike with a upright "Dutch" geometry.
Featuring much of the specification of last years Pro model, its had an upgrade for 2022 and now uses the Generation 3 Performance Line motor with 65Nm of torque rather than the older Active Line model and its 500Wh Bosch battery will keep you moving for up to 140 miles.
More Info - Cube Touring Hybrid One 500 2022
2022 Cube Touring Hybrid Pro 500

You would be forgiven for thinking at first glance that this is the same bike. True, its built on the same frame as the above model, but this is the 2022 Cube Touring Hybrid Pro. Designed for the same use case as the Touring Hybrid One, the Pro model offers the same relaxed and upright riding position, but with a few neat extra features for only another £200.
Priced at £2,799, the Touring Hybrid Pro has all of the benefits of the One model, but with the addition of further comfort enhancements in the form of a user weight adjustable suspension seat post and adjustable handlebar stem.

The rest of the bike sees some specification tweaks too. A drive train upgrade sees it gain an extra two gears from the Shimano Deore groupset, the brakes get a small upgrade but the biggest difference on the bars is the addition of the Bosch Intuvia display. Sitting centrally on the bars and controlled by buttons conveniently placed next to the riders left thumb, its screen is much larger and more easily read on bumpy terrain and can also be unclipped and removed in one easy motion for added security.
More Info - Cube Touring Hybrid Pro 500 2022

2022 Cube Touring Hybrid EXC 500

Another £200 for another serious value specification tweak. The 2022 Cube Touring Hybrid EXC 500 sits at the very top end of the Touring Hybrid model line-up, but at only £2,999 it still bats away its competitors in its class and price range in the value stakes.
Much of its specification increase is aimed at those looking to go further and do more on the Touring Hybrid frame platform, but dont need the extra power of the Generation 4 motor fitted in the Kathmandu models.
The Shimano brakes on the EXC model get an upgrade to twin piston models. If you live in a very hilly area and plan to do your shopping or tow a child or dog trailer on your new eBike, these can be great at pulling up to a halt when heading down hill. Likewise, Shimano XT group set normally found on mountain bikes provides another gear, bringing the total to 12 with a 10-51t rear cassette - This ultra wide gearing is designed to tackle the roughest off-road climbs, so its very well suited to lugging extra weight up hill over long distances.
The final upgrade is to the front forks. Switching from a coil fork to an air fork with a lock out further improves the comfort and handling of the bike and isn't something you normally find on this style of bike. Air forks are generally considered a very premium component and more commonly found on mountain bikes.
When you consider the component cost of the upgrades to this bike, it really is an absolute stand out model for any ability or type of rider!
More Info - Cube Touring Hybrid EXC 500 2022

2022 Cube Nuride Hybrid Performance Allroad 625
The 2022 Cube Nuride Hybrid Performance Allroad is a new model to us for 2022 and was chosen to fill a gap in usage case/demand identified by our showroom staff.
Somewhat of a "crossover bike", the 2022 Cube Nuride blends the versatility of a hybrid leisure bike with the Touring Hybrid models, with the geometry of a hard tail mountain bike. A less upright seating position puts riders in the seat in a way that will feel more familiar if coming from mountain bikes, or where a completely upright position isn't required.
The wheels are the same as those used on the Touring Hybrid and Kathmandu models, but since this is a bike designed for more use on tarmac and paved roads than off-road, its fitted with fast rolling Schwalbe Land Cruiser tyres. These have a continual band of centre tread to minimum rolling resistance on-road, but the extra width and more aggressive tread pattern on the shoulders will keep you in line if you do need to venture off the beaten track!
The Nuride features the same lights, mudguards and side stand from the Touring models, but doesn't come with a pannier rack. If you prefer the mountain bike feel to your every day bike but do want a pannier rack, they exist as a bolt on option, so its not off the table!
Based on showroom discussion, we expect the majority of these to be bought by men who don't want a traditional Hybrid style bike, but still want to take advantage of the features they have over using their hard tail mountain bike on the road but as with all bikes, there is no right or wrong, men's or women's. There is only "fit for purpose, comfortable, and on budget".
More Info - Cube Nuride Hybrid Performance Allroad 625 2022

2022 Cube Kathmandu Hybrid Models
2022 Cube Kathmandu Hybrid Pro 625
As i write, the very first of the 2022 Cube Kathmandu Hybrid Pro 625 bikes are being offloaded from a lorry in our loading bay and as always, they all already have homes - most of them ordered weeks or months ago. The Kathmandu models are some of the most highly sought after bikes in their category, and we can never buy enough of them. Supply of Cube bikes is always hotly contested between dealers but this is a model on which actually Cube place limits on the number we can order!
The Kathmandu Hybrid Pro shares much of the specification you find on the Touring Hybrid EXC at £2,899. The Kathmandu is £3,199, but what you get for this is quite staggering. Again, with a keen eye on comfort over long distances, the 2022 Kathmandu Hybrid Pro 625 is based on the same upright riding position frame as the Touring Hybrid models, but a keen eye will spot that the crank area is different.
The first and biggest upgrade over the Touring Hybrid models is the motor. Fitted with the latest and most powerful Bosch Generation 4 Performance CX motor with a whopping 85Nm of torque, this market leading motor is only normally found at home in £4,000+ mountain bikes. This extra power has to come from somewhere, and Cube generally tend to stick to offering the Bosch's largest 625Wh battery when using this motor to get the best from it, with a range of up to 160 miles on a single charge.
As a "do it all" bike, the the Kathmandu Hybrid Pro also gets the same set of 100mm travel air forks found on the EXC. Again, trickled down technology from the mountain bike sector offers a premium feel and increased performance for those who need the very best from their bike over longer distances, or when carrying more weight on the bike. The Kathmandu name exists for a reason!
More Info - Cube Kathmandu Hybrid Pro 625 2022

2022 Cube Kathmandu EXC
The final model in this product category from Cube for 2022 is the new Kathmandu Hybrid EXC.
If you look closely, you'll see that while the Touring Hybrid and the Kathmandu models normally all share the same frame through the model line up with only the specification of brakes, gears and other components changing, this is a totally different frame altogether. The battery door and motor area are brand new and that can only mean one thing...
Sadly, we have to sign a rock solid non-disclosure agreement when these things happen and there's absolutely nothing we can tell you about why its changed except that not only is it for the better, but we think that lots of other manufacturers are going to playing catch up with this one for the next 12 months!
At £3,599, its £400 more than the Pro model and benefits from a upgraded air fork over the version fitted to the Pro, along with the same upgraded 12 speed Shimano Deore gearing and twin piston brakes.
Unfortunately, this is as much as we're allowed to say at this time, but the embargo on remaining info lifts when the currently hidden technology is officially launched to the public on 31st August 2021. UPDATE - With the embargo lifted, we can confirm the new Kathmandu Hybrid EXC comes with the new Bosch Smart System. A revised motor housing to accommodate new connector styles, the bike also features the latest 750Wh battery and new Kiox 300 display.
More Info - Cube Kathmandu EXC 750 2022
Cube 2022 Touring eBike Range Conclusion
As with every model year, we expect that 2022 Cube Electric Hybrid, Town and Touring Bikes will be our fastest moving products. The "early release" models which launched in July are already selling quickly, as are the remaining bikes they launched on 3rd August. At time of writing, we've sold around 20% of our allocation of bikes from Cube for 2022, meaning the model year could be as short as 5 months in terms of stock availability and leaving customers and dealers alike, scrabbling for what's left to get hold of again.
If you're looking for an exceptionally well built German bike with an ultra reliable drive train from a manufacturer who works tirelessly to bring its customer the most advanced and best value bikes year on year, you can find the full 2022 Cube model range here.