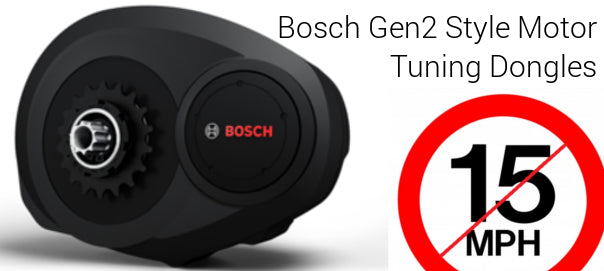 Bosch Tuning Dongle Working on Gen2 Bosch eBikes
By Martin Brown |
We at e-bikeshop have been supplying the Bosch tuning dongle for many UK customers over the past year or so. With the introduction of the new Gen2 style Bosch eBike motors, rumours have been spreading that the tuning dongles will not be compatible. Don't worry we are way ahead of the game and have been testing the speed derestriction to make sure it works and performs just as before.
With the Gen2 style Bosch eBike's arriving shortly we wanted to let people know that we have created a tuning system that works on these new style Bosch motors. The technology is similar to before but we use a different cable system to integrate it into the Bosch eBike. Once fitted the new dongles operate in exactly the same way as the previous Classic + Dongles did. You can read about our Classic+ Line Bosch Tuning Dongles by clicking here.
The major difference is that we now only supply the Gen2 Bosch Motor Tuning Dongles on our own electric bikes. So therefore if you require a dongle and Gen2 eBike please let us know, these fit all of Bosch electric bikes, with the Active or Performance Bosch type motors & 250w or 350w.
The new Bosch motor dongles will not be available to buy separately. If you have bought a Bosch eBike from a 3rd party there is no option for you to purchase one of our Gen2 dongles..
You may wish to contact us to place an order, or alternatively please add the Gen2 eBike into the basket, along with a dongle. We will then fit the dongle prior to the electric bike leaving our workshop. You pay for the dongle but the fitting labour is free of charge when placed with a new eBike order.
The speed tuning dongles are for off road (private land) use only.
Here is a independent customer review after having the dongle fitted - Bosch Tuning Dongle Customer Review
Here is a direct link to our electric bike range from Raleigh, Moustache and Haibike - https://www.e-bikeshop.co.uk/Electric-Bikes-UK-Dealer
Here is a link to our speed tuning dongles - https://www.e-bikeshop.co.uk/eBike-Spare-Parts/bosch-ebike-tuning-dongle