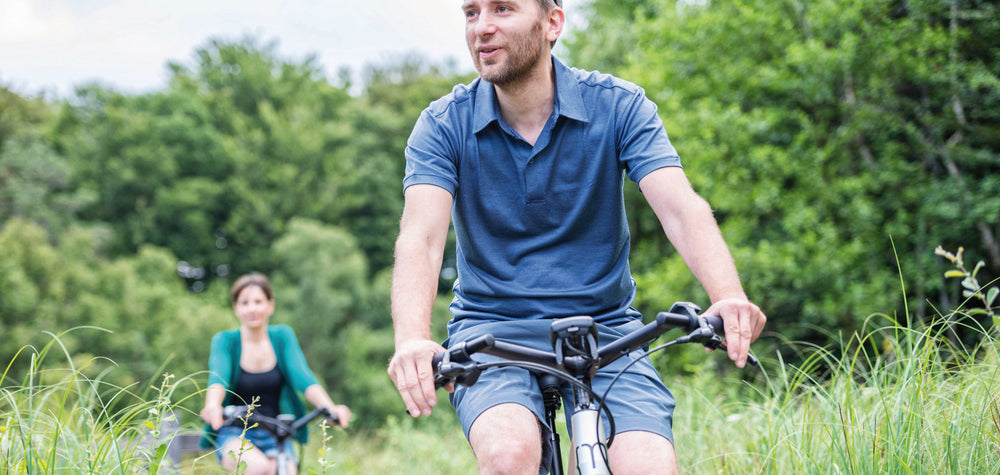 Church Stretton to Shrewsbury on the Moustache Samedi Electric Bike
By Martin Brown |
Following my great trip to Ludlow, yet another lovely sunny eBiking Wednesday came around and so once again the kitchen project could go hang.
I set off from Church Stretton for Shrewsbury on the Moustache Samedi bike, again at 9:30. Instead of using the electric assist to shorten the time to one hour with an average speed of 16 mph, I went for best battery economy. I pedalled at about 60 rpm all the time. I used the gears to keep my pedal speed at about one double stroke per second. The pedal force I used was about the same as the force needed to raise my legs. So the pedal force was about a constant 6 Kg. This is an extremely low work rate. I think it represents about 250 calories per hour, it is about the same as a gentle level walking stroll at 2.5 mph. In this mode the electric assist is off nearly all the time. When rising ground strikes, I bang down the gears to keep the pedal rpm up to 60.
As the speed drops to 7 mph in bottom gear, in goes the electric assist to maintain speed at 7 mph. The steeper the slope the more pedal assist gets fed in. As soon as the speed rises above 8 mph I back off the pedal assist level. The trick is to keep up the low constant personal work rate. I can keep that work rate up for 12 hours, just add Mars bars and the odd bacon roll. Going like this the trip took 1 hour 30 at an average speed of just under 11 mph. In Shrewsbury I loaded up with a Full English at my favourite pavement café in Butcher Row. I specially noted the freshly squeezed orange juice, the black puddings and the charming waitress. She was very interested in my Moustache. Guys, you do not need an R8 Spyder to get a favourable review!
A good place to visit by cycle – Shrewsbury.
I though 'bugger it, it is such a nice day, why not visit the wife in Whitchurch for lunch?' Well there was no reason. We get on very well, that is because we stopped trying to live in each others spaces. She is 40 miles away, perfect. So I carried on but was a little less economical than over the first 16.5 miles because I managed Shrewsbury with 90% of battery energy still in the battery. In other words I followed my own advice and got my battery economy measures in early. After 30 minutes for the Full English, I left for Whitchurch, 23.5 miles further on. I got there in a further 2 hours at an average speed of about 12 mph.
I was in fine fettle apart from a trifle of sunburn. Lunch was excellent except that I could only manage bird sized portions on account of the Full English earlier. The Chablis was great, as it always is there and the 13 amp socket was just the trick. It took ninety minutes to fill the battery, so I guess that was about 45% used with 55% reserve after the 40 miles. The reason for the better range performance is all to do with the hills. This route involves only about a constant 40 feet of ascent per mile because North Shropshire is not hill country. It is not flat either, the hills are there but lower and more gentle.
I am not so good at talking my own picture while riding the Samedi – yet.
After lunch we took my third son's dog for a 4-mile walk (a change is as good as a rest), then got an hours kip in. I woke up thinking 'bugger it, why not go on to visit my oldest son and family in Chester another 24 miles on?' My senior daughter in law texted that they would not be home until 18:10; there was risotto for dinner, did I want white or red? My eighteen-month-old grandson was reported hopping with excitement. With problems like this, who needs good luck? So I took my leave of the wife at 16:30. My wife and I will never get divorced, divorce is so common, everybody does it. This annoys our lovers no end! This time I was only going 24 miles on a full battery, so I used the high assist settings a lot and got there at 18:10.
The sun shone all the way but a cool Northerly breeze got up and I would have been cursing that breeze were it not for what Bosch call 'turbo'. The naming of the two higher electric assist levels are ridiculous. I have no problem with 'eco' and 'tour', however if you up the help level one more notch it is called 'sport' and the top level is called 'turbo'. This is 'boy racer' thinking and most inappropriate. In my mind 'sport' equals 'old fogies' and 'turbo' equals 'geriatric'. It is 'assist off' that equals 'sport', of course.
This stuff induces 'turbo-mode' assertion. Note that you 'sports'.
Anyway, there you are. Personal fitness level a disgrace, smokes twenty a day and carrying about two stone overweight, the average speed was 11.5 mph, the day's run was 63.5 miles, the total ascent was 2550 feet; the range would have been 70 miles without the recharge and still carrying a ten mile 'tour' reserve. The 64 year old subject did not die or even get tired from his 63-mile ride and 4-mile dog walk outing. I am against sun cream, it is highly toxic and definitely causes skin cancer, but a wide brimmed tie-on hat would have been desirable. Crash hats are for main-road 'sports'; the routes that I take involve about the same risk as painting the kitchen ceiling. Now we do not generally wear a crash hat when painting the kitchen, do we?
Bosch have got a tiny bit of their program wrong. Zero assist (assist off, but system on) motion is not averaged into the trip remaining range calculation. This leads the awesome 32-bit robot to draw some highly ridiculous conclusions. Bosch please take note here; the controls are great, why not get the range logic perfect?
The programmers were scared of the divide by zero, infinite range issue on zero assist This is irrelevant. What we are interested in is trip miles since reset divided by total electrical energy input since reset times the remaining (available for power) electrical energy in the battery. In other words, 'if you carry on with your recent personal performance pattern, terrain pattern and wind direction, this is how far you will go. The current assist level setting is changing all the time, it is irrelevant and should not bear upon the range calculation at all.
Also I have to work out the battery state by manual estimation because the 'fuel gauge' works in huge 20% jumps due to the LCD display design limitations. The robot knows the battery status to the nearest erg. Why not tell me the battery state in numbers? i.e.: battery remaining charge state 230 (Wh) or 57 (%) etc. What I want would take me about 12 minutes on the cross compiler; one more information function in the info function stack. Battery state info display. There is no display provision for the Wh (or %) units text, so just put that units text into a manual addenda sheet. The battery state display could be advised by flashing the contents indicator when the battery state function is selected to view. Also if the robot knows how hard one is working (it knows very accurately, even in the 'assist off' position), then why not add in the trip biometric calories burned data too? That would take tiny changes to the LCD hardware, so possibly put that on the v2,01 'to-do' list. In general I give Bosch and Moustache both a 10 out of 10 - could do better (and then get 12 out of 10, ha ha).
Thanks to Ben Campbell for this fantastic write up - from the e-bikshop.co.uk team.
To view the bike in review please click here - Moustache Samedi Silver Open